What is blueberry
Blueberries (Vaccinium corymbosum) are perennial flowering plants with indigo-colored berries. They are classified in the section Cyanococcus within the genus Vaccinium. Vaccinium also includes cranberries, bilberries and grouseberries 1. Commercial "blueberries" are native to North America and the "highbush" varieties were not introduced into Europe until the 1930s 2.
Blueberries shrubs can vary in size from 10 centimeters (3.9 in) to 4 meters (13 ft) in height. In the commercial production of blueberries, the smaller species are known as "lowbush blueberries" (synonymous with "wild"), while the larger species are known as "highbush blueberries". The fruit is a berry 5–16 millimeters (0.20–0.63 in) in diameter with a flared crown at the end; they are pale greenish at first, then reddish-purple, and finally dark purple when ripe. They are covered in a protective coating of powdery epicuticular wax, colloquially known as the "bloom". They have a sweet taste when mature, with variable acidity. Blueberry bushes typically bear fruit in the middle of the growing season: fruiting times are affected by local conditions such as altitude and latitude, so the peak of the crop, in the northern hemisphere, can vary from May to August.
Blueberries are sold fresh or are processed as individually quick frozen fruit, purée, juice, or dried or infused berries. These may then be used in a variety of consumer goods, such as jellies, jams, blueberry pies, muffins, snack foods, or as an additive to breakfast cereals.
Blueberries contain a diverse range of phytochemicals (e.g. flavonols, phenolic acids, tannins, and anthocyanins) with biological functions such as anticancer, anti-inflammatory, antidiabetic 3, 4 and antioxidant activities. Among the different fractions of blueberry extract, anthocyanins were found to be the most effective inhibitors against cancerous cells 5. Canadian lowbush blueberry are well known for their antidiabetic activities and have been used in the traditional medicine of many populations to treat type 2 diabetes 6, 3. Previous studies have shown that different parts of the Canadian lowbush blueberry plant reduces insulin resistance in obese rats 7 and possess insulin-like, glitazone-like and cytoprotective effects 8. Due to the perceived health benefits of blueberries, blueberry fruit consumption has increased over the last 5 years, becoming the second most important soft fruit species after strawberry 9.
Blueberry jam is made from blueberries, sugar, water, and fruit pectin. Blueberry sauce is a sweet sauce prepared using blueberries as a primary ingredient.
Blueberry wine is made from the flesh and skin of the berry, which is fermented and then matured; usually the lowbush variety is used.
Blueberries contain anthocyanins, other polyphenols and various phytochemicals under preliminary research for their potential role in the human body. Most polyphenol studies have been conducted using the highbush cultivar of blueberries (Vaccinium corymbosum), while content of polyphenols and anthocyanins in lowbush (wild) blueberries (Vaccinium angustifolium) exceeds values found in highbush cultivars.
Figure 1. Blueberries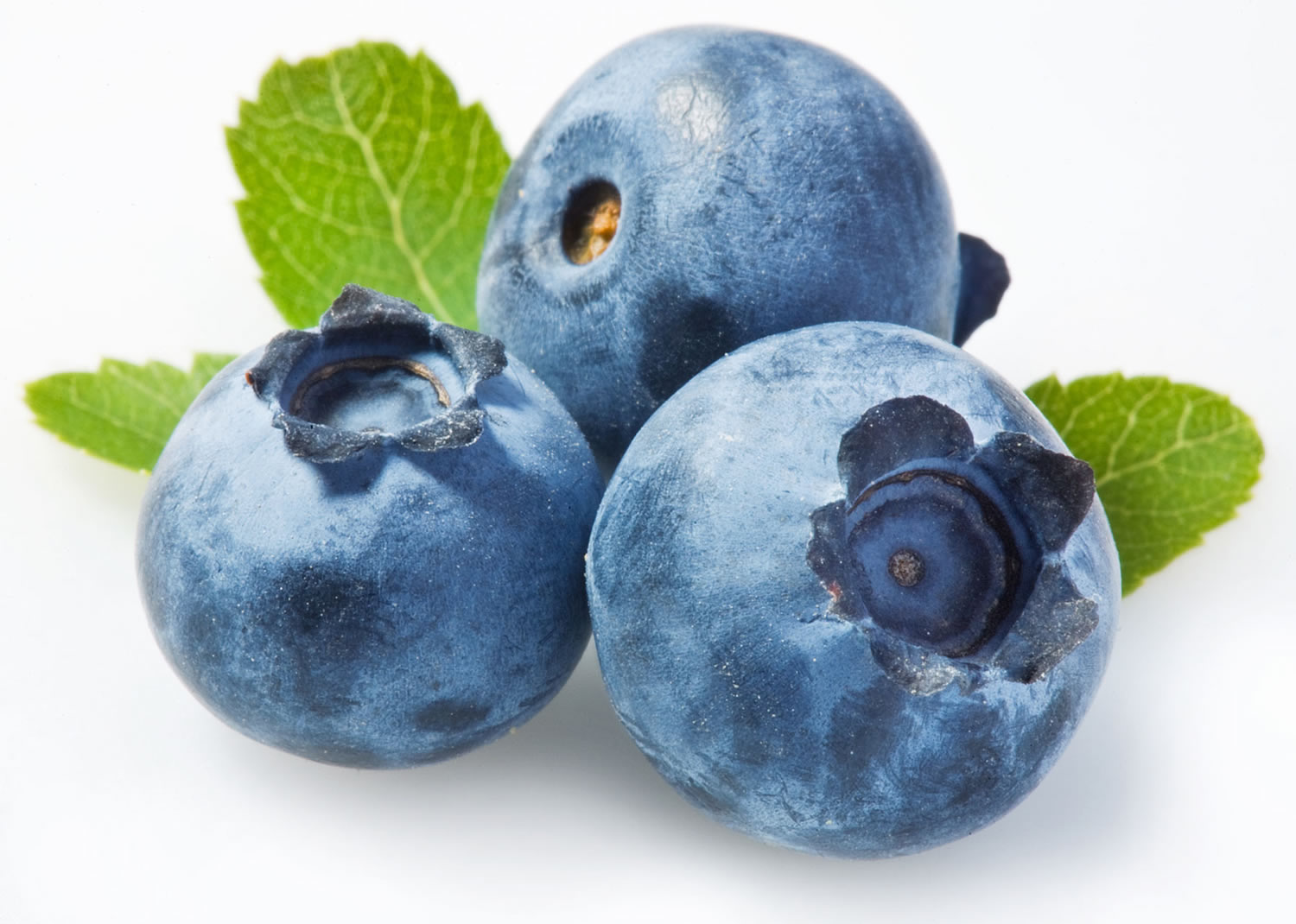 Growing blueberries
Source 10
Blueberries are more productive if cross-pollinated, so plant more than one plant.
Plant in early spring in well-drained soil, in full sun.
Soil should have high organic content, add peat or compost to planting hole, pH of 4.5-5.0.
Mulch no deeper than 3″ to prevent weeds.
Fertilize once plants have established themselves in late spring: 1st year 1oz. (30g) per plant, 2nd year 4oz. (120g), add 1oz. (30g) each year after initial planting. You can add 1/2 the yearly amount at bloom and the other half 4-6 weeks later.
Prune – 1st two years remove the flowers so plants develop a solid root system. Year 3 begin to remove older canes. Late winter/early spring are the best pruning times.
Blueberries nutrition facts
Blueberries consist of 14% carbohydrates, 0.7% protein, 0.3% fat and 84% water (see Table 1). They contain only negligible amounts of micronutrients, with moderate levels (relative to respective Daily Values) of the essential dietary mineral manganese, vitamin C, vitamin K and dietary fiber. Generally, nutrient contents of blueberries are a low percentage of the Daily Values. One serving provides a relatively low caloric value of 57 kcal per 100 g serving and glycemic load score of 6 out of 100 per day.
Table 1. Blueberries (raw) nutrition facts
Nutrient

Unit


Value per 100 g


cup 148 g


berries 68 g

Approximates
Water
g
84.21
124.63
57.26
Energy
kcal
57
84
39
Protein
g
0.74
1.10
0.50
Total lipid (fat)
g
0.33
0.49
0.22
Carbohydrate, by difference
g
14.49
21.45
9.85
Fiber, total dietary
g
2.4
3.6
1.6
Sugars, total
g
9.96
14.74
6.77
Minerals
Calcium, Ca
mg
6
9
4
Iron, Fe
mg
0.28
0.41
0.19
Magnesium, Mg
mg
6
9
4
Phosphorus, P
mg
12
18
8
Potassium, K
mg
77
114
52
Sodium, Na
mg
1
1
1
Zinc, Zn
mg
0.16
0.24
0.11
Vitamins
Vitamin C, total ascorbic acid
mg
9.7
14.4
6.6
Thiamin
mg
0.037
0.055
0.025
Riboflavin
mg
0.041
0.061
0.028
Niacin
mg
0.418
0.619
0.284
Vitamin B-6
mg
0.052
0.077
0.035
Folate, DFE
µg
6
9
4
Vitamin B-12
µg
0.00
0.00
0.00
Vitamin A, RAE
µg
3
4
2
Vitamin A, IU
IU
54
80
37
Vitamin E (alpha-tocopherol)
mg
0.57
0.84
0.39
Vitamin D (D2 + D3)
µg
0.0
0.0
0.0
Vitamin D
IU
0
0
0
Vitamin K (phylloquinone)
µg
19.3
28.6
13.1
Lipids
Fatty acids, total saturated
g
0.028
0.041
0.019
Fatty acids, total monounsaturated
g
0.047
0.070
0.032
Fatty acids, total polyunsaturated
g
0.146
0.216
0.099
Fatty acids, total trans
g
0.000
0.000
0.000
Cholesterol
mg
0
0
0
Other
Caffeine
mg
0
0
0
[Source: United States Department of Agriculture Agricultural Research Service
11
]
Health benefits of blueberries
Blueberry is a plant. People use the fruit and leaves to make medicine. Be careful not to confuse blueberry with bilberry. Outside of the United States, the name "blueberry" may be used for a plant called "bilberry" in the U.S.
Blueberry (Vaccinium corymbosum) is one of the most popular and important berry fruits globally. It contains significant amount of phenols, including phenolic acids, flavonoids, anthocyanins and procyanidins, which have been reported for many health benefits to human beings, such as improving cardiovascular health 12, brain health and insulin sensitivity 13, as well as strong antioxidant activities 14.
Anthocyans, one kind of the dietary polyphenol, are widely distributed in fruits, beans, cereals, and vegetables, and suggested to be associated with reduced risk of human breast cancer 15, human colon cancer 16 and human ovarian cancer 17. Anthocyans are composed of two types, anthocyanins and anthocyanidins. Anthocyanins are regarded as the largest group of water-soluble pigments in the plant kingdom, and are glycosylated or acylglycosylated forms of polyhydroxy or polymethoxyl derivatives of 2-phenylbenzopyrylium 18. The de-glycosylated or de-acyl-glycosylated forms of anthocyanins are called anthocyanin aglycones or anthocyanidins 19. The most common anthocyanidins found in plants include delphinidin (De), cyanidin (Cy), petunidin (Pt), peonidin (Pn), pelargonidin (Pg), and malvidin (Mv) 20. A previous report demonstrated that anthocyanidins caused stronger growth inhibition in human hepatoma cell lines than anthocyanins; furthermore, anthocyanidins exhibited more effective inhibitory effects against HepG2 cells than Hep3B cells 21. Another report showed that not only anthocyanidins but also anthocyanins inhibited cancer cell growth and induced apoptosis in cancer cells 22. Some other studies found that anthocyanins and their aglycones selectively inhibited the growth of cancers, but exerted little or no effect on the growth of normal cells 23. The structural differences between anthocyanins and anthocyanidins may lead to significant differences in their anticancer efficiency, antioxidant activities, bioavailability, and other biological effects 24. In addition, it should be noted that the anticancer effects of anthocyans may vary with different cancer cell lines.
Anthocyanins comprise the largest group of natural, water-soluble, plant pigments and impart the bright colors to berry fruits 25 and to flowers. Approximately 400 individual anthocyanins have been determined. They are generally more concentrated in the skins of fruits, especially berry fruits. Evidence suggests that Americans consume an average of 12.5–215 mg of anthocyanins per day 26.
Table 2. Berries with select nutrient and phytochemical profiles expressed in values per 100 g of edible portion
Fruit
Total
anthocyanidin
content (mg)*
Total
flavan-3-ols
(mg)†
Total
flavonols
(mg)‡
Calories
(kcal)
Fiber
(g)
Vitamin
C (mg)
Vitamin
E (mg)
Blackberry
  90.46
42.5
  2.49
  43
5.3
  21
1.17
Blueberry
163.52
51.71
  9.72
  57
2.4
    9.7
0.57
Bilberry
430.91
  4.13
NF
NF
NF
NF
NF
Chokeberry, raw
437.22
NF
  8.90
NF
NF
NF
NF
Cranberry juice (unsweetened)
NF
  0.92
20.82
  46
0.1
    9.3
1.20
Cranberry juice cocktail
    0.46
  0.19
  1.79
  54
NF
  42.3
0.22
Cranberry (dried, sweetened)
    0.72
NF
  6.91
NF
NF
NF
NF
Cranberry sauce (canned, sweetened)
    0.14
NF
  5.11
151
1.0
    2.0
0.83
Currant, black, raw
272.44
  1.17
12.69
  63
NF
181
1.0
Mulberries, raw
NF
NF
  2.47
  43
1.7
  36.4
0.87
Black raspberry
324.02
NF
NF
NF
NF
NF
NF
Red raspberry (raw)
  38.68
  6.63
  1.32
  52
6.5
  26.2
0.87
Strawberry
  33.63
  4.51
  1.6
  32
2.0
  58.5
0.29
*Total anthocyanidins (cyanidin, delphinidin, peonidin, petunidin).
†Total flavan-3-ols [(−)-epicatechin, (−)-epicatechin 3-gallate, (−)-epigallocatechin, (−)-epigallocatechin 3 gallate, (+)-catechin, (+)-gallocatechin].
‡Total flavonols (kaempferol, myricetin, quercetin).
Abbreviation: NF, not found in the USDA food composition database.
[Source
27
]
Among fruits and vegetables, blueberries have been considered to be one of the fruits with the highest anthocyanin content. The high anthocyanin content of blueberries may contribute to the health benefits against chronic diseases including cancers. Yi and co-workers reported that blueberry anthocyanins induced apoptosis in HT-29 and Caco-2 cells, and resulted in a two- to seven-fold increase in DNA fragmentation 28. Faria et al. demonstrated that blueberry anthocyanin extracts significantly reduced the proliferation of two breast cancer cell lines (MDA-MB-231 and MCF7) and exhibited obvious anti-invasive potential in both cell lines 29.
Blueberry is used for preventing cataracts and glaucoma and for treating ulcers, urinary tract infections (UTIs), multiple sclerosis (MS), chronic fatigue syndrome (CFS), colic, fever, varicose veins, and hemorrhoids. Blueberry is also used for improving circulation, and as a laxative.
Blueberry, like its relative the cranberry, might help prevent bladder infections by stopping bacteria from attaching to the walls of the bladder. Blueberry fruit is high in fiber which could help normal digestive function. It also contains vitamin C and other antioxidants.
Some women use blueberry for labor pains and as a tonic after miscarriage.
The dried fruit and leaves are used for diarrhea.
Tea made from the dried leaves is used for sore throat and swelling (inflammation) of the mouth or the skin lining the throat.
Health providers have used blueberry juice as a contrast agent in magnetic resonance imaging (MRI). Contrast agents make it possible for radiologists to see and interpret the images.
Some people inhale the fumes of burning dried blueberry flowers for treatment of insanity.
How effective is  blueberry ?
Natural Medicines Comprehensive Database rates effectiveness based on scientific evidence according to the following scale: Effective, Likely Effective, Possibly Effective, Possibly Ineffective, Likely Ineffective, Ineffective, and Insufficient Evidence to Rate.
The effectiveness ratings for BLUEBERRY are as follows:
INSUFFICIENT evidence to rate effectiveness for:
Diabetes. Early research suggests that taking a specific product containing blueberry leaf extract (Blueberin) three times daily for 4 weeks can lower blood sugar levels in people with type 2 diabetes 30. Also, taking a combination of blueberry and sea buckthorn appears to lower levels of hemoglobin A1c, a measurement of average blood sugar levels, in children with type 1 diabetes.
Preventing cataracts and glaucoma.
Ulcers.
Urinary tract infections (UTIs).
Multiple sclerosis (MS).
Memory in Older Adults 31
Chronic fatigue syndrome (CFS).
Fever.
Sore throat.
Varicose veins.
Hemorrhoids.
Bad circulation.
Blood pressure and arterial stiffness in postmenopausal women 32
Systolic blood pressure, of 20 trials conducted using different varieties of fresh and processed berry products, only two showed a significant decrease in systolic blood pressure: one was conducted in healthy men following cranberry juice supplementation 33
Diarrhea.
Constipation.
Labor pains.
Other conditions.
More evidence is needed to rate the effectiveness of blueberry for these uses.
What dose is used ?
The appropriate dose of blueberry depends on several factors such as the user's age, health, and several other conditions. At this time there is not enough scientific information to determine an appropriate range of doses for blueberry. Keep in mind that natural products are not always necessarily safe and dosages can be important. Be sure to follow relevant directions on product labels and consult your pharmacist or physician or other healthcare professional before using.
Are there safety concerns for blueberries ?
Blueberry fruit is LIKELY SAFE for most people when consumed in food amounts. There is not enough reliable information about the safety of taking blueberry leaf by mouth. It is best to avoid taking leaves.
Special precautions & warnings:
Pregnancy and breast-feeding: Blueberry fruit is LIKELY SAFE when used in amounts commonly found in foods. But not enough is known about the safety of the larger amounts used for medicine. Stick to normal food amounts if you are pregnant or breast-feeding.
Diabetes: Blueberry might lower blood sugar levels in people with diabetes. Watch for signs of low blood sugar (hypoglycemia) and monitor your blood sugar carefully if you have diabetes and use blueberry products. The dose of your diabetes medications may need to be adjusted by your healthcare provider.
Surgery: Blueberry might affect blood glucose levels and could interfere with blood sugar control during and after surgery. Stop using blueberry at least 2 weeks before a scheduled surgery.
Are there interactions with medications ?
Minor
Be watchful with this combination.
Medications for diabetes (Antidiabetes drugs)
Blueberry leaves might decrease blood sugar. Diabetes medications are also used to lower blood sugar. Taking blueberry leaves along with diabetes medications might cause your blood sugar to go too low. Monitor your blood sugar closely. The dose of your diabetes medication might need to be changed.
Some medications used for diabetes include glimepiride (Amaryl), glyburide (DiaBeta, Glynase PresTab, Micronase), insulin, pioglitazone (Actos), rosiglitazone (Avandia), chlorpropamide (Diabinese), glipizide (Glucotrol), tolbutamide (Orinase), and others.
Are there interactions with herbs and supplements ?
Herbs and supplements that might lower blood sugar
Blueberry might lower blood sugar. Using it along with other herbs and supplements that have the same effect might cause blood sugar to drop too low in some people. Some of these products include devil's claw, fenugreek, guar gum, Panax ginseng, and Siberian ginseng.
Are there interactions with foods ?
Milk
Drinking milk along with blueberries might lower the potential health benefits of blueberries. Separating the ingestion of blueberries and milk by 1-2 hours might prevent this interaction.
References