What is Cold Eeze
Cold-Eeze lozenges contain the active ingredient (per lozenge): Zincum Gluconicum 2X (13.3mg Zinc). Cold-Eeze lozenges is used to reduce the duration of the common cold and reduce the severity of cold symptoms: cough, sore throat, stuffy nose, sneezing, post nasal drip and/or hoarseness.
Cold-Eeze lozenges inactive Ingredients: Corn syrup, glycine, natural flavors and sucrose. No artificial colors or preservatives.
Zinc is a trace metal with in test tube activity against rhinovirus, the major etiologic agent in acute upper respiratory tract infections 1, 2.
Cold Eeze Warnings
Ask a doctor before use if you are taking minocycline, doxycycline, tetracycline or are on coumadin therapy, zinc treatment may inhibit the absorption of these medicines
Stop use and ask your healthcare practitioner if symptoms persist beyond 7 days.
Cold-Eeze lozenges are formulated to reduce the duration of the common cold and its symptoms and is insufficient treatment for Influenza or Allergies.
If pregnant or breastfeeding, ask a health professional before use.
Keep out of reach of children.
Does Cold Eeze work?
The common cold is often caused by the rhinovirus. It is one of the most widespread illnesses and is a leading cause of visits to the doctor and absenteeism from school and work. Complications of the common cold include otitis media (middle ear infection), sinusitis and exacerbations of reactive airway diseases 3. There is no proven treatment for the common cold 3. However, a medication that is even partially effective in the treatment and prevention of the common cold could markedly reduce morbidity and economic losses due to this illness.
Zinc, which can inhibit rhinovirus replication in test tube studies and has activity against other respiratory viruses such as respiratory syncytial virus 1. The exact mechanism of zinc's activity on viruses remains uncertain. Zinc may also reduce the severity of cold symptoms by acting as an astringent on the trigeminal nerve 4.
There's been a lot of talk about taking zinc for colds ever since a 1984 study 5 showed that zinc supplements kept people from getting as sick. Since then, research has turned up mixed results about zinc and colds – failure of zinc gluconate in treatment of acute upper respiratory tract infections 6, 7, 8 and a positive result for zinc in the treatment for common colds 9, 10, 11, 12.
Recently analyses of several studies 13, 14, 15 showed that zinc lozenges or syrup reduced the length of a cold by one day, especially when taken within 24 hours of the first signs and symptoms of a cold. In a 2015 meta-analysis by Hemilä and Chalker 13 showed that zinc acetate lozenges shortened the duration of nasal discharge by 34%, nasal congestion by 37% , sneezing by 22%, scratchy throat by 33%, sore throat by 18%, hoarseness by 43% and cough by 46%. Zinc lozenges shortened the duration of muscle ache by 54%, but there was no difference in the duration of headache and fever 13. The same authors concluded that the effect of zinc acetate lozenges on cold symptoms may be associated with the local availability of zinc from the lozenges, with the levels being highest in the pharyngeal region 13. However their findings indicate that the effects of zinc ions are not limited to the pharyngeal region. There is no indication that the effect of zinc lozenges on nasal symptoms is less than the effect on the symptoms of the pharyngeal region, which is more exposed to released zinc ions. In some zinc lozenge trials the lozenges caused short-term adverse effects, such as bad taste, nausea, constipation, diarrhea, abdominal pain, dry mouth and oral irritation, but the bad taste can be explained by the specific lozenge composition and does not necessarily reflect the effects of zinc ions themselves 16. None of the high dose zinc acetate lozenge trials reported bad taste to be a problem and there was no substantial difference between the zinc and placebo groups in the recorded adverse effects, and only a few drop-outs occurred 13. Furthermore, if a common cold patient suffers from acute adverse effects such as bad taste, the patient can simply stop taking the zinc acetate lozenges. Given that the adverse effects of zinc in the 3 trials were minor, zinc acetate lozenges releasing zinc ions at doses of about 80 mg/day may be a useful treatment for the common cold, started within 24 hours, for a time period of less than two weeks 13.
In the USA, the recommended dietary zinc intake is 11 mg/day for men and 8 mg/day for women 17. Thus, the 80 to 92 mg/day doses used in the zinc acetate lozenge trials are substantially higher than the recommended daily intakes. However, in several clinical trials zinc has been administered to patients at a dose of 150 mg/day for months 18. A decrease in copper levels and hematological changes have been reported as adverse effects of long-term high dose zinc administration, but those changes were completely reversed with the cessation of zinc intake 19, 20, 21, 22. Thus, given that 150 mg/day of zinc administration for months does not cause permanent harm, it seems plausible that the use of about 80 mg/day of zinc for up to two weeks in the form of zinc acetate lozenges is unlikely to cause serious adverse effects.
But the recent analysis stopped short of recommending zinc. None of the studies analyzed had enough participants to meet a high standard of proof. Also, the studies used different zinc dosages and preparations (lozenges or syrup) for different lengths of time. As a result, it's not clear what the effective dose and treatment schedule would be.
Most colds are caused by a type of virus called rhinovirus, which thrives and multiplies in the nasal passages and throat (upper respiratory system). Zinc may work by preventing the rhinovirus from multiplying. It may also stop the rhinovirus from lodging in the mucous membranes of the throat and nose.
Zinc may be more effective when taken in lozenge or syrup form, which allows the substance to stay in the throat and come in contact with the rhinovirus.
Zinc — especially in lozenge form — also has side effects, including nausea or a bad taste in the mouth. Many people who used zinc nasal sprays suffered a permanent loss of smell. For this reason, Mayo Clinic doctors caution against using such sprays.
In addition, large amounts of zinc are toxic and can cause copper deficiency, anemia and damage to the nervous system.
For now, the safest course is to talk to your doctor before considering the use of zinc to prevent or reduce the length of colds.
Cold Eeze vs Zicam
Zicam is nasal spray is used for the temporary relief of nasal congestion associated with acute and chronic rhinitis or stuffiness caused by hay fever or other allergies and common colds. Zicam is also used to relieve sinus congestion and pressure. Zicam active ingredient is called Oxymetazoline hydrochloride. Zicam (Oxymetazoline) is a selective α2A-adrenergic receptor agonist a sympathomimetic amine in a class of medications called nasal decongestants. It is used as a topical vasoconstrictor. Zicam (Oxymetazoline) works by narrowing the blood vessels (vasoconstriction) in the nasal passages, thus decreasing nasal blood flow and nasal congestion.
Zicam nasal spray does not contain any zinc. Zicam (Oxymetazoline) nasal spray should not be used to treat children younger than 6 years of age unless it is recommended by a doctor. Children 6 to 12 years of age should only use Zicam (Oxymetazoline) nasal spray carefully and under adult supervision.
Zicam (Oxymetazoline) may also be used for other conditions as determined by your doctor.
Zicam (Oxymetazoline) is available without a prescription.
Zicam Uses
Temporarily relieves nasal congestion due to:

the common cold
hay fever
upper respiratory allergies

Temporarily relieves sinus congestion and pressure
Helps clear nasal passages
Shrinks swollen membranes
Zicam (Oxymetazoline) is available in the following dosage forms:
Nasal Solution
Nasal Spray
Directions of use
Adults and children 6 to under 12 years of age (with adult supervision): 2 or 3 sprays in each nostril not more often than every 10 to 12 hours. Do not exceed 2 doses in any 24-hour period.
Children under 6 years of age: Ask a doctor
To use pump:
to open, hold the actuator to squeeze and turn cap
hold with thumb at bottom of bottle and nozzle between fingers
before using the first time, prime pump by depressing several times
place tip of nozzle just past nasal opening (approximately 1/8″)
pump 2 or 3 times in each nostril without tilting your head. Sniff deeply.
wipe nozzle clean after use
to close, turn cap until it 'clicks'
Storage
Store the medicine in a closed container at room temperature, away from heat, moisture, and direct light. Keep from freezing.
Keep out of the reach of children.
Do not keep outdated medicine or medicine no longer needed.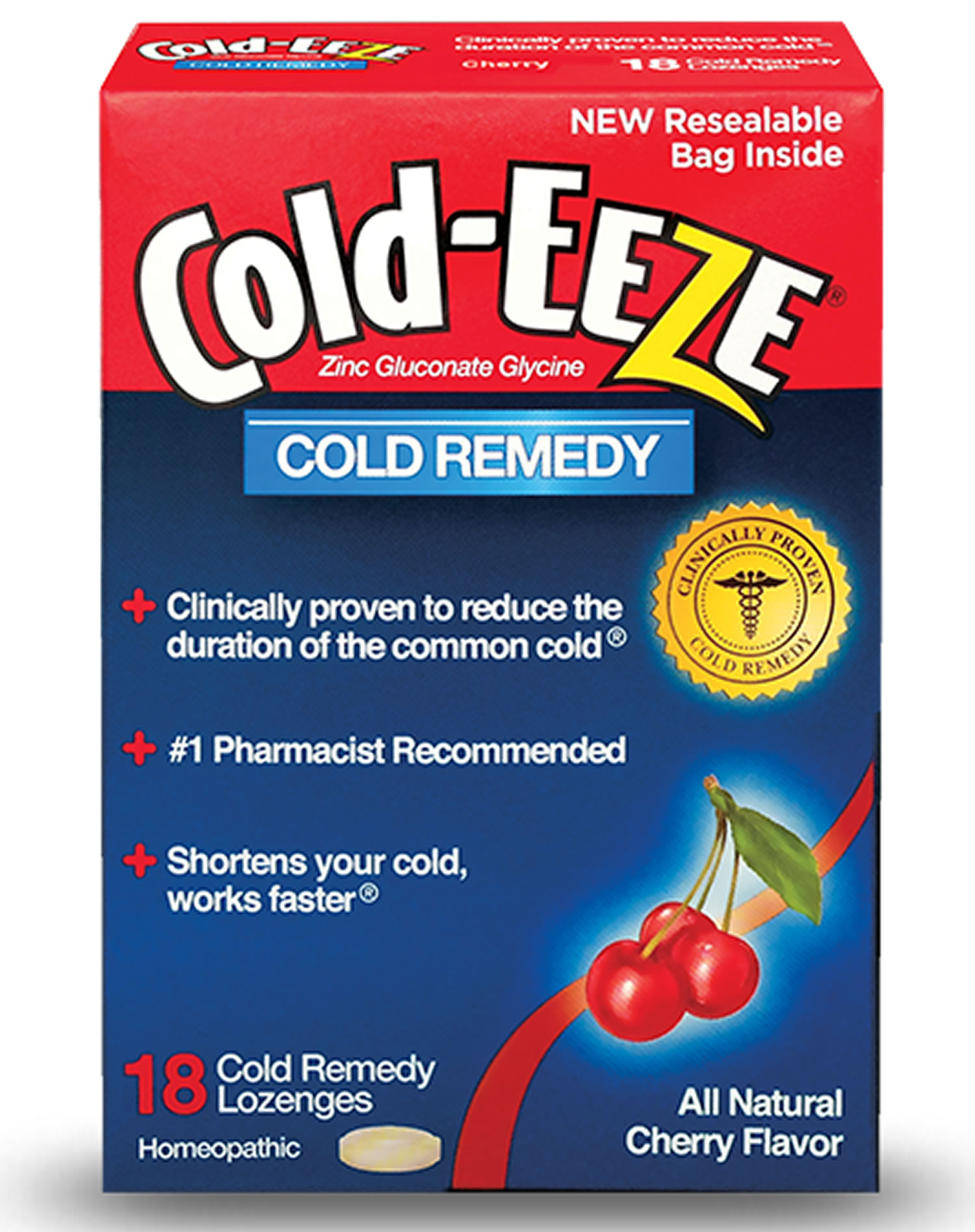 Cold-Eeze directions
Do NOT take Cold-Eeze lozenges on an empty stomach to avoid possible minor stomach upset. Avoid taking Cold-Eeze lozenges with foods that are high in calcium or phosphorus, which can make it harder for your body to absorb zinc gluconate. Foods high in calcium or phosphorus include milk, cheese, yogurt, ice cream, dried beans or peas, lentils, nuts, peanut butter, beer, cola soft drinks, and hot cocoa.
Do NOT eat or drink for 15 minutes after use.
store in a cool, dry place after opening
gluten-free
Cold-Eeze dosage
Adults and children 12 years and over:

take Cold-Eeze when you have cold symptoms
completely dissolve a Cold-Eeze lozenge in mouth (do not chew)
repeat every 2-4 hours as needed until all symptoms subside
recommended daily dosage is 6 lozenges for adults and 4 lozenges for ages 12-17

Children under 12 years of age should consult a health professional prior to use
Cold Eeze side effects
All drugs may cause side effects. However, many people have no side effects or only have minor side effects. Call your doctor or get medical help if you have any side effects that bother you or do not go away.
These are not all of the side effects that may occur. If you have questions about side effects, call your doctor. Call your doctor for medical advice about side effects.
Even though it may be rare, some people may have very bad and sometimes deadly side effects when taking a drug. Tell your doctor or get emergency medical help right away if you have any of the following signs or symptoms that may be related to a very bad side effect.
Get emergency medical help if you have any of these signs of an allergic reaction:
hives;
rash;
red, swollen, blistered, or peeling skin with or without fever;
wheezing;
tightness in the chest or throat;
trouble breathing, swallowing, or talking; unusual hoarseness;
swelling of the mouth, face, lips, tongue, or throat.
Less serious side effects may include:
High zinc intakes can inhibit copper absorption, sometimes producing copper deficiency and associated anemia 23, 24. For this reason, dietary supplement formulations containing high levels of zinc, such as the one used in the Age-Related Eye Disease Study Research Group (AREDS) study 25, sometimes contain copper.
Endocrine
Endocrine side effects have included the reduction of high density lipoprotein (HDL) "good cholesterol" in males.
Due to an accompanying decrease in low density lipoproteins (LDL), the LDL/HDL ratio remains relatively unchanged and little risk is assumed in terms of coronary heart disease. Triglyceride levels have not been shown to be affected.
Gastrointestinal
Gastrointestinal irritation appears to be dose-related.
Gastrointestinal side effects have included an unpleasant taste (80%), nausea (20%), mouth irritation (24%), dry mouth (12%), gastrointestinal upset (10%), distortion of taste, abdominal pain, vomiting, and diarrhea.
Nervous system
Nervous system side effects have rarely included dizziness and headache.
References