What is morton's neuroma
A neuroma is a thickening of nerve tissue that may develop in various parts of the body. The most common neuroma in the foot is a Morton's neuroma, which occurs most commonly between the third and fourth toes (metatarsals), but can also occur between the other toes. Morton's neuroma refers to a lump of nerve tissue that forms on the branches of the plantar nerve on the sole of the foot. Morton's neuroma is sometimes referred to as an intermetatarsal neuroma. Intermetatarsal describes its location in the ball of the foot between the metatarsal bones. Morton's neuroma may also occur in other locations in the foot. The nerve most commonly involved is the third interdigital nerve.
Though the term 'neuroma' is used in other contexts to mean tumor, Morton's neuroma is not actually a tumor, but a thickening of the tissue that surrounds the digital nerve leading to the toes. For this reason, it is also known as 'Morton's metatarsalgia.' Morton's neuroma is NOT cancer, and does NOT progress to become cancerous. You can think of the neuroma as a lump of scar tissue in your foot.
The thickening of the nerve that defines a neuroma is the result of compression and irritation of the nerve. This compression creates enlargement of the nerve, eventually leading to permanent nerve damage.
Morton's neuroma presents as an increasingly painful lump in the ball of the foot, as though a pebble has become stuck in the skin. Irritation of the nerve can cause numbness and tingling through the foot.
Symptoms of Morton's neuroma include:
Tingling in the space between the third and fourth toes
Toe cramping
Sharp, shooting, or burning pains in the ball of your foot (and sometimes toes)
Pain that increases when wearing shoes or pressing on the area
Pain that gets worse over time
Feel like you are "walking on a marble"
In rare cases, nerve pain occurs in the space between the second and third toes. This is not a common form of Morton's neuroma, but treatment is similar.
Morton's neuroma can make walking difficult. Persons with this foot condition may also have trouble performing activities that put pressure on the foot, such as pressing the gas pedal of a car. It may hurt to wear certain types of shoes, such as high-heels.
High-heeled shoes have been linked to the development of Morton's neuroma. Many people experience relief by switching to lower heeled shoes with wider toe boxes.
Women are more likely to develop Morton's neuroma than men, and it is believed that this is due to footwear. The incidence of Morton's neuroma is 8 to 10 times greater in women than in men. Morton's neuroma can be treated through wearing appropriate footwear, through analgesic medication, corticosteroid injections and if necessary through surgery.
The best time to see your foot and ankle surgeon is early in the development of symptoms. Early diagnosis of a Morton's neuroma greatly lessens the need for more invasive treatments and may help you avoid surgery.
Figure 1. Plantar nerve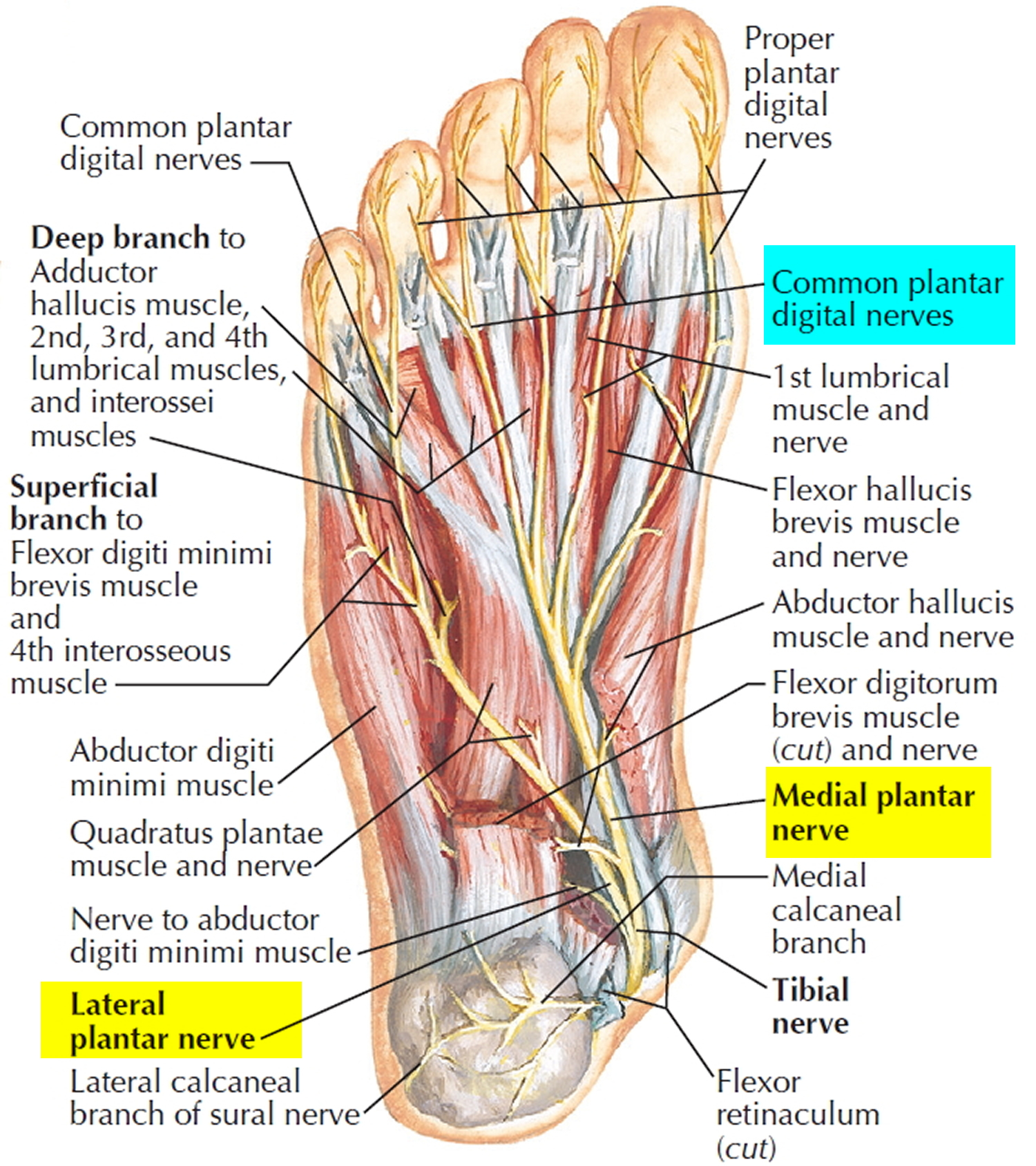 Note: Morton's neuroma involves a thickening of the tissue around one of the nerves leading to your toes. This can cause a sharp, burning pain in the ball of your foot. Your toes also may sting, burn or feel numb.
Morton's neuroma causes
The exact cause of Morton's Neuroma is unknown. Anything that causes compression or irritation of the plantar nerve can lead to the development of a Morton's neuroma. One of the most common offenders is wearing shoes that have a tapered toe box or high-heeled shoes that cause the toes to be forced into the toe box. People with certain foot deformities—bunions, hammertoes, flatfeet or more flexible feet—are at higher risk for developing a Morton's neuroma. Other potential causes are activities that involve repetitive irritation to the ball of the foot, such as running or court sports. An injury or other type of trauma to the area may also lead to a Morton's neuroma.
Some experts believe the following may play a role in the development of Morton's neuroma:
Abnormal positioning of toes
Flat feet
Forefoot problems, including bunions and hammer toes
High foot arches
Tight shoes and high heels
Risk Factors for Morton's neuroma
It's not clear what causes Morton's neuroma, but some factors that may increase risk:
Women are more likely to develop morton's neuromas than men
High heels. Wearing high-heeled shoes or shoes that are tight or ill fitting can place extra pressure on your toes and the ball of your foot.
Certain sports. Participating in high-impact athletic activities such as jogging or running may subject your feet to repetitive trauma. Sports that feature tight shoes, such as snow skiing or rock climbing, can put pressure on your toes.
Foot deformities. People who have bunions, hammertoes, high arches or flatfeet are at higher risk of developing Morton's neuroma.
Morton's neuroma symptoms
If you have a Morton's neuroma, you may have one or more of these symptoms where the nerve damage is occurring:
Tingling, burning or numbness
Pain
A feeling that something is inside the ball of the foot
A feeling that there is something in the shoe or a sock is bunched up
Runners may feel pain as they push off from the starting block. High-heeled shoes, which put the foot in a similar position to the push-off, can also aggravate the condition. Tight, narrow shoes also aggravate this condition by compressing the toe bones and pinching the nerve.
The progression of a Morton's neuroma often follows this pattern:
The symptoms begin gradually. At first, they occur only occasionally when wearing narrow-toed shoes or performing certain aggravating activities.
The symptoms may go away temporarily by removing the shoe, massaging the foot or avoiding aggravating shoes or activities.
Over time, the symptoms progressively worsen and may persist for several days or weeks.
The symptoms become more intense as the neuroma enlarges and the temporary changes in the nerve become permanent.
Morton's neuroma diagnosis
To arrive at a diagnosis, the foot and ankle surgeon will obtain a thorough history of your symptoms and examine your foot. During the physical examination, the doctor attempts to reproduce your symptoms by manipulating your foot. During the exam, your doctor will press on your foot to feel for a mass or tender spot. There may also be a feeling of "clicking" between the bones of your foot.
Other tests or imaging studies may be performed.
Morton's neuroma test
Nerve testing (electromyography) cannot definitely diagnose Morton's neuroma, but may be used to rule out conditions that cause similar symptoms.
Your doctor may also order blood tests to check for inflammation-related conditions, including certain forms of arthritis.
Other investigations that can be used include MRI or high-resolution ultrasound can confirm the diagnosis.
Imaging tests
Some imaging tests are more useful than others in the diagnosis of Morton's neuroma:
X-rays. Your doctor is likely to order X-rays of your foot, to rule out other causes of your pain — such as a stress fracture.
Ultrasound. This technology uses sound waves to create real-time images of internal structures. Ultrasound is particularly good at revealing soft tissue abnormalities, such as neuromas.
Magnetic resonance imaging (MRI). Using radio waves and a strong magnetic field, an MRI also is good at visualizing soft tissues. But it's an expensive test and often indicates neuromas in people who have no symptoms.
Morton's neuroma treatment
Treatment depends on the severity of your symptoms. Your doctor will likely recommend trying conservative approaches first.
Foot Therapy
Changes to footwear (for example, shoes with wider toe boxes) can be tried first.
Arch supports and foot pads fit inside your shoe and help reduce pressure on the nerve. These can be purchased over-the-counter, or your doctor may prescribe a custom-made, individually designed shoe insert — molded to fit the exact contours of your foot.
Nonsurgical Treatment
In developing a treatment plan, your foot and ankle surgeon will first determine how long you have had the neuroma and will evaluate its stage of development. Treatment approaches vary according to the severity of the problem.
For mild to moderate neuromas, treatment options may include:
Padding. Padding techniques provide support for the metatarsal arch, thereby lessening the pressure on the nerve and decreasing the compression when walking.
Icing. Placing an icepack on the affected area helps reduce swelling.
Orthotic devices. Custom orthotic devices provided by your foot and ankle surgeon provide the support needed to reduce pressure and compression on the nerve.
Activity modifications. Activities that put repetitive pressure on the neuroma should be avoided until the condition improves.
Shoe modifications. Wear shoes with a wide toe box and avoid narrow-toed shoes or shoes with high heels.
Medications. Oral nonsteroidal anti-inflammatory drugs (NSAIDs), such as ibuprofen, may be recommended to reduce pain and inflammation.
Injection therapy. Treatment may include injections of steroids, local anesthetics or other agents into the painful area.
Several studies have shown that a combination of roomier, more comfortable shoes, nonsteroidal anti-inflammatory medication, custom foot orthoses and cortisone injections provide relief in over 80 percent of people with Morton's neuroma. If conservative treatment does not relieve your symptoms, your orthopaedic surgeon may discuss surgical treatment options with you. Surgery can resect a small portion of the nerve or release the tissue around the nerve, and generally involves a short recovery period.
Morton's neuroma surgery
Surgery may be considered in patients who have not responded adequately to nonsurgical treatments. Your foot and ankle surgeon will determine the approach that is best for your condition. The length of the recovery period will vary depending on the procedure performed.
Regardless of whether you have undergone surgical or nonsurgical treatment, your surgeon will recommend long-term measures to help keep your symptoms from returning. These include appropriate footwear and modification of activities to reduce the repetitive pressure on the foot.
If conservative treatments haven't helped, your doctor might suggest:
Decompression surgery. In some cases, surgeons can relieve the pressure on the nerve by cutting nearby structures, such as the ligament that binds together some of the bones in the front of the foot.
Removal of the nerve. Surgical removal of the growth may be necessary if other treatments fail to provide pain relief. Although surgery is usually successful, the procedure can result in permanent numbness in the affected toes.
After the operation, you may be required to wear a bandage around your foot for a few weeks to prevent swelling and allow the tendons and soft tissues to heal. Your stitches will need to be removed after 1-2 weeks, and you may not be able to put weight through the sole of your feet for a short time.
You should expect a gradual recovery from surgery, with near-complete recovery taking between 3-12 months. Despite this, you should be able to return to all your normal activities in the first few months. Keep in mind that numbness in the area of the cut nerve after surgery is permanent, but should not be painful.
As with any surgery, there are a number of risks. You should discuss these with your surgeon.
Can the neuroma come back?
Yes, unfortunately neuroma's do recur. There can be a number of reasons for this. Depending on your response to your original surgery, you may be considered for revision surgery. This will have to be discussed with your surgeon.
Morton's neuroma treatment at home
To help relieve the pain associated with Morton's neuroma and allow the nerve to heal, consider the following self-care tips:
Take anti-inflammatory medications. Over-the-counter nonsteroidal anti-inflammatory medications, such as ibuprofen (Advil, Motrin IB, others) and naproxen (Aleve), can reduce swelling and relieve pain.
Try ice massage. Regular ice massage may help reduce pain. Freeze a water-filled paper cup or plastic foam cup and roll the ice over the painful site.
Change your footwear. Avoid high heels or tight shoes. Choose shoes with a broad toe box and extra depth.
Take a break. For a few weeks, reduce activities such as jogging, aerobic exercise or dancing that subject your feet to high impact.