What is pecan
Pecan (Carya illinoinensis) is a species of hickory native to Mexico and the southcentral and southeastern regions of the United States 1. A pecan, like the fruit of all other members of the hickory genus, is not truly a nut, but is technically a drupe, a fruit with a single stone or pit, surrounded by a husk. The husks are produced from the exocarp tissue of the flower, while the part known as the nut develops from the endocarp and contains the seed. Pecans are among the most preferred of all nuts and an economically important crop in the United States 2. In 2014, approximately 264 million pounds of pecan nuts (in-shell) were produced in the United States 3. Pecans are often sold without shells, which are removed during processing and often discarded. Based on a 50% shell-out ratio (ratio of kernel weight to the in-shell nut weight) 4, approximately 132 million pounds of pecan shells are produced by the US pecan industry per year. The outer husk is 3–4 mm (0.12–0.16 in) thick, starts out green and turns brown at maturity, at which time it splits off in four sections to release the thin-shelled seed 5.
The seeds of the pecan are edible, with a rich, buttery flavor. They can be eaten fresh or used in cooking, particularly in sweet desserts. One of the most common desserts with the pecan as a central ingredient is the pecan pie, a traditional Southern U.S. dish. Pecans are also a major ingredient in praline candy 6.
Pecan wood is used in making furniture and wood flooring as well as flavoring fuel for smoking meats.
The pecan tree is a large deciduous tree, growing to 20–40 m (66–131 ft) in height, rarely to 44 m (144 ft) 1. It typically has a spread of 12–23 m (39–75 ft) with a trunk up to 2 m (6.6 ft) diameter. A 10-year-old sapling grown in optimal conditions will stand about 5 m (16 ft) tall. The leaves are alternate, 30–45 cm (12–18 in) long, and pinnate with 9–17 leaflets, each leaflet 5–12 cm (2.0–4.7 in) long and 2–6 cm (0.79–2.36 in) broad.
Pecan and other tree nuts are recognized to be among the eight food groups that cause the majority of food allergies [US Food and Drug Administration 7] and are required to be labeled in the USA by the Food Allergen Labeling and Consumer Protection Act of 2004 when they are used as ingredients in preparing a food product. Failing to inform the consumer of an allergen source on a product label is one of the leading reasons for recent food recalls 8. Both allergenic patients and the food industry may become victims of foods containing unlabeled allergen sources. Seed storage proteins such as 2S, 7S and 11S globular proteins in many species are known allergens, including all three proteins in peanuts, hazelnuts, cashews, pistachios and walnuts. The 2S albumin 9 and 11S legumin 10 in pecan have also been identified as food allergens.
Figure 1. Pecan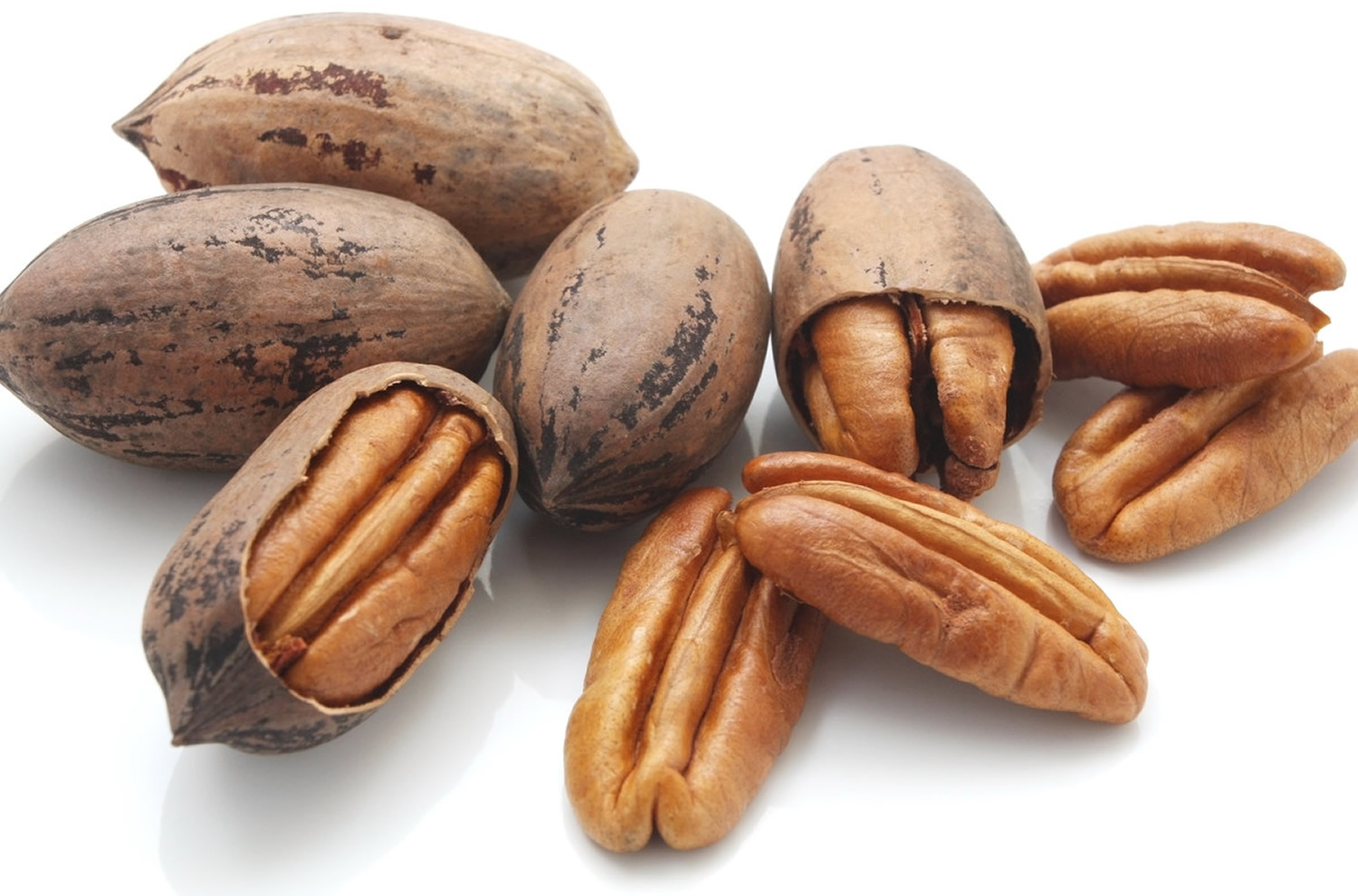 Pecan nutrition facts
In 100 g, pecans provide 691 Calories and over 100% of the Daily Value (DV) for total fat. Pecans are a rich source of dietary fiber (38% DV), manganese (214% DV), magnesium (34% DV), phosphorus (40% DV), zinc (48% DV) and thiamin (57% DV). Pecans are also a good source (10-19% DV) of protein, iron, and B vitamins. Their fat content consists mainly of monounsaturated fatty acids, mainly oleic acid (57% of total fat), and the polyunsaturated fatty acid linoleic acid (30% of total fat).
Table 1. Nutritional value of pecans nuts (unroasted)

Nutrient
Unit
Value per 100 g
Approximates
Water
g
3.52
Energy
kcal
691
Energy
kJ
2889
Protein
g
9.17
Total lipid (fat)
g
71.97
Ash
g
1.49
Carbohydrate, by difference
g
13.86
Fiber, total dietary
g
9.6
Sugars, total
g
3.97
Sucrose
g
3.9
Glucose (dextrose)
g
0.04
Fructose
g
0.04
Lactose
g
0
Maltose
g
0
Starch
g
0.46
Minerals
Calcium, Ca
mg
70
Iron, Fe
mg
2.53
Magnesium, Mg
mg
121
Phosphorus, P
mg
277
Potassium, K
mg
410
Sodium, Na
mg
0
Zinc, Zn
mg
4.53
Copper, Cu
mg
1.2
Manganese, Mn
mg
4.5
Selenium, Se
µg
3.8
Fluoride, F
µg
10
Vitamins
Vitamin C, total ascorbic acid
mg
1.1
Thiamin
mg
0.66
Riboflavin
mg
0.13
Niacin
mg
1.167
Pantothenic acid
mg
0.863
Vitamin B-6
mg
0.21
Folate, total
µg
22
Folic acid
µg
0
Folate, food
µg
22
Folate, DFE
µg
22
Choline, total
mg
40.5
Betaine
mg
0.7
Vitamin B-12
µg
0
Vitamin B-12, added
µg
0
Vitamin A, RAE
µg
3
Retinol
µg
0
Carotene, beta
µg
29
Carotene, alpha
µg
0
Cryptoxanthin, beta
µg
9
Vitamin A, IU
IU
56
Lycopene
µg
0
Lutein + zeaxanthin
µg
17
Vitamin E (alpha-tocopherol)
mg
1.4
Vitamin E, added
mg
0
Tocopherol, beta
mg
0.39
Tocopherol, gamma
mg
24.44
Tocopherol, delta
mg
0.47
Vitamin D (D2 + D3)
µg
0
Vitamin D
IU
0
Vitamin K (phylloquinone)
µg
3.5
Lipids
Fatty acids, total saturated
g
6.18
04:00:00
g
0
06:00:00
g
0
8:0
g
0
10:0
g
0
12:0
g
0
13:0
g
0
14:0
g
0
15:0
g
0
16:0
g
4.366
17:0
g
0
18:0
g
1.745
20:0
g
0.069
22:0
g
0
24:0
g
0
Fatty acids, total monounsaturated
g
40.801
14:1
g
0
16:1 undifferentiated
g
0
18:1 undifferentiated
g
40.594
20:1
g
0.207
22:1 undifferentiated
g
0
24:1 c
g
0
Fatty acids, total polyunsaturated
g
21.614
18:2 undifferentiated
g
20.628
18:3 undifferentiated
g
0.986
18:04:00
g
0
20:2 n-6 c,c
g
0
20:3 undifferentiated
g
0
20:4 undifferentiated
g
0
20:5 n-3 (EPA)
g
0
22:5 n-3 (DPA)
g
0
22:6 n-3 (DHA)
g
0
Cholesterol
mg
0
Stigmasterol
mg
3
Campesterol
mg
6
Beta-sitosterol
mg
117
Amino Acids
Tryptophan
g
0.093
Threonine
g
0.306
Isoleucine
g
0.336
Leucine
g
0.598
Lysine
g
0.287
Methionine
g
0.183
Cystine
g
0.152
Phenylalanine
g
0.426
Tyrosine
g
0.215
Valine
g
0.411
Arginine
g
1.177
Histidine
g
0.262
Alanine
g
0.397
Aspartic acid
g
0.929
Glutamic acid
g
1.829
Glycine
g
0.453
Proline
g
0.363
Serine
g
0.474
Other
Alcohol, ethyl
g
0
Caffeine
mg
0
Theobromine
mg
0
Anthocyanidins
Cyanidin
mg
10.74
Petunidin
mg
0
Delphinidin
mg
7.3
Malvidin
mg
0
Pelargonidin
mg
0
Peonidin
mg
0
Flavan-3-ols
(+)-Catechin
mg
7.2
(-)-Epigallocatechin
mg
5.6
(-)-Epicatechin
mg
0.8
(-)-Epicatechin 3-gallate
mg
0
(-)-Epigallocatechin 3-gallate
mg
2.3
(+)-Gallocatechin
mg
0
Flavanones
Hesperetin
mg
0
Naringenin
mg
0
Flavones
Apigenin
mg
0
Luteolin
mg
0
Flavonols
Myricetin
mg
0
Quercetin
mg
0
Isoflavones
Daidzein
mg
0
Genistein
mg
0
Glycitein
mg
0
Total isoflavones
mg
0
Formononetin
mg
0
Coumestrol
mg
0
Proanthocyanidin
Proanthocyanidin dimers
mg
42.1
Proanthocyanidin trimers
mg
26
Proanthocyanidin 4-6mers
mg
101.4
Proanthocyanidin 7-10mers
mg
84.2
Proanthocyanidin polymers (>10mers)
mg
223
[Source
11
]
Health benefits of pecans
Pecan shell fiber (also known as pecan shell flour or ground pecan shells) is a food ingredient produced from shells of pecans, excluding the husks and nut kernels. Pecan shell fiber is predominantly composed of insoluble fiber (cellulose, lignin and hemicellulose) and contains small amounts of fat (<4%) and protein (<3%). It also contains approximately 4.5% polyphenols and 10% proanthocyanidins, molecules recognized for antioxidant activity 12. Higher amounts of substances with antioxidant properties, such as phenolics, tannins, and gallic and ellagic acids, are also present in pecan shells when compared with the kernels 13. Ellagic acid causes reversed high-carbohydrate and high-fat diet-induced symptoms of metabolic syndrome in rats 14. This compound also inhibited porcine pancreatic lipase activity, indicating its effects on metabolism 15. Based on these findings, studies were conducted to evaluate the efficacy of aqueous extract of pecan shells to decrease glucose, triglycerides, and cholesterol using diabetes and hyperlipidemia models in rats and the results are promising 16. The shells have been used empirically in natura and in nutraceutical products against obesity and hypercholesterolemia 17. Pecan shells and gallic and ellagic acids have been investigated in the prevention or treatment of human diseases such as metabolic and inflammatory conditions, neurological disorders, gastric ulcers, and cancer 18, 19. Aqueous extract from pecan nut shell show activity against breast cancer cell line MCF-7 and Ehrlich ascites tumor in Balb-C mice 20. These results were attributed to the phenolic profile of the extract, which presented compounds such as gallic, 4-hydroxybenzoic, chlorogenic, vanillic, caffeic and ellagic acid, and catechin, epicatechin, epigallocatechin and epicatechin gallate. The results indicated that pecan nut shell extracts are effective against tumor cells growth and may be considered as an alternative to the treatment of cancer. Therefore, pecan shell fiber has potential as both a fiber ingredient and antioxidant in food formulations. Pecan shell fiber provides an additional benefit that several fiber ingredients do not possess- high polyphenol and proanthocyanidin content, which will aid in the preservation of food. However, only a few studies examined their safety and chemical constituents 21.
The American Association of Feed Control Officials 22 includes Ground Pecan Shells (definition 60.110) in the 2015 official publication of animal feed ingredients 22 as a source of fiber. Although pecan shell fiber is Generally Recognized as Safe by the U.S. Food and Drug Administration (FDA) 23 for use as a "natural" flavor complex for meat products (at a maximum level of 3000 ppm (0.3%)) 24, pecan shell fiber is not GRAS for other purposes 23. Under section 201(s) of the Food Drug and Cosmetic Act, the use of a substance, rather than the substance itself, is eligible for a GRAS determination 25. However, pecan shells have inorganic elements (e.g copper & manganese) whose accumulation can be harmful and should be taken into account in the manufacturing of nutraceutical products of pecan 17. The excess intake of copper (Cu) may lead to neuropsychiatric symptoms such as those observed in Wilson's disease 26. Oxidative stress biomarkers and antioxidative enzyme activity increased after copper (Cu) overload in male Wistar rats, reflecting copper (Cu)-induced oxidative damage 27, and daily administration of 0.15 mg Cu/100 g body weight for 90 days impaired spatial memory and neuromuscular coordination, indicative of chronic Cu toxicity 28. Thus, the effects of excess Cu, manganese (Mn) and other mineral elements on the central nervous system may have contributed to the observed toxicity of pecan shell aqueous extract doses exceeding 200 mg/kg. However, other chemical components might be involved in inducing toxicity. Pecan shell aqueous extract is a complex mixture of organic and inorganic compounds that interact with one other and might produce synergistic and additive effects. Although humans may have been ingesting small amounts of pecan shell fiber in the past, they have not been eating the ingredient at the considerably higher levels expected when used as a source of fiber. To support a higher level of consumption in humans, safe consumption of high levels of pecan shell fiber must be demonstrated in experimental animals. Genotoxicity studies should also be conducted because the potential for genotoxicity due to small levels of contaminants would increase with higher levels of consumption.
References