Whipple's disease
Whipple disease also known as Whipple's disease or lipodystrophy intestinalis, is an extremely rare bacterial infection that affects joints and gastrointestinal system caused by the gram-positive bacterium, Tropheryma whipplei, which is transferred through facal–oral transmission 1, 2. Whipple disease affects your body's ability to absorb nutrients, such as fats and carbohydrates. Whipple disease is a systemic infectious disease that not only involves malabsorption from the gastrointestinal tract but also affects other systems like the cardiovascular, central nervous system, joints, and vascular system. Whipple disease is characterized by arthritis followed by diarrhea and steatorrhea (oily, smelly stools, which often float) with severe weight loss but can also be associated with anemia, fever, polyarthritis (a term used when five or more joints are affected with arthritis or joint pain), spondyloarthropathy (a type of arthritis that attacks the spine and, in some people, the joints of the arms and legs), and involvement of the central nervous system 3, 4, 5. Recent assessments also suggested isolated acute and chronic manifestations of Tropheryma whipplei comprising pneumonia, diarrhea, endocarditis, arthritis, uveitis and central nervous system involvement 6, 7, 8, 9. Whipple's disease can be fatal if left untreated, although exact numbers on the mortality rate are unknown 10, 11, 12.
Dr. George Hoyt Whipple initially described this condition in 1907 13. Dr. George Hoyt Whipple was the first American Nobel Prize laureate in Physiology. Dr. Whipple described a case of a 36-year-old male who presented with malabsorption associated with mesenteric lymphadenopathy, arthralgias, and skin pigmentation 2. The condition named by him "Intestinal Lipodystrophy," and his article was published in the Bulletin of Johns Hopkins Hospital. Dr. Whipple hypothesized that an infectious agent was responsible, but the bacteria Tropheryma whipplei was only fully identified in 1992 14, 15, 16.
Whipple disease is extremely rare and since its first description in 1907, fewer than 1000 cases have been reported and just one another patient is known in the literature to have had the same onset of Whipple's disease 17, 18.
Whipple disease affects mainly middle-aged men with a male-to-female ratio of 8 : 1 19. The prevalence rate is not known, but an estimated 1 case per million has been reported 19. A more recent paper from Biagi et al. 20 reports an estimated prevalence in northwestern Italy of 3 per million. Based on studies on duodenal biopsy specimens, the annual incidence rate of classic Whipple's disease was approximately 12 new cases per year worldwide 21. This estimation was made before the introduction of polymerase chain reaction (PCR) testing as a tool for diagnosis of Whipple's disease, so the real incidence is probably much higher 18, 12. Nowadays, the incidence rate has been estimated to be between 1 and 6 new cases per 10,000,000 persons per year worldwide 1.
Whipple disease is NOT to be confused with Whipple surgery, which is a surgical procedure in which the head of the pancreas, the gallbladder, part of the stomach, part of the small intestine, and the bile duct are removed 22. In Whipple surgery enough of the pancreas is left to produce digestive juices and insulin.
The mainstay of treatment for Whipple disease is antibiotic therapy 2. Antibiotic treatment usually leads to rapid improvement of clinical conditions, but the eradication of Tropheryma whipplei requires prolonged treatment 1. Symptoms like diarrhea, joint pain, and fever usually disappear within a week, while other symptoms may take several weeks to disappear 10. It is difficult to cure patients with late symptoms like eye, heart, and central nervous system (brain and spinal cord) involvement, and these patients tend to have high relapse and mortality rates 23. Sometimes patients with early symptoms are also hard to treat, as they seem to suffer from lifetime infection either due to permanent carriage of the bacteria in a niche in the patient where it is difficult for the antibiotics to eradicate the bacteria, the development of resistance against these antibiotics, or by reinfection 24. Whatever the reason, it is a common belief that there are frequent late relapses after antibiotic treatment 1. The usefulness of supplementing antibiotic therapy with interferon-gamma (IFN-γ) in order to enhance the antibacterial effect has been proposed and may be effective to overcome antibiotic resistance and/or relapses 25. Furthermore, as there is currently no universally recognized noninvasive method to monitor patients, it is difficult to evaluate the effectiveness of therapy. The intracellular concentration of antibiotics should be sufficient and in the case of central nervous system (CNS) involvement, the drug must be able to efficiently cross the blood-brain barrier. There is no evidence for different treatment regimens for chronic localized infections and classic Whipple′s disease, and therefore, patients should be treated similarly 26, 23.
Figure 1. Tropheryma whipplei bacterium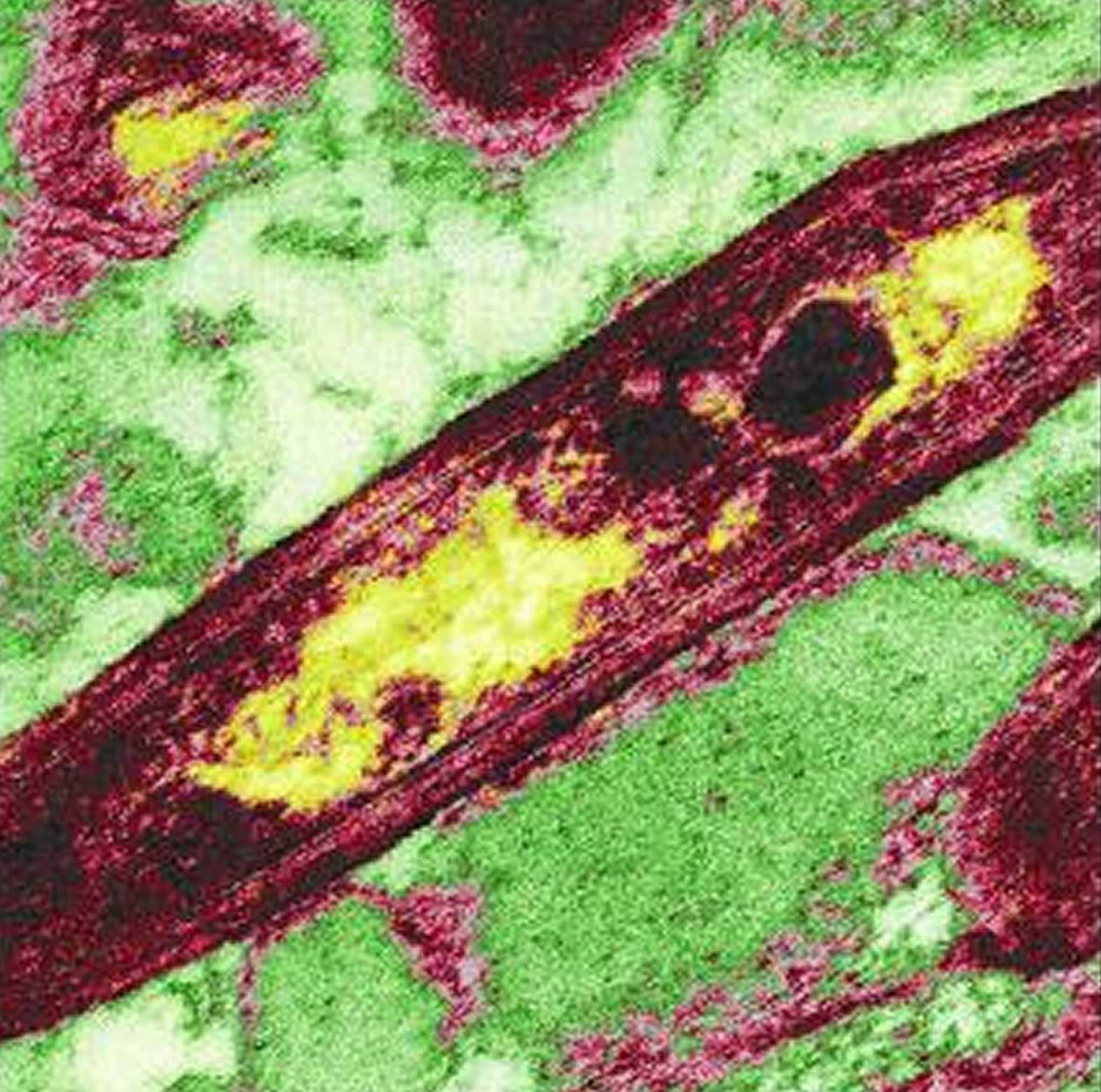 Footnote: Tropheryma whipplei is rod shaped, a gram-postive bacterium. False-color image of Tropheryma whipplei in which the genome is represented by the yellow-colored regions.
Figure 2. Tropheryma whipplei bacteria in human macrophages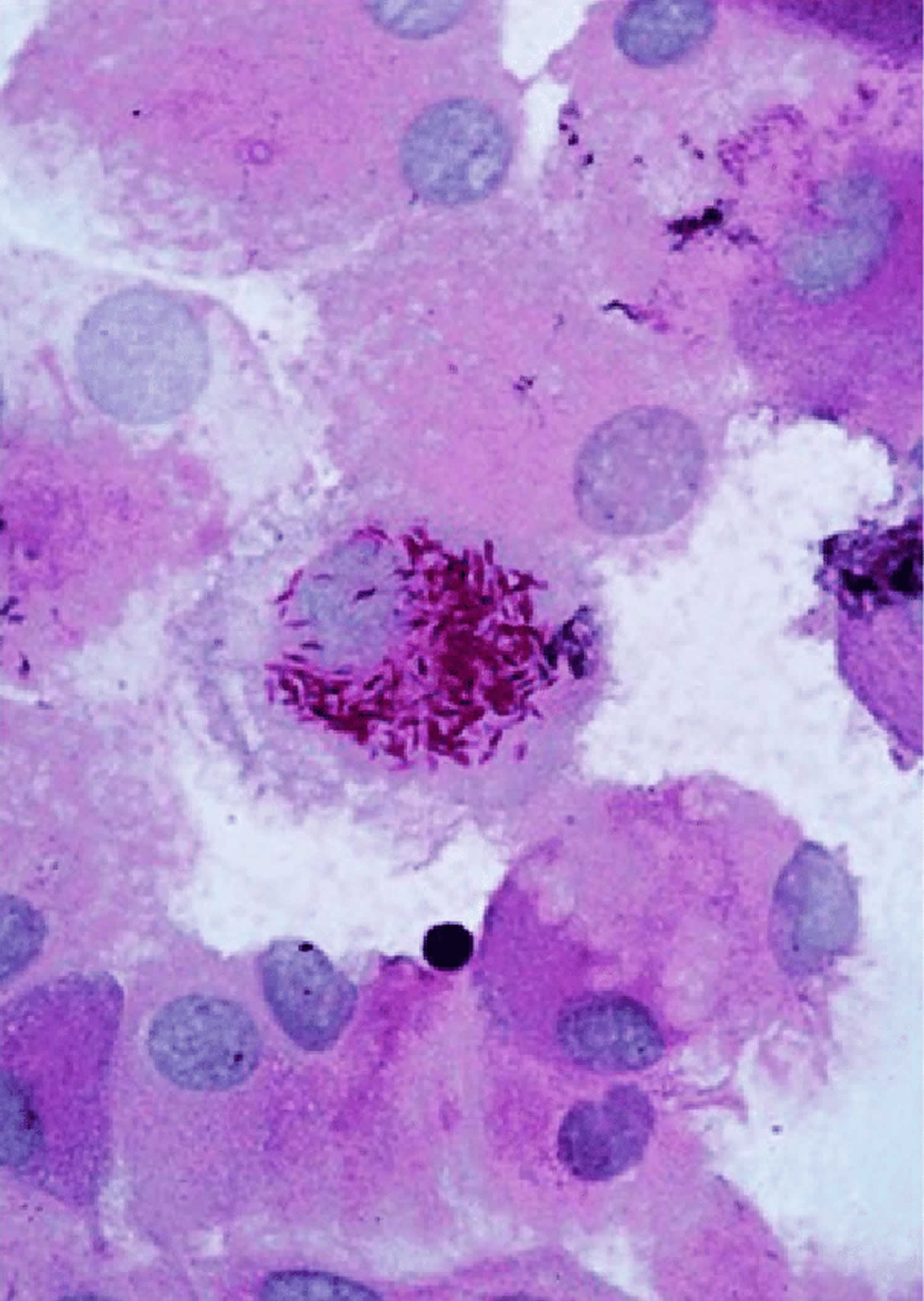 Footnote: Illustrative image of periodic acid-Schiff (PAS)-positive Tropheryma whipplei bacteria in human macrophages
[Source
27
]
Whipple disease signs and symptoms
Signs and symptoms of Whipple disease can vary widely from person to person 1. There are four commonly recognized signs and symptoms of infections with Tropheryma whipplei bacteria (Table 1) 28, 29, 30, 31:
Classic Whipple's disease;
Localized chronic infections, predominantly endocarditis;
Acute infections, e.g., pneumonia, bacteremia, and gastroenteritis; and
Carriage.
The most common symptoms of Whipple disease are:
diarrhea
weight loss caused by malabsorption
A person may not have diarrhea. Instead, other signs and symptoms of Whipple disease may appear, such as:
abnormal yellow and white patches on the lining of the small intestine
joint pain, with or without inflammation, that may appear off and on for years before other symptoms
fatty or bloody stools
abdominal cramps or bloating felt between the chest and groin
enlarged lymph nodes—the small glands that make infection-fighting white blood cells
loss of appetite
fever
fatigue, or feeling tired
weakness
anemia
darkening of the skin
People with a more advanced stage of Whipple disease may have neurologic symptoms—those related to the central nervous system—such as:
vision problems.
memory problems or personality changes.
facial numbness.
headaches.
muscle weakness or twitching.
difficulty walking.
hearing loss or ringing in the ears.
dementia—the name for a group of symptoms caused by disorders that affect the brain. People with dementia may not be able to think well enough to do normal activities such as getting dressed or eating.
Less common symptoms of Whipple disease may include:
chronic cough.
chest pain.
pericarditis—inflammation of the membrane surrounding the heart.
heart failure—a long-lasting condition in which the heart cannot pump enough blood to meet the body's needs. Heart failure does not mean the heart suddenly stops working.
Table 1. Whipple disease signs and symptoms
| Classic Whipple's disease (% incidence) | Chronic localized infections | Acute infections |
| --- | --- | --- |
| Weight loss (79–99) | Endocarditis | Gastroenteritis |
| Gastroenteritis (63–85) | Encephalitis | Pneumonia |
| Abdominal pain (23–60) | | Bacteremia |
| Arthritis (20–83) | | |
| Neurological symptoms (6–63) | | |
[Source
1
]
Classic Whipple's disease
The typical patient with classic Whipple's disease is a Caucasian male (73 to 87% of patients with the disease were male) 48 to 54 years old who has had initial intermittent arthralgia (73 to 80% of patients) or chronic digestive troubles with diarrhea (72 to 81%) and/or is suffering from weight loss (79 to 93% of patients) 32. However, before patients display these characteristic signs, they often go through a long period (6 to 8 years) where they have only some nonspecific symptoms (Table 2) 33.
Among the most common symptoms of patients with classic Whipple's disease are arthralgia, diarrhea, steatorrhea, weight loss, lymphadenopathy, abdominal pain, hypoalbuminemia, and anemia 12, 10. These symptoms tend to develop in three phases, the early, middle, and late phases. Patients in the early phase of the disease can have symptoms of infection, fever, arthritis, and arthralgia. Patients in the middle phase have symptoms like diarrhea and weight loss (Table 2). Most patients with Whipple's disease had arthritis, arthralgia, or other joint problems years before they were diagnosed with the disease34. Every organ system can be involved in the late phase, but mostly the eyes, heart, and central nervous system are infected 35.
Arthalgia, arthritis, and/or spondylodiscitis
The first prodromal sign of classic Whipple's disease in 80 to 90% of the cases is seronegative arthritis and/or arthralgia, frequently accompanied by fever and elevated acute-phase reactants 10. This is why patients are often misdiagnosed with palindromic rheumatism (inflammatory arthritis) 36. In any middle-aged male with joint arthritis and/or arthralgia where there is no effect of immunosuppressive treatment, Whipple's disease should be considered, even if there are no other typical symptoms 12. Other associated clinical manifestations like anemia and weight loss increase the likelihood of Whipple's disease, as they are not characteristic for palindromic rheumatism (inflammatory arthritis) 36. It is important that clinicians are aware of this, because up to 50% of the patients with classic Whipple's disease were initially misdiagnosed and given antirheumatic agents like disease-modifying antirheumatic drugs (DMARDs), anti-necrosis factor alpha, glucocorticoids, or drugs that can enhance the spread of the infection and thus may have fatal consequences 10. In retrospect, physicians should consider occult Tropheryma whipplei infections in patients treated for unrelated bacterial infections showing a surprising decrease in their previously unexplained arthralgia 37.
Table 2. Most common disease course of classic Whipple's disease
Symptom (%) for early phase (<6 yrs)
Symptom (%) for middle phase (6 to 8 yrs)
Symptom (%) for late phase (>8 yrs)
Intermittent arthralgia (73–80%)
Fever (19–54%)
Chronic obstructive troubles with diarrhea (72–81%)
Neurological symptoms (6–63%)
Weight loss (79–93%)
Abdominal pain (23–60%)
Lymphadenopathy (35–66%)
[Source
1
]
Gastrointestinal symptoms
Gastrointestinal manifestations are the most prominent symptoms of Whipple's disease 1. The duodenum, jejunum, and ileum are affected in most patients with classic Whipple's disease. The liver, esophagus, and stomach can also be affected, but this is less common 38. Most diagnoses are based on at least one symptom related to these organ systems (64). Diarrhea, abdominal pain, and steatorrhea are among the most frequent symptoms in classic Whipple's disease. Apart from these symptoms, hepatosplenomegaly, anorexia, nutritional deficiencies, cachexia, hematochezia, and malabsorption are also common 35. These manifestations can progress to a severe wasting syndrome (with significant weight loss, fatigue, weakness, muscle atrophy, and loss of appetite) and abdominal lymphadenopathy 35. Although gastrointestinal involvement is common, it is not necessarily present, as endocarditis and neurological symptoms without gastrointestinal symptoms have been reported 39, 40.
Neurological symptoms
Symptoms of the central nervous system (brain and spinal cord) are the third most frequent manifestation of Whipple's disease 41 and range from 6 to 63% 10. Depending on the location of the lesions, symptoms can be both central or peripheral and either isolated or multifocal. Symptoms associated with Whipple's disease range from abnormal movements (myoclonus, choreiform movements, oculomasticatory myorhythmia), hypersomnia, coma, ophthalmoplegia, cognitive impairment, frontal lobe syndrome, cerebellar ataxia, or upper motor neuron and extrapyramidal symptoms 23. It has even been suggested that there is a relation between T. whipplei infection and the development of Parkinson's disease 42, but it is unlikely that there is a causative relation. Although most Whipple's disease patients do not present any obvious neurological symptoms, postmortem investigation showed that 90% of brain and spinal cord specimens from both patients and presumed carriers revealed lesions of the central nervous system, meaning that central nervous system involvement is more common than expected from the clinical manifestations 43. Another indication for frequent neurological involvement is the presence of T. whipplei DNA in the cerebrospinal fluid (CSF) of patients with classic Whipple's disease even in the absence of evident neurological manifestations 44. The prognosis for patients with symptomatic central nervous system involvement remains poor, as major complications are seen in 25% of patients and 4-year survival rates are <75% 45. Early diagnosis and treatment are thus essential in these patients 41.
Whipple endocarditis
Endocarditis can also occur in the classic form of Whipple's disease and is usually present only in the late phase 46. This manifestation is often preceded by arthralgia or arthritis without gastrointestinal signs 47. A case of predominant pleuropericarditis caused by T. whipplei with developing dense pleural fibrosis requiring decortication has recently been reported 48. Pleuropericardial involvement is a frequent pathological finding in patients with Whipple's disease, although it rarely results in clinical symptoms 48.
Less common symptoms
Especially in the early phase of Whipple's disease, several less common symptoms of Whipple's disease can be manifested. Dermatologists should be aware that both cutaneous 49 and subcutaneous 50 lesions may be a manifestation of Whipple's disease, as cutaneous biopsy specimens containing PAS-positive macrophages characteristic of Whipple's disease have been reported 51. If lymphadenopathy, anemia, and pancytopenia are present, apart from lymphoma of other nonspecific granulomatous reticuloendothelial disorders, Whipple's disease has to be considered as well 52, 53. Retroperitoneal  Whipple's disease tumor formation was found in a patient with loss of appetite, weight loss, malnutrition, malaise, abdominal pain, diarrhea, vomiting, and intermittent fever 54. After negative diagnostic results for malignancy, Whipple's disease was confirmed as a diagnosis, and the patient was treated with ceftriaxone, resulting in clinical improvement and weight gain 54. There is an association between thrombocytopenia and T. whipplei infection, which probably results from peripheral platelet sequestration. This thrombocytopenia rapidly resolves upon treatment 55. Finally, ocular manifestations have been described 56 and crystalline keratopathy has been reported as a typical characteristic of ocular Whipple's disease 57.
Acute Whipple infections
Tropheryma whipplei has also been associated with acute infections, including gastroenteritis, pneumonia, and bacteremia 28, 58. As only limited data exist on these clinical manifestations, further research is required to determine the exact involvement of the bacterium in these acute infections 1.
Gastroenteritis
A 3-year study on the correlation between Tropheryma whipplei carriers and gastroenteritis was performed by Raoult et al. 28. Polymerase chain reaction (PCR) on feces and Western blotting on sera for Tropheryma whipplei were performed for a cohort of children between 2 and 4 years of age with diarrhea in Marseille, France 28. The presence of Tropheryma whipplei was established in 36 (15%) of 241 children with gastroenteritis, and in 23 (64%) of these 36 positive samples, no other diarrheal pathogens were found 28. In addition, a study of 534 stool samples from children aged between 0 and 12 years from rural Ghana, it was found that children with diarrhea carried Tropheryma whipplei in their stool twice as often as controls without diarrhea 59. Tropheryma whipplei-infected patients usually have watery diarrhea, and periodically, they have colicky abdominal pain 60. In another study, Tropheryma whipplei was associated with adult traveler's diarrhea in two of nine pilgrims, as Tropheryma whipplei DNA was found in rectal swabs of travelers suffering from diarrhea 61. These studies indicate that Tropheryma whipplei infections can cause diarrhea.
Pneumonia
Tropheryma whipplei was shown to be an etiological pathogen in pneumonia 62. Tropheryma whipplei was found to be an etiological pathogen in pneumonia in a study where 210 BAL fluid samples obtained from patients in intensive care units were tested using both a generic 16S rRNA gene polymerase chain reaction (PCR) and a specific quantitative polymerase chain reaction (PCR) 58. A total of six (3%) of these samples contained Tropheryma whipplei, and in one of these samples, Tropheryma whipplei was in fact the only bacterium found 58. In a recent study, Tropheryma whipplei was shown to be the only bacterium present in bronchoalveolar (BAL) fluid samples from a patient with severe pneumonia 31. In addition, an unexpectedly large number of HIV patients carried high loads of Tropheryma whipplei in bronchoalveolar (BAL) fluid samples 63. This provides further support that Tropheryma whipplei might be a causative agent in lung disease. Macrophages are the main target cell for Tropheryma whipplei infection, and as macrophages are abundant in the alveolar tissue, they might provide a suitable niche for Tropheryma whipplei.
Bacteremia
A study in Senegal where blood samples from patients with fever were tested using polymerase chain reaction (PCR) showed a 6.4% presence of Tropheryma whipplei 64. Interestingly, cough and sleep disorders were significantly more present in patients with Tropheryma whipplei than those without Tropheryma whipplei. There was no correlation between the occurrence of the bacterium in saliva and stool samples and bacteremia 64. This suggests that Tropheryma whipplei infections can result in acute, self-limiting bacteremia 64.
Localized chronic Whipple infections
Tropheryma whipplei can also cause localized infections which do not develop into the classic form of Whipple's disease. In these cases, there is no systemic involvement of Tropheryma whipplei, and the stool and saliva samples tested by PCR and/or PAS-stained duodenal biopsy specimens may often be negative 65.
Endocarditis
This form of endocarditis is an intracellular infection rather than a biofilm-like superficial cardiovalvular colonization with the bacterium. In most patients, there are no other manifestations of classic Whipple's disease 46, and clinical signs are similar to those of cardiac disease with negative blood cultures 46. In spite of the negative blood cultures, 80% of these patients displayed an increased C-reactive protein level, indicative of an infection and vegetations in 79% of cases 46. The first reported localized Tropheryma whipplei endocarditis case was diagnosed by broad-range bacterial PCR analysis 66. As there are no evident diagnostic criteria, clinicians should be especially alert for a potential Tropheryma whipplei endocarditis when dealing with white men who are around 50 years of age with cardiac symptoms like heart failure, large vegetations, and destruction of the heart valve, acute ischemic stroke, and embolic events 26. Of all patients with blood culture-negative endocarditis, PCR revealed the presence of a Tropheryma whipplei infection in 1.9 to 6.3% of patients 26. These patients include 1,135 endocarditis patients who underwent cardiac surgery in two German university hospitals. In 255/1,135 (22%) of the cases, a bacterial cause could be established by a combination of molecular methods and culture. Surprisingly, 16/255 (6.3%) of the patients with a proven bacterial infection (1.5% of the total population) carried Tropheryma whipplei, making it the fourth most frequent pathogen identified from these proven infectious cases 26. Follow-up of these patients revealed that most of these Tropheryma whipplei-positive patients displayed no symptoms of classic Whipple's disease and had thus neither been diagnosed nor treated properly for their potentially lethal Tropheryma whipplei infection.
In a study from 2004 67, the cardiac valves from five patients with Tropheryma whipplei endocarditis were histologically evaluated and compared to those of patients with endocarditis but without Whipple's disease. The histologic findings were significantly more fibrosis, a lack of calcification, slightly less vegetations, and reduced inflammation and vascularization compared to a control group with endocarditis 67.
Encephalitis
Several studies by a French group 23, 68 reported the clinical implications of isolated encephalitis caused by Tropheryma whipplei. The most common neurological symptoms are cognitive impairment, ataxia, and supranuclear ophthalmoplegia 69. A study from 2011 showed that ataxia and dementia were more severe in patients with encephalitis than in patients with classic Whipple's disease, making early recognition clinically important 69. Recently, a paradoxical association between Tropheryma whipplei encephalitis (as was documented by brain biopsy specimen) and obesity has been found in several cases 69. These patients suffered from unexplained progressive dementia that was in most cases associated with ataxia and recent obesity. These patients rapidly recovered from their neurological manifestations after antibiotic treatment, and surprisingly, the obesity also rapidly reversed. The combination of cerebellar syndromes, dementia, and obesity should therefore trigger physicians to consider a Tropheryma whipplei infection. Definite diagnosis is complicated, as it would involve obtaining brain biopsy specimens, but since empirical treatment was reported to rapidly resolve the clinical symptoms, one might consider starting treatment even in the absence of a final diagnosis 69.
Infections in other locations
Tropheryma whipplei has also been linked to interstitial lung disease, pulmonary hypertension, and other pulmonary manifestations 31. Two recent studies of BAL fluid samples from hospitalized patients provided the best evidence that Tropheryma whipplei is a probable etiologic agent of pneumonia, as they found a total of 10 patients where Tropheryma whipplei was the only bacterium found 70. While it was postulated that these infections resulted from aspiration 70, an infectious route resulting from translocation through the circulation system or direct de novo infection from the environment cannot be excluded at this time. Clinical respiratory symptoms include dry cough, chest pains, and shortness of breath 71. These symptoms often present without gastrointestinal symptoms 71.
Finally, osteoarticular involvement 10, uveitis 72 and lymphadenopathy 10 have also been reported to result from Tropheryma whipplei infection.
Whipple disease complications
People with Whipple disease may have complications caused by malnutrition, which is due to damaged villi in the small intestine. As a result of delayed diagnosis or treatment, people may experience the following complications in other areas of the body:
long-lasting nutritional deficiencies
heart and heart valve damage
brain damage
A person with Whipple disease may experience a relapse—a return of symptoms. Relapse can happen years after treatment and requires repeat treatments.
Whipple disease is a progressive and potentially fatal disease. Although the infection is rare, associated deaths continue to be reported, due in large part to late diagnoses and delayed treatment. Death often is caused by the spread of the infection to the central nervous system, which can cause irreversible damage.
Whipple disease causes
Bacteria called Tropheryma whipplei (T. whipplei) cause Whipple disease. Tropheryma whipplei infection can cause internal sores, also called lesions, and thickening of tissues in the small intestine. The villi take on an abnormal, clublike appearance and the damaged intestinal lining does not properly absorb nutrients, causing diarrhea and malnutrition. Diarrhea is frequent, loose, and watery bowel movements. Malnutrition is a condition that develops when the body does not get the right amount of vitamins, minerals, and other nutrients it needs to maintain healthy tissues and organ function. Over time, the infection spreads to other parts of the person's body and will damage other organs.
Human-to-human transmission
While the incidence of classic Whipple's disease is low, Tropheryma whipplei is now recognized as a widespread bacterium, as in the general populations of Europe and Senegal, respectively, 48% and 72% carried antibodies against the bacterium 73, 74. Recent data suggest that the presence of Tropheryma whipplei in fecal samples from asymptomatic individuals varies between 1.5 to 4% 75, 76, 24 in the general population of Europe but that it can be up to 12 to 25% in specific populations like sewage workers, HIV-infected, and the homeless 76, 77. Also, patients with cirrhosis were found to have a high carriage rate of 12.5% 78. A small proportion of the classic Whipple's disease patients with positive stool samples have positive saliva carriage as well, and viable bacteria have been found in saliva samples from carriers 79. Salival carriage was found to be 0.2% to 2.2% in sewage workers and 3.7% in the homeless. Interestingly, when saliva samples are positive, stool samples are generally positive as well 29. This suggests that the bacterial load in stools is higher than in saliva samples and that the gut is the preferred niche of this bacterium. The amount of bacteria in fecal samples is also significantly higher in symptomatic patients than it is in carriers 80, 81, indicating that a high load is associated with symptoms of Tropheryma whipplei infections.
Relatives of chronic Whipple's disease patients have a higher chance of carrying the bacterium 29. It is unclear whether these family members have a higher rate of carriage because of human-to-human transmission or because they are infected by the same environmental source 29. Saliva and stool samples of these relatives have been found to be 8% and 31% positive, respectively 29. Eighty percent of relatives of carriers had positive stool samples, and 20% of relatives had positive saliva samples 29. This suggests that oral-oral and fecal-oral transmission with this bacterium occurs 79. In a study on gastroenteritis in 2- to 4-year-olds, a clonal outbreak of Tropheryma whipplei was found, which indicates that it is circulating in the population or their direct environment 28. Also, in a study in Senegal, only three different epidemic genotypes were found 80. Finally, outbreaks of two different genotypes in homeless shelters in France have been reported 82. These three studies all suggest that clonal outbreaks of Tropheryma whipplei do occur.
It is assumed that the Tropheryma whipplei bacterium is acquired during childhood 83, 84. In Senegal, up to 75% of children of <4 years of age were found to carry the bacterium 83. By using quantitative real-time PCR (qPCR), a study in Laos showed a prevalence of 48% in the feces of children 84. In Ghana, PCR-based prevalence in stool samples of 534 children (aged 2 months to 15 years) was 27.5% using multiple qPCRs 85. Sewage and surface water have been shown to contain Tropheryma whipplei-specific DNA and are thus a possible environmental source of infection 78. It has been postulated that based on the results of analysis of the genome sequences, Tropheryma whipplei might form spores 86. Although these spores have never been observed, they may explain the long-term survival in the environment. Finally, in addition to the oral route of transmission, there is some evidence for a respiratory route, as Tropheryma whipplei was shown to be present in bronchoalveolar lavage (BAL) fluid samples of patients with pneumonia 31.
Nonhuman sources of Tropheryma whipplei
Animals may be carriers of Tropheryma whipplei, although there is little experimental proof for this 83. Granulomatous colitis of dogs showing microscopic similarity to Whipple's disease has been found, but no specific microbiologic diagnosis was made 87. Tropheryma whipplei was not found in the stools of 127 monkeys or apes 76. Intestinal biopsy specimens from a small collection of domestic animals (24 pigs, 20 cattle, 19 chickens, 15 sheep, 14 cats, 13 dogs, and 10 horses) were also investigated and showed no positive results after analysis by PCR 88. Furthermore, in Senegal where the bacterium is highly prevalent, only 4 of the 1,002 environmental specimens (including domestic and synanthropic animals) tested positive for Tropheryma whipplei 89. Although it is commonly believed that there is no significant nonhuman reservoir, this cannot be definitely excluded without proper studies on this subject.
Risk factors for Whipple disease
Because so little is known about the bacterium that causes Whipple disease, risk factors for the disease haven't been clearly identified. Based on available reports, it appears more likely to affect:
Men
People ages 40 to 60
Whites in North America and Europe
Farmers and other people who work outdoors and have frequent contact with sewage and wastewater.
Whipple disease prevention
Experts have not yet found a way to prevent Whipple disease.
Whipple disease diagnosis
A health care provider may use several tests and exams to diagnose Whipple disease, including the following:
medical and family history
physical exam
blood tests
upper gastrointestinal (GI) endoscopy and enteroscopy
A patient may be referred to a gastroenterologist—a doctor who specializes in digestive diseases.
A health care provider may first try to rule out more common conditions with similar symptoms, including:
Inflammatory rheumatic disease—characterized by inflammation and loss of function in one or more connecting or supporting structures of the body.
Celiac disease—a digestive disease that damages the small intestine and interferes with the absorption of nutrients from food. People who have celiac disease cannot tolerate gluten, a protein in wheat, rye, and barley.
Neurologic diseases—disorders of the central nervous system.
Intra-abdominal lymphoma—abdominal cancer in part of the immune system called the lymphatic system.
Mycobacterium avium complex—an infection that affects people with AIDS.
Whipple's disease is frequently diagnosed at a late stage, because it is rare and has a broad spectrum of nonspecific clinical presentations, which makes it hard for clinicians to diagnose 12. In the early stage, often some of the typical manifestations may be not be present. The presence of the Tropheryma whipplei bacterium can be established diagnostically in various tissues and body fluids by several routine methods 44. The different laboratory methods to diagnose Tropheryma whipplei infections will be discussed below.
Figure 3. Whipple's disease diagnostic algorithm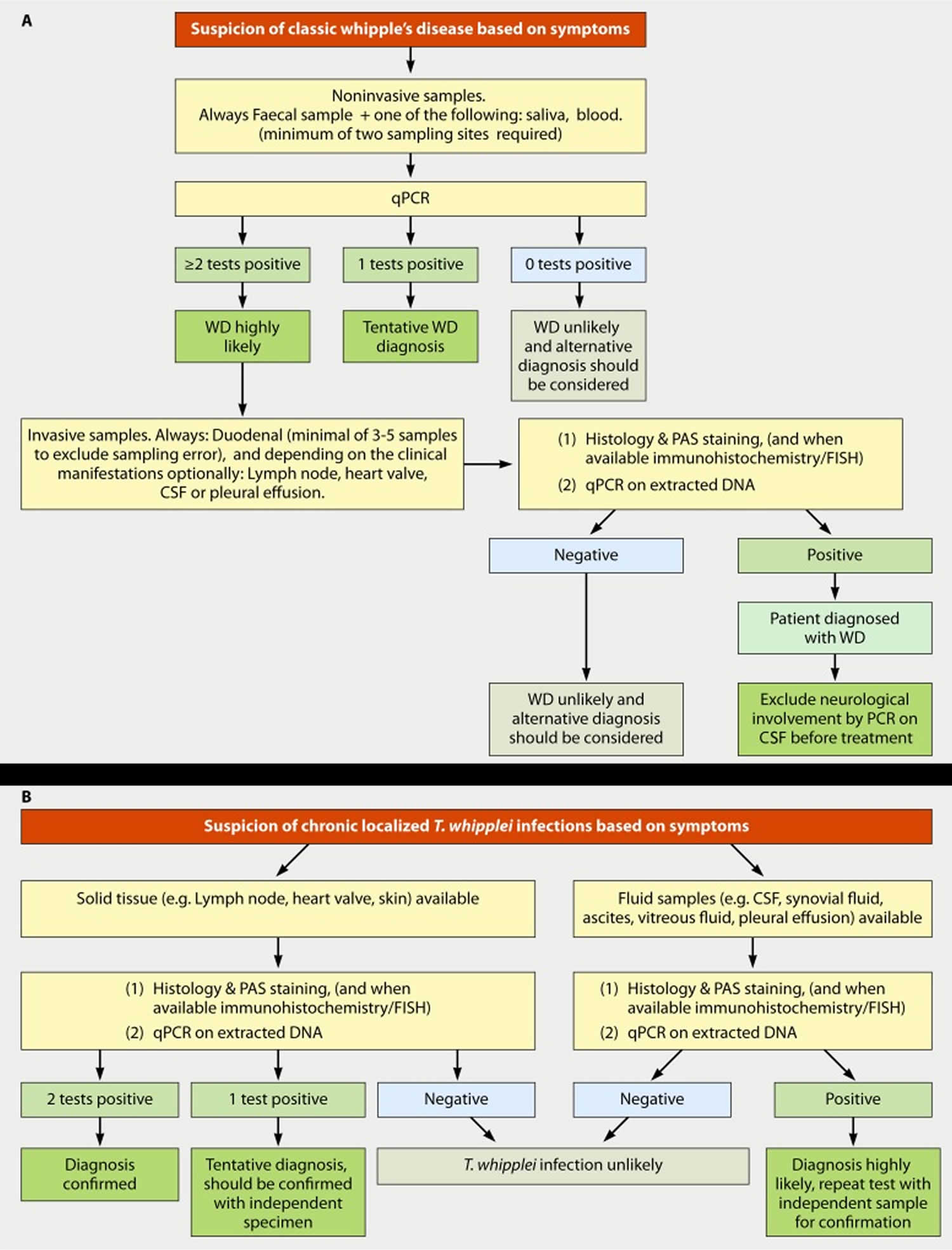 Footnote: (A) Diagnostic strategy for classic Whipple's disease. (B) Diagnostic strategy for chronic localized Tropheryma whipplei infection.
[Source
1
]
Medical and Family History
Taking a family and medical history can help a health care provider diagnose Whipple disease.
Physical Exam
A physical exam may help diagnose Whipple disease. During a physical exam, a health care provider usually:
examines a patient's body
uses a stethoscope to listen to sounds related to the abdomen
taps on specific areas of the patient's body checking for pain or tenderness
Blood Tests
A technician or nurse draws a blood sample during an office visit or at a commercial facility and sends the sample to a lab for analysis. The health care provider may use blood tests to check for:
Malabsorption. When the damaged villi do not absorb certain nutrients from food, the body has a shortage of protein, calories, and vitamins. Blood tests can show shortages of protein, calories, and vitamins in the body.
Abnormal levels of electrolytes. Electrolytes—chemicals in body fluids, including sodium, potassium, magnesium, and chloride—regulate a person's nerve and muscle function. A patient who has malabsorption or a lot of diarrhea may lose fluids and electrolytes, causing an imbalance in the body.
Anemia. Anemia is a condition in which the body has fewer red blood cells than normal. A patient with Whipple disease does not absorb the proper nutrients to make enough red blood cells in the body, leading to anemia.
Tropheryma whipplei DNA. Although not yet approved, rapid polymerase chain reaction diagnostic tests have been developed to detect T. whipplei DNA and may be useful in diagnosis.
Immunohistochemistry
The presence of Tropheryma whipplei can be detected by using immunohistochemistry 90. With this method, antibodies are used to specifically detect Tropheryma whipplei in fixed specimens 91. In vitro cultivation of Tropheryma whipplei has allowed generation of these highly specific antibodies in rabbits 92, enabling clinicians to detect Tropheryma whipplei in formalin-fixed, paraffin-embedded biopsy specimens.
In a study performed in 2003 by Lepidi and colleagues 92, the diagnostic value of Tropheryma whipplei-specific immunohistochemistry on duodenal biopsy samples was evaluated. Immunohistochemistry was highly specific and also more sensitive than PAS staining, as some of the PAS-negative duodenal biopsy samples were positive by immunohistochemistry 92. These patients later relapsed. After treatment (varying from 6 to 160 months), immunodetection signals of the bacterium were lower compared to PAS stains 92. The reason for this might be that dead bacteria are no longer well detected by immunohistochemistry, whereas PAS can still detect them 92. In another study, Lepidi and colleagues successfully used immunohistochemistry to detect Tropheryma whipplei in the lymph nodes of two Whipple's disease patients suffering from lymphadenopathy, without gastrointestinal signs 93.
Serology
After the development of a reliable culture method for Tropheryma whipplei, several serological methods to diagnose classic Whipple's disease could be developed 94. The development of serology is difficult, because of the paradoxically higher specific immunoglobulin M (IgM) titers in carriers compared to patients with Whipple's disease 95. The initial antigens were used for the specific detection of IgM class antibodies but had a low specificity 94. As with immunohistochemistry, this technique is employed by only a few specialized laboratories due to the lack of a readily available (commercial) source of antigen and/or antibodies. When there are only saliva or stool samples with positive PCR results for patients, Western blot serology could be used to differentiate between carriers and patients based on the higher antibody titers in carriers compared to patients in these studies 96. It is unclear whether this finding also applies to a larger population and thus has any practical application for routine diagnostic use.
Fluorescence in situ hybridization (FISH)
The fluorescence in situ hybridization (FISH) technique is useful to detect and confirm the presence of T. whipplei in extraintestinal tissues and in PAS-positive small bowel biopsy specimens 26. The target for these probes is the ribosomes, which degrade more rapidly in dead bacteria, in contrast to the target of PAS staining that stays positive for a longer period under treatment 97.
Upper Gastrointestinal Endoscopy and Enteroscopy
Classic Whipple's disease is typically accompanied by histological lesions in the duodenum or other parts of the small bowel. An upper gastrointestinal (GI) endoscopy and enteroscopy are procedures that use an endoscope—a small, flexible tube with a light—to see the upper gastrointestinal tract. A health care provider performs these tests at a hospital or an outpatient center. The health care provider carefully feeds the endoscope down the esophagus and into the stomach and duodenum.
Once the endoscope is in the duodenum, the health care provider will use smaller tools and a smaller scope to see more of the small intestine. These additional procedures may include:
Push enteroscopy, which uses a long endoscope to examine the upper portion of the small intestine.
Double-balloon enteroscopy, which uses balloons to help move the endoscope through the entire small intestine.
Capsule enteroscopy, during which the patient swallows a capsule containing a tiny camera. As the capsule passes through the gastrointestinal tract, the camera will transmit images to a video monitor. Using this procedure, the health care provider can examine the entire digestive tract.
A small camera mounted on the endoscope transmits a video image to a monitor, allowing close examination of the intestinal lining. A health care provider may give a patient a liquid anesthetic to gargle or may spray anesthetic on the back of the patient's throat. A health care provider will place an intravenous (IV) needle in a vein in the arm or hand to administer sedation. Sedatives help patients stay relaxed and comfortable. The test can show changes in the lining of the small intestine that can occur with Whipple disease.
The health care provider can use tiny tools passed through the endoscope to perform biopsies. A biopsy is a procedure that involves taking a piece of tissue for examination with a microscope. A pathologist—a doctor who specializes in examining tissues to diagnose diseases—examines the tissue from the stomach lining in a lab. The pathologist applies a special stain to the tissue and examines it for Tropheryma whipplei-infected cells with a microscope. Once the pathologist completes the examination of the tissue, he or she sends a report to the gastroenterologist for review.
Duodenal biopsy
An important step in diagnosing Whipple disease is taking a tissue sample (biopsy), usually from the lining of the small intestine 65. To do this, your doctor typically performs an upper endoscopy. The procedure uses a thin, flexible scope that passes through your mouth, throat, esophagus and stomach to your small intestine. The scope allows your doctor to view your digestive passages and obtain biopsies.
During the procedure, tissue samples are removed from several intestinal sites. This tissue is microscopically examined for the presence of disease-causing bacteria and their lesions, and specifically for Tropheryma whipplei bacteria. If biopsies of the small intestine don't confirm the diagnosis, your doctor might biopsy an enlarged lymph node or perform other tests.
A DNA-based test known as polymerase chain reaction (PCR), which is available at some medical centers, can detect Tropheryma whipplei bacteria in biopsy specimens or spinal fluid samples.
Most patients with classic Whipple's disease usually have large numbers of Tropheryma whipplei bacteria in their duodenal mucosa, but this seldom results in an inflamed appearance of the duodenum during endoscopy 65. The mucosa of the duodenum frequently has dilated villi with ectatic lymph vessels and a pale yellow color 12. As the bacterium is not evenly distributed over the duodenum, several samples of the duodenum should be obtained in order to avoid sampling bias in patients who do carry the bacterium in their duodenum. In addition, it is also advisable to obtain samples from the gastric antrum, jejunum, and/or ileum 12.
Polymerase chain reaction (PCR)
Polymerase chain reaction (PCR) is becoming a popular technique for diagnosing Whipple's disease, as it is thought to be more specific and sensitive than other methods 44. Recently, a patient in Japan was presumptively diagnosed with Whipple's disease based solely on clinical suspicion followed by a positive PCR result on duodenal biopsy specimens 98. The corresponding small bowel biopsy samples from this patient were negative by PAS staining, and if PCR had not been performed, this patient would have been misdiagnosed 98. The presumptive diagnosis was supported by clinical symptoms and fast remission of symptoms after the start of Tropheryma whipplei-specific antibiotic treatment, but it lacks confirmation on a second independent specimen 98. An explanation for the discrepancy between histology and PCR may be an uneven distribution of the bacterium within the gut. Due to its higher sensitivity and larger sample size (that is homogenized during the DNA isolation step), PCR may not suffer as much from these sampling errors caused by a patchy distribution of the bacterium 11.
In 2012, a retrospective study on the value of PCR for diagnosing Whipple's disease was performed by Edouard and colleagues 44 using histology as the gold standard. They concluded that quantitative real-time PCR (qPCR) on stool and saliva samples is a good initial screening method 44. However, it is critical to validate the specificity of the PCR, as false-positive PCR results on saliva has been reported, especially when using 16S rRNA gene-based primers as the Tropheryma whipplei 16S rRNA genes are very similar to those of other bacteria that can be present in the oral cavity 99. Whole-genome sequencing of Tropheryma whipplei identified more-specific PCR targets like the repetitive sequences, which when used in addition to other targets helped to rule out false-positive results 100.
The main risk of PCR techniques is contamination, which can occur during several steps of the PCR process, including collection of the samples, isolation of DNA, and performing the PCR amplifications 11. It is advisable that in atypical cases of Tropheryma whipplei, two different specific target genes are tested and that the results for both target genes should be positive in order to rule out potential false-positive results 101. The occurrence of false-positive PCR results has been reported, e.g., in cerebrospinal fluid samples and duodenal biopsy specimens 99. In order to minimize the chance of false-positive results caused by contamination or due to a nonspecific PCR, quantitative real-time PCR (qPCR) should preferably be performed on more than one sample and whenever possible also include invasive samples, for instance, blood or biopsy specimen 44. In cases of arthralgia and arthritis, qPCR on joint fluids has become the preferred method of diagnosis 102. In addition, it is good practice to test the cerebrospinal fluid by PCR, as even without clinical signs of neurological involvement in many patients, Tropheryma whipplei is present in the CNS 65. If localized endocarditis is suspected in a patient, a blood sample should be taken. The positive predictive value of PCR of blood samples was found to be 100%. However, the sensitivity (and negative predictive value) on blood samples is low 44.
Electron microscopy
Electron microscopy can be a useful method for diagnosis of T. whipplei infections 103, but only a few laboratories have the means to perform electron microscopy. Due to sampling error, the negative predictive value of electron microscopy is low. Also, electron microscopy is rather laborious and therefore more suited for experimental studies on the pathology of T. whipplei 104.
Whipple disease differential diagnosis
The differential diagnoses of Whipple disease include 2:
HIV
Tuberculosis
Inflammatory bowel disease with arthropathy
Connective tissue disorder
Hyperthyroidism.
Whipple disease treatment
The health care provider prescribes antibiotics to destroy the T. whipplei bacteria and treat Whipple disease. Health care providers choose antibiotics that treat the infection in the small intestine and cross the blood-brain barrier—a layer of tissue around the brain. Using antibiotics that cross the blood-brain barrier ensures destruction of any bacteria that may have entered the patient's brain and central nervous system.
Antibiotics
The health care provider usually prescribes IV antibiotics for the first 2 weeks of treatment. Most patients feel relief from symptoms within the first week or two 105. A nurse or technician places an IV in the patient's arm to give the antibiotics.
IV antibiotics used to treat Whipple disease may include:
ceftriaxone (Rocephin)
meropenem (Merrem I.V.)
penicillin G (Pfizerpen)
streptomycin (Streptomycin)
After a patient completes the IV antibiotics, the health care provider will prescribe long-term oral antibiotics. Patients receive long-term treatment—at least 1 to 2 years—to cure the infection anywhere in the body.
Oral antibiotics may include:
trimethoprim with sulfamethoxazole (Septra, Bactrim)—a combination antibiotic
doxycycline (Vibramycin)
Patients should finish the prescribed course of antibiotics to ensure the medication destroyed all T. whipplei bacteria in the body. Patients who feel better may still have the bacteria in the small intestine or other areas of the body for 1 to 2 years. A health care provider will monitor the patient closely, repeat the blood tests, and repeat the upper GI endoscopy with biopsy during and after treatment to determine whether T. whipplei is still present.
People may relapse during or after treatment. A health care provider will prescribe additional or new antibiotics if a relapse occurs. Some people will relapse years after treatment, so it is important for patients to schedule routine follow-ups with the health care provider. Most patients have good outcomes with an early diagnosis and complete treatment.
Relapsing neurologic Whipple's disease (marked by bouts of worsening of symptoms) is sometimes treated with a combination of antibiotics and weekly injections of interfron gamma, a substance made by the body that activates the immune system.
Health care providers treat patients with neurologic symptoms at diagnosis or during relapse more aggressively. Treatment may include:
a combination of antibiotics
hydroxychloroquine (Plaquenil)—an antimalarial medication
weekly injections of interferon gamma—a substance made by the body that activates the immune system
corticosteroids—medications that decrease inflammation
The currently recommended treatment by UpToDate 106 is based on a single randomized controlled trial where 40 patients were successfully treated with ceftriaxone (one dose of 2 g/day) or meropenem (three doses of 1 g/day) for 14 days followed by oral co-trimoxazole (the combination of trimethoprim and sulfanomides) for 12 months 107. While clinically effective, there is solid in vitro evidence that the target for trimethoprim is missing in the bacterium. This regimen results in good antibiotic levels in the brain, which is important, as even without specific symptoms, Whipple's disease often affects the CNS 107. In patients who are intolerant to ceftriaxone, meropenem can be used as an alternative, and for patients intolerant to co-trimoxazole, doxycycline can be used 108. Whole-genome sequence analysis and the successful culturing of Tropheryma whipplei enabled both sequence-based analysis and in vitro susceptibility testing of the bacterium 109. This resulted in some serious discussion on the effectiveness of the first-choice regimen, as in vitro data suggest an intrinsic resistance of Tropheryma whipplei to trimethoprim 110, which was confirmed by sequence analysis revealing that the target for trimethoprim (dihydrofolate reductase) is missing 111. In addition, mutations in the gene encoding dihydropteroate synthase (folP), the target of sulfanomide, were reported to result in resistance to sulfamethoxazole and sulfadiazine 112. This hypothetical resistance was confirmed by a recent retrospective analysis where all 14 patients who were first treated with co-trimoxazole failed treatment 111. Also, co-trimoxazole is associated with significant toxicity, and it is thus remarkable that co-trimoxazole is currently still a component of the first-choice treatment 106, and therefore, replacement of co-trimoxazole by an alternative antibiotic is probably more appropriate 1.
A more rational alternative approach to ceftriaxone followed by co-trimoxazole is the combined use of hydroxychloroquine and doxycycline which is the only in vitro bactericidal treatment against cultured Tropheryma whipplei 111. This treatment algorithm (Figure 4) for classic Whipple's disease involves doxycycline (200 mg/day) and hydroxychloroquine (600 mg/day) for 12 months (104, 199, 207). For localized Tropheryma whipplei infection, treatment with doxycycline (200 mg/day) and hydroxychloroquine (600 mg/day) for 12 to 18 months, followed by a lifetime follow-up, has been proposed 111. These antibiotics are effective against intracellular pathogens and are relatively safe when used for short-term treatment, for example, in Q-fever patients 111. While in vitro susceptibility data support this regimen 111, thus far, there is only limited in vivo evidence supporting the choice for this combination of antibiotics, as only a handful of prospective trials have been performed 107, 108.
Figure 4. Proposed therapeutic strategy to treat Whipple's disease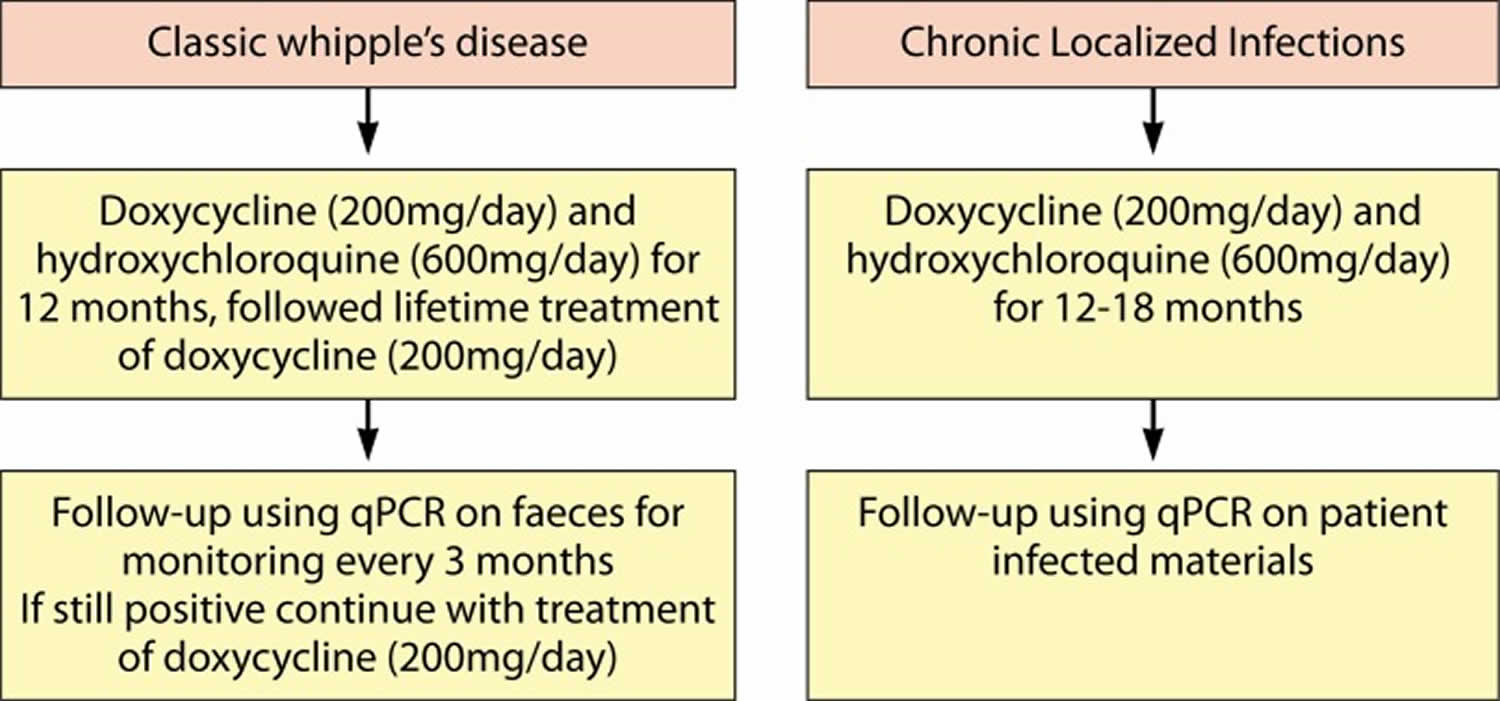 [Source
1
]
Other treatment
Immune reconstitution inflammatory syndrome (IRIS) is a serious complication during antibiotic treatment observed in approximately 10% of patients with classic Whipple's disease 113, 114. A study done by Moos and colleagues 114 concluded that Tropheryma whipplei must have an immunosuppressive effect on CD4+ T cells because of the frequent emergence of immune reconstitution inflammatory syndrome (IRIS) after antibiotic treatment of Whipple's disease. Activated CD4+ cells escape the peripheral blood and home onto affected tissues, causing the clinical symptoms seen in IRIS patients (220). Increased peripheral and local CD4+ T cell counts are early prognostic markers for IRIS in these patients 114. In patients in whom IRIS develops, adequate therapy is essential, as untreated IRIS can be fatal 113. Oral corticosteroids are the first-choice treatment, and patients usually respond rapidly. If the inflammation does not subside within 24 hour, additional or alternative immunosuppressive agents should be prescribed 115. Thalomidine seems to be a good alternative treatment in cases of corticosteroid resistance 116.
Eating, Diet, and Nutrition
A person with Whipple disease and malabsorption may need:
a diet high in calories and protein
vitamins
nutritional supplements
People with Whipple disease should discuss their nutritional needs with a dietitian or other health care professional and meet regularly with him or her to monitor changing nutritional needs.
Taking supplements
Because of the nutrient-absorption difficulties associated with Whipple disease, your doctor may recommend taking vitamin and mineral supplements to ensure adequate nutrition. Your body may require additional vitamin D, folic acid, calcium, iron and magnesium.
Treatment follow-up
It is generally advised to obtain duodenal biopsy specimens at 6-month intervals, and therapy needs to be continued as long as these biopsy specimens remain positive 1. However, this advice might be outdated for the following reasons:
Obtaining biopsy samples is both costly and not without risk for complications.
The procedure can be stressful for the patient.
It is known that Whipple's disease is associated with a lifetime susceptibility to Tropheryma whipplei infections 117.
Macrophages can remain in the lamina propria for years after successful treatment, and thus, the detection of PAS-positive foamy macrophages cannot be considered definitive evidence for incomplete bacterial remission 118.
There is an apparent discrepancy in the therapeutic monitoring between PCR and FISH on one side versus immunohistochemistry and microscopy on the other side 119. This could explain the relapses in patients with PCR-negative duodenal biopsy samples. Recent work showed that both PCR and FISH can give false-negative results due to a biofilm that prevents detection of a low bacterial load after antimicrobial treatment 119. While in general PCR is more sensitive, PAS staining and immunohistochemistry are not influenced by the masking effect of the biofilm and are therefore more suitable to detect Tropheryma whipplei after treatment. Enzymatic disruption of the biofilm during the isolation of DNA prior to PCR was shown to solve this problem. Therefore, new and noninvasive PCR-based diagnostic methods for Tropheryma whipplei infection are being improved and tested for their usefulness to monitor patients. If the sensitivity and specificity of PCR for Tropheryma whipplei detection in feces or saliva is proven to be high enough, and a better correlation with remission is achieved, they might eventually completely replace biopsy specimen-based monitoring.
There is evidence for a genetic predisposition of Whipple's disease or increased risk of reinfection. This translates to an increased risk of developing relapses even after complete clinical remission 117. Relapse rates of Whipple's disease were initially reported to be 30% 120 but have seriously declined over the past decades 108. There is some discrepancy between the reported relapse rates when treating with beta-lactam and co-trimoxazole versus doxycycline and hydroxychloroquine 108. Some of these differences can be explained by differences in the length of time of therapeutic monitoring, as relapses usually occur after several years, and thus, good estimates of these relapse rates can be reported only when long-term monitoring is performed. Late relapses can occur even after several years, and it is argued that patients should be monitored for life 121. Although there is evidence that relapses can be treated successfully using the same antibiotics that were used in the initial treatment 122, it may be prudent to change the antibiotic regimen when treating a patient with a relapse 1.
These frequent relapses led to the recent proposal that the alternative therapy (doxycycline [200 mg/day] and hydroxychloroquine [600 mg/day] for 12 months) should be followed by a lifetime treatment with doxycycline to avoid reinfection 123, 117, 111. However, lifetime treatment with doxycycline may lead to development of resistance 124, and it is not clear whether this treatment is sufficient for every clinical manifestation of Tropheryma whipplei infection 117. Both doxycycline and hydroxychloroquine are known to have adverse effects when used for a longer period 125. For hydroxychloroquine, the main complication is retinal toxicity and to a lesser extent, cardiotoxicity and neuromyotoxicity 125. Long-term side effects of doxycycline use include mainly gastrointestinal and skin manifestations 126. Although not scientifically proven, resistance to tetracyclines has been suggested to exist, as the use of this antibiotic is associated with frequent relapses 124.
Whipple disease prognosis
Generally, long-term antibiotic treatment to destroy the bacteria can relieve symptoms and cure the disease. If left untreated, Whipple's disease is progressive and fatal. Individuals with involvement of the central nervous system generally have a worse prognosis and may be left with permanent neurologic disability. Deficits may persist and relapses may still occur in individuals who receive appropriate treatment in a timely fashion. Prognosis may improve with earlier recognition, diagnosis, and treatment of Whipple's disease.
References