Dietary supplements are meant to complement a healthy diet, not replace it. If you're generally healthy and eat a wide variety of foods, you probably don't need dietary or nutritional supplements. Most dietary supplements have not been well tested for safety in pregnant women, nursing mothers, or children.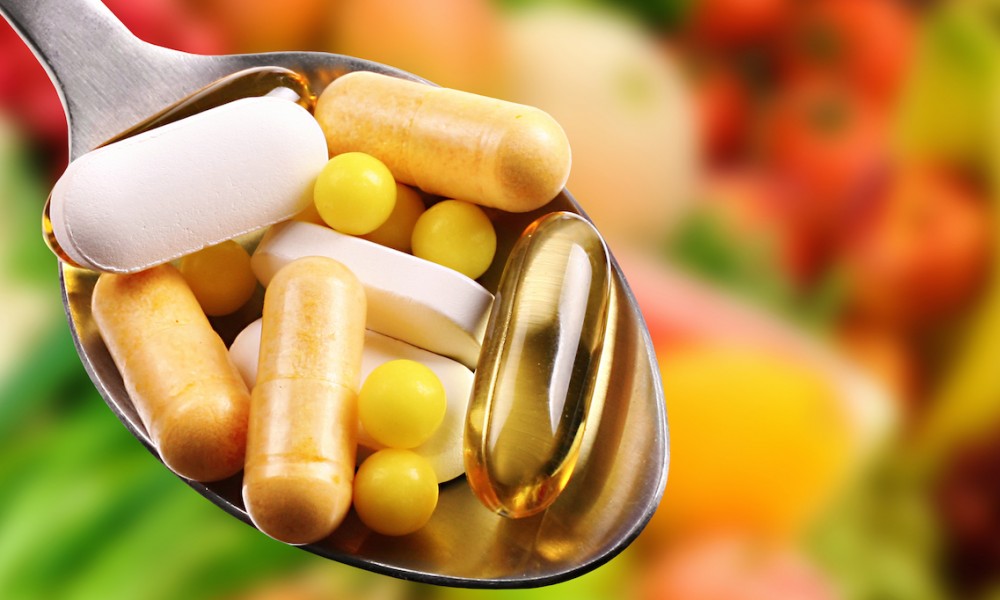 What are Dietary Supplements ?
Dietary supplements can plug dietary gaps, but nutrients from food are most important 1. The fresh food you eat is loaded with nutrients necessary for good health, such as magnesium, calcium, and vitamins A and C. But many older adults aren't getting enough nutrients from their diets.
Dietary supplements include vitamins, minerals, herbs, botanicals, amino acids, or other dietary ingredients. Dietary supplements come in a variety of forms: traditional tablets, capsules, and powders, as well as drinks and energy bars. Popular supplements include vitamins D and vitamin E; minerals like calcium and iron; herbs such as echinacea and garlic; and specialty products like glucosamine, probiotics, and fish oils. You take these products by mouth in pill, capsule, tablet, or liquid form to supplement your diet. The majority of adults in America take one or more dietary supplements either every day or occasionally.
The evidence about the benefits of multivitamins is mixed.
Dr. Sesso was a lead researcher in one of the largest studies to date on multivitamins, the Physicians' Health Study II 2, which found that multivitamins were associated with a small reduction in the risk of cancer and cataracts in men, but did not reduce deaths from heart disease. A study published March 1, 2015, in The Journal of Nutrition 3 found that a multivitamin with minerals lowered the risk of death from heart disease in women, but not in men. However, a review of a number of studies, published in Annals of Internal Medicine in 2013 4, found that multivitamins showed no benefit in preventing early death.
Fortmann and colleagues 5 systematically reviewed trial evidence to update the U.S. Preventive Services Task Force recommendation on the efficacy of vitamin supplements for primary prevention in community-dwelling adults with no nutritional deficiencies. After reviewing 3 trials of multivitamin supplements and 24 trials of single or paired vitamins that randomly assigned more than 400 000 participants, the authors concluded that there was no clear evidence of a beneficial effect of supplements on all-cause mortality, cardiovascular disease, or cancer.
Grodstein and coworkers 6 evaluated the efficacy of a daily multivitamin to prevent cognitive decline among 5947 men aged 65 years or older participating in the Physicians' Health Study II. After 12 years of follow-up, there were no differences between the multivitamin and placebo groups in overall cognitive performance or verbal memory. Adherence to the intervention was high, and the large sample size resulted in precise estimates showing that use of a multivitamin supplement in a well-nourished elderly population did not prevent cognitive decline. Grodstein and coworkers' findings are compatible with a recent review 7 of 12 fair- to good-quality trials that evaluated dietary supplements, including multivitamins, B vitamins, vitamins E and C, and omega-3 fatty acids, in persons with mild cognitive impairment or mild to moderate dementia. None of the supplements improved cognitive function.
In conclusion, β-carotene, vitamin E, and possibly high doses of vitamin A supplements are harmful. Other antioxidants, folic acid and B vitamins, and multivitamin and mineral supplements are ineffective for preventing mortality or morbidity due to major chronic diseases. Although available evidence does not rule out small benefits or harms or large benefits or harms in a small subgroup of the population, we believe that the case is closed— supplementing the diet of well-nourished adults with (most) mineral or vitamin supplements has no clear benefit and might even be harmful 8.
Because the findings from these and many other studies conflict, the U.S. Preventive Services Task Force doesn't support vitamin and mineral supplements to ward off disease.
Despite sobering evidence of no benefit or possible harm, use of multivitamin supplements increased among U.S. adults from 30% between 1988 to 1994 to 39% between 2003 to 2006, while overall use of dietary supplements increased from 42% to 53% 9.
Currently, under the Federal Food, Drug and Cosmetics Act, dietary supplement firms don't need the U.S. Food and Drug Administration (FDA) review or approval prior to marketing their products.
Acai Berry
Vitamin A
Beta Carotene
Biotin (vitamin H) and Pantothenic Acid (vitamin B5)
Vitamin B1 Thiamin
Vitamin B6 (Pyridoxine)
Vitamin B12 (Cyanocobalamin)

Calcium
Chromium
Copper
Vitamin C
Vitamin D
Vitamin E
Echinacea
Fluoride
Folate (vitamin B9)
Garcinia Combogia
Garlic
Goji Berries
Hoodia
Iodine
Iron
Japanese Knotweed (Fallopia Japonica)
Vitamin K
Magnesium
Manganese
Niacin (vitamin B3)
Omega 3 Fatty Acids
Omega 6 Fatty Acids
Phosphorus
Potassium
Resveratrol
Riboflavin (vitamin B2)
Selenium
Spirulina
St. John's Wort
Zinc
The U.S. Food and Drug Administration (FDA) does regulate dietary supplements; however, it treats them like foods rather than medications. Unlike drug manufacturers, the makers of supplements DON'T have to show their products are safe or effective before selling them on the market. That is why a dietary supplement is labeled "all-natural" doesn't mean it's safe — or effective.
Furthermore, it has been found that some products may contain more or less of the ingredient than is stated on the label. Or, in some cases they may contain ingredients not listed on the label, including prescription drugs.
Supplement makers are not allowed to claim their product diagnoses, treats, cures, reduces the symptoms of, or prevents disease — and there needs to be a disclaimer statement to that effect on the label. Look for overblown claims on the label or box, such as "totally natural," "completely safe," or "miracle cure."
What is the difference between Recommended Dietary Allowance (RDA) and Daily Value (DV) ?
Recommended Dietary Allowance (RDA) is the amount of a certain nutrient you should get each day based on your age, gender, and whether you are pregnant or breastfeeding. On a supplement label, you're more likely to see the acronym DV, which stands for Daily Value. This represents how much of a nutrient the supplement provides in regards to a total daily diet. For example, if a calcium supplement is labeled "50% DV," it contains 500 mg of calcium per serving, because the DV for calcium is 1,000 mg per day. Sometimes the DV contained in a supplement will be higher than the RDA for certain people. In many cases, there is no DV for a supplement, so the label will reflect that. Check with your doctor to make sure your supplement doesn't contain too much of any nutrient.
Safety and Risk
Many supplements contain active ingredients that can have strong effects in the body. Always be alert to the possibility of unexpected side effects, especially when taking a new product. Talk with your health care provider – let your health care providers (including doctors, pharmacists, and dietitians) know which dietary supplements you're taking so that you can discuss what's best for your overall health. Your health care provider can help you determine which supplements, if any, might be valuable for you.
Supplements are most likely to cause side effects or harm when people take them instead of prescribed medicines or when people take many supplements in combination. Some supplements can increase the risk of bleeding or, if a person takes them before or after surgery, they can affect the person's response to anesthesia. Dietary supplements can also interact with certain prescription drugs in ways that might cause problems. Here are just a few examples:
Vitamin K can reduce the ability of the blood thinner Coumadin® to prevent blood from clotting.
St. John's wort can speed the breakdown of many drugs (including antidepressants and birth control pills) and thereby reduce these drugs' effectiveness.
Antioxidant supplements, like vitamins C and vitamin E, might reduce the effectiveness of some types of cancer chemotherapy.
Keep in mind that some ingredients found in dietary supplements are added to a growing number of foods, including breakfast cereals and beverages. As a result, you may be getting more of these ingredients than you think and more might not be better. Taking more than you need is always more expensive and can also raise your risk of experiencing side effects. For example, getting too much vitamin A can cause headaches and liver damage, reduce bone strength, and cause birth defects. Excess iron causes nausea and vomiting and may damage the liver and other organs.
Be cautious about taking dietary supplements if you are pregnant or nursing. Also, be careful about giving them (beyond a basic multivitamin/mineral product) to a child.
What are dietary supplements used for ?
People use dietary supplements for many health conditions.
Historically, people have used herbal medicines to prevent illness, cure infection, relieve fever, and heal wounds. Herbal medicines can also treat constipation, ease pain, or act as relaxants or stimulants. Research on some herbs and plant products has shown that they may have some of the same effects that conventional medicines do, while others may have no effect or may be harmful.
Researchers have studied some natural products and have found them to be useful. Omega-3 fatty acids, for example, may help lower triglyceride levels.
Conclusion
Evidence is sufficient to advise against routine dietary supplementation with respect to multivitamins. Most supplements do not prevent chronic disease or death, their use is not justified, and they should be avoided. This message is especially true for the general population with no clear evidence of micronutrient deficiencies, who represent most supplement users in the United States and in other countries 9.
Vitamin D supplementation, however, is an open area of investigation, particularly in deficient persons. Although future studies are needed to clarify the appropriate use of vitamin D supplementation, current widespread use is not based on solid evidence that benefits outweigh harms 10.
If you don't eat a nutritious variety of foods, some dietary supplements might help you get adequate amounts of essential nutrients. However, dietary supplements can't take the place of the variety of foods that are important to a healthy diet.
Scientific evidence shows that some dietary supplements are beneficial for overall health and for managing some health conditions. For example, calcium and vitamin D are important for keeping bones strong and reducing bone loss; folic acid decreases the risk of certain birth defects; and omega-3 fatty acids from fish oils might help some people with heart disease. Other supplements need more study to determine their value.
In certain cases, however, fortified foods and dietary supplements may be useful in providing one or more nutrients. For example, adults age 50 or older may not get enough vitamin B-12 in their diets and may need fortified foods or a nutritional supplement.
You also may want to consider a nutritional supplement if you don't eat enough healthy foods or don't eat a healthy variety of foods — especially if you have an underlying medical condition.
Talk with your doctor or a dietitian about whether nutritional supplements might be appropriate for you. Be sure to ask about possible side effects of nutritional supplements you're considering — and if they have interactions with medications you take.
References