What is a philtrum
Philtrum is the central depression or the vertical groove between the nose and the upper lip. Variations in the anatomy of the lips and philtrum can be indicative of developmental abnormalities. The philtral ridges and the philtrum are formed by a unique collection of dermal collagen and dense elastic tissue. As elasticity is diminished with age, the philtrum takes on a less prominent appearance. The inferior margin of the philtrum forms the downward arch of the cupid's bow, while the underlying fleshy fullness is known as the tubercle or procheilon. Outlining the vermilion borders of the upper and lower lips is a 2 to 3 mm pale convexity known as the white roll, formed by the bulging of the orbicularis oris muscle laying beneath. The upper and lower lips connect to the gums by the frenulum labii superioris and frenulum labii inferioris, respectively.
Astley and colleagues 1, 2 introduced a 5-point Likert-scaled philtrum guide based on Caucasian North American subjects as an objective tool for the evaluation of the facial dysmorphology in fetal alcohol syndrome (FAS) and fetal alcohol spectrum disorders (FASD). This Caucasian guide has been incorporated into all current diagnostic schemes for fetal alcohol spectrum disorders. However, broad international clinical experience with fetal alcohol syndrome indicates racial and ethnic differences with respect to the facial morphology 3.
Figure 1. Normal philtrum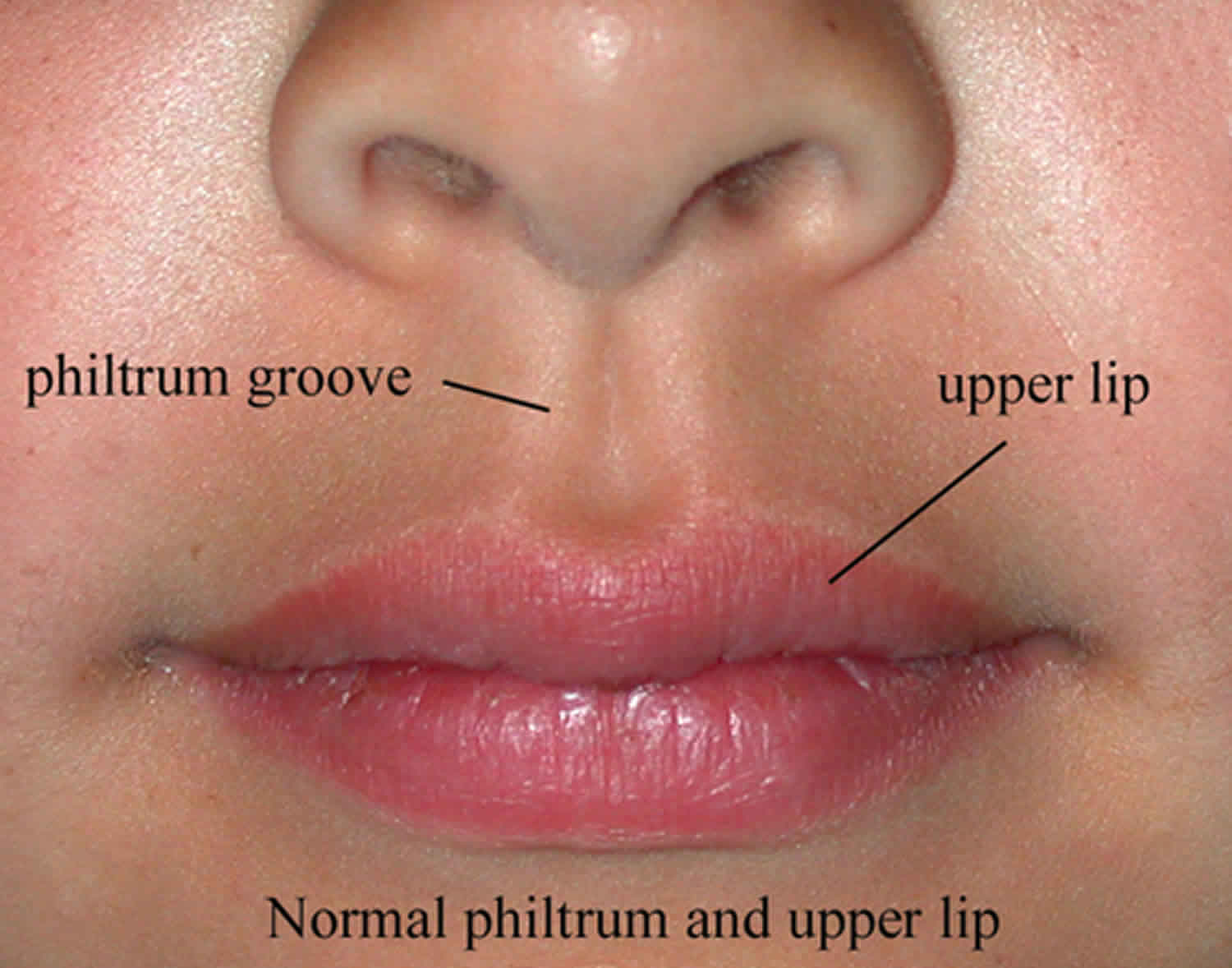 Figure 2. Lip philtrum guide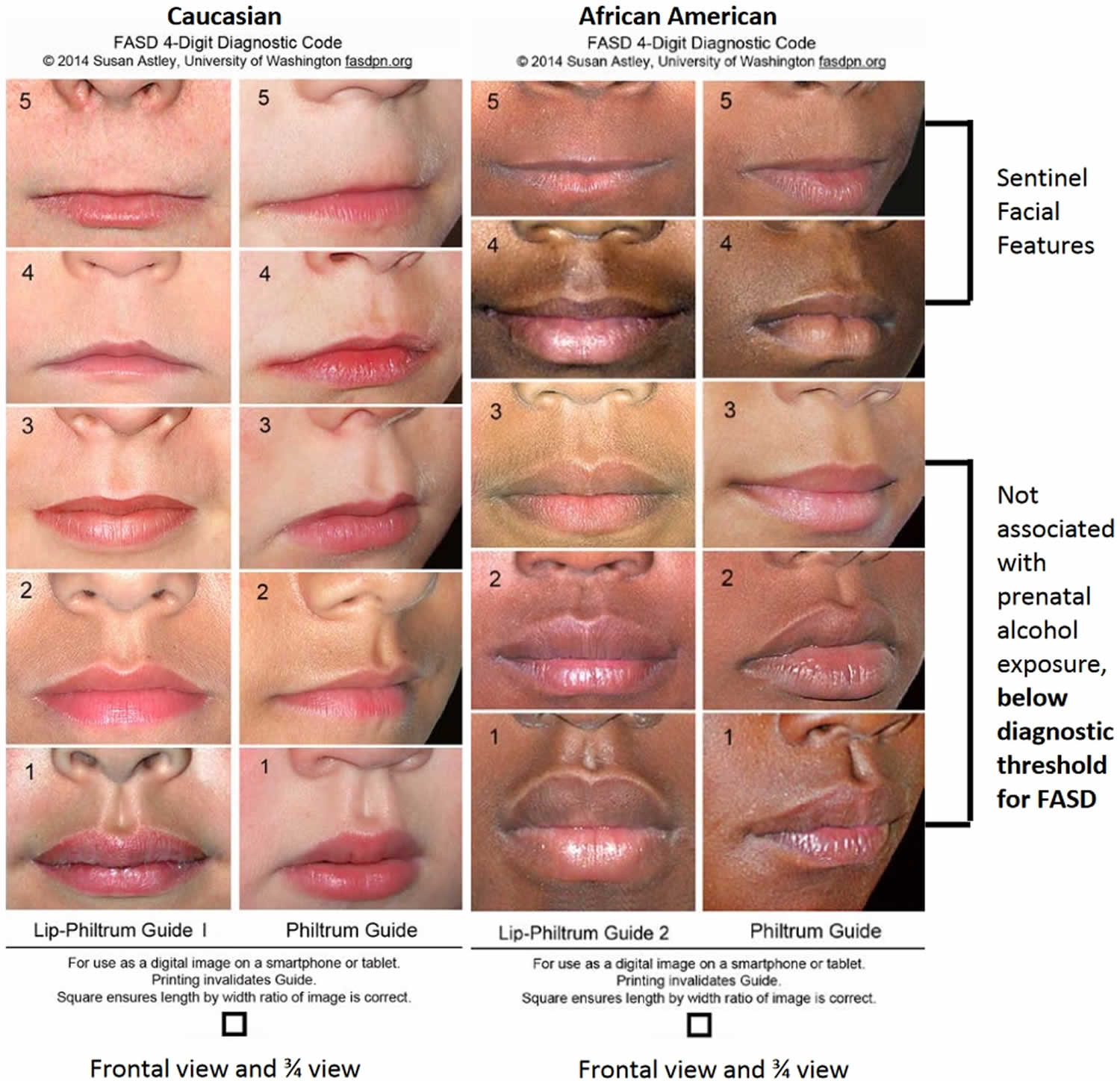 Figure 3. Philtrum guide (Likert-scaled philtrum guide)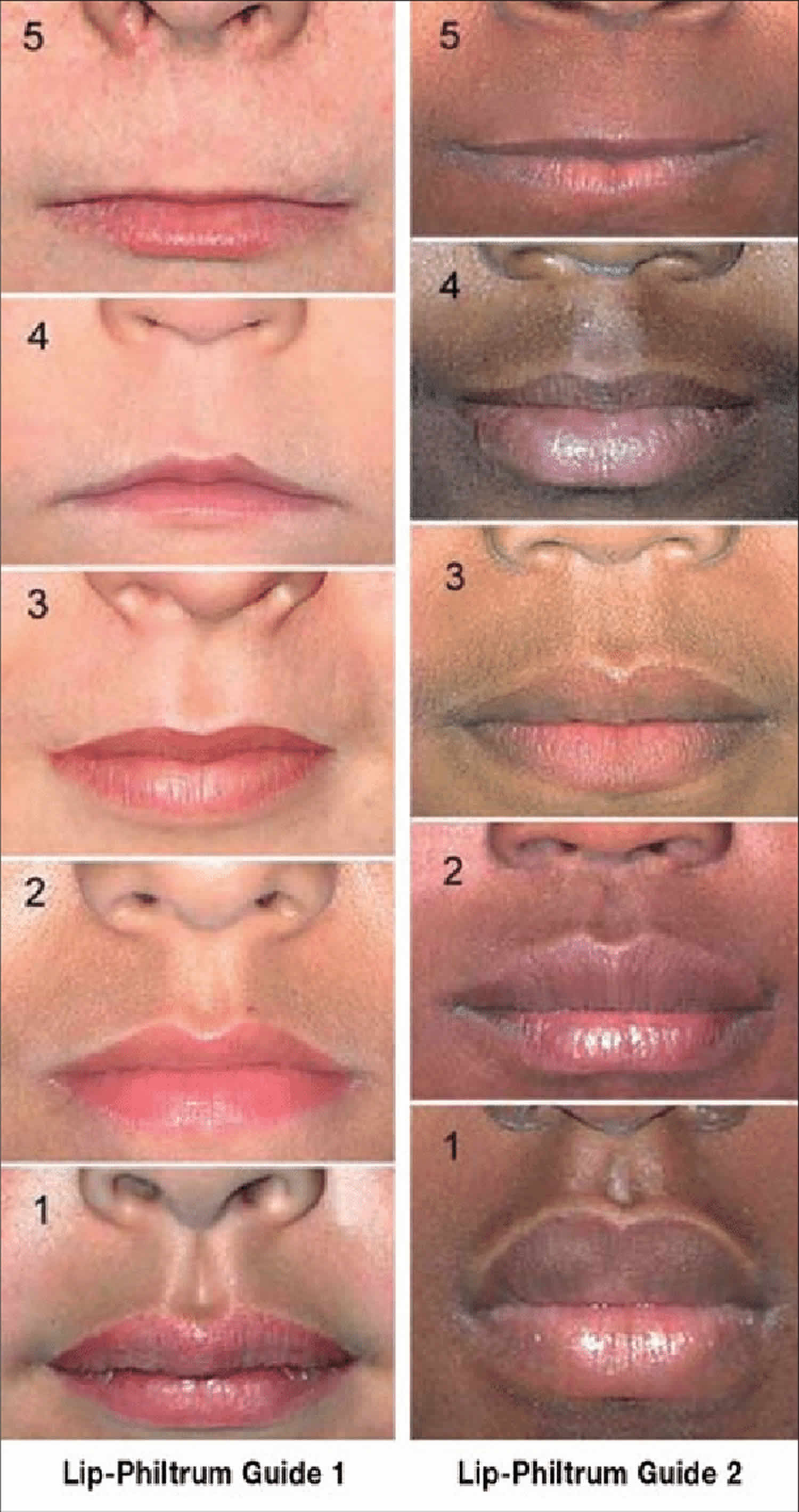 Footnote: Lip–philtrum guide (left Caucasian, right African ethnicity) for assessment of thickness of the upper lip and smoothness of the philtrum (the vertical groove between nose and upper lip). Grade 3 = average appearance in the normal population. Grade 4 and 5 = thin upper lip and smooth philtrum characteristic of fetal alcohol syndrome.
[Source
2
]
Figure 4. Philtrum guide (mixed-race philtrum guide)
[Source
3
]
Philtrum purpose
The philtrum is believed to serve as a supply of additional skin to be recruited for oral movements requiring stretching of the upper lip 4. The principal muscle of the lips is the circumferential orbicularis oris, functioning primarily as a sphincter for the oral aperture. Rather uniquely, the orbicularis oris bears no direct bony attachments but is appended by the other oral muscles that attach to it. At the philtrum, the fibers of the orbicularis oris decussate to insert into the opposite philtral ridge. Interdigitation of the muscle's fibers at the commissures allows for a scissor-like closure. The perpendicular force vectors formed by the contraction of the orbicular oris results in the generation of relaxed skin tension lines angled radially outward from the oral orifice. Adequate function of the orbicularis oris is requisite for the closure of the mouth, chewing and creating an oral seal.
Smooth philtrum
Smooth philtrum is flat skin surface, with no ridge formation in the central region of the upper lip between the nasal base and upper vermilion border. Short palpebral fissures, a smooth philtrum, and a thin vermilion border of the upper lip comprise the three cardinal facial features of fetal alcohol syndrome 3.
The fetal alcohol spectrum disorder includes:
Fetal alcohol syndrome: Fetal alcohol syndrome (FAS) is diagnosed by the presence of all of the following criteria: two of the three characteristic facial features (short palpebral fissures, thin vermillion border, and a smooth philtrum), growth retardation (prenatally and/or postnatally), and central nervous system defects. Because all of these criteria are met for diagnosis, fetal alcohol syndrome does not require documentation of prenatal alcohol exposure.
Partial fetal alcohol syndrome: Partial fetal alcohol syndrome (pFAS) has two of the characteristic facial features plus, depending on where alcohol exposure was documented, varies in its other criteria.
Alcohol-related neurodevelopmental disorder: Alcohol-related neurodevelopmental disorder describes those with neurobehavioral impairment in the setting of documented prenatal alcohol exposure but have minimal to no physical findings and cannot be diagnosed before three years of age.
Alcohol-related birth defects: Alcohol-related birth defects is the term used to describe those with the physical defects secondary to known fetal alcohol exposure, but who do not have neurobehavioral deficits. On the opposite end of the spectrum.
Neurobehavioral disorder associated with prenatal alcohol exposure is very similar to alcohol-related congenital disabilities but may involve some physical features.
All of the conditions that comprise fetal alcohol spectrum disorders stem from one common cause which is prenatal exposure to alcohol 5. Alcohol is extremely teratogenic to a fetus. Its effects are wide-ranging and irreversible. Although higher amounts of prenatal alcohol exposure have been linked to increased incidence and severity of fetal alcohol spectrum disorders, there are no studies that demonstrate a safe amount of alcohol that can be consumed during pregnancy. There is also no safe time during pregnancy in which alcohol can be consumed without risk to the fetus. Alcohol is teratogenic during all three trimesters. In summary, any amount of alcohol consumed at any point during pregnancy has the potential cause irreversible damage that can lead to a fetal alcohol spectrum disorder.
Figure 4. Smooth philtrum (Absolutely smooth philtrum. No hint of a philtrum depression, no matter what angle you view it at)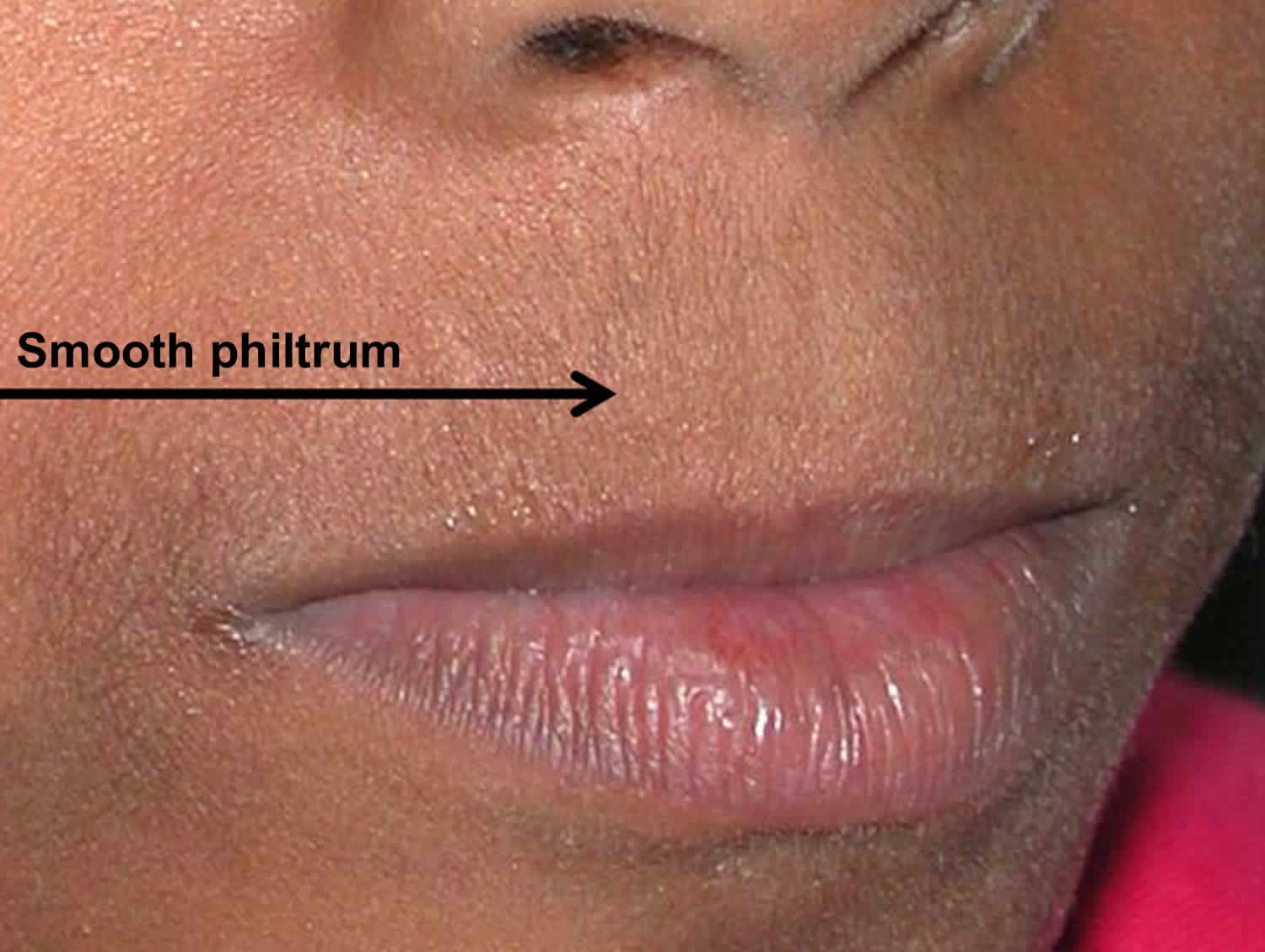 Long philtrum
Long philtrum or elongated philtrum, which is the distance between nasal base and midline upper lip vermilion border more than 2 SD (standard deviation) above the mean. Alternatively, an apparently increased distance between nasal base and midline upper lip vermilion border.
Diseases associated with long philtrum
14q11.2 Microdeletion Syndrome
15q14 Microdeletion Syndrome
15q24 Microdeletion Syndrome
15q26 Overgrowth Syndrome
16q24.3 Microdeletion Syndrome
19p13.12 Microdeletion Syndrome
1p36 Deletion Syndrome
1q21.1 Microdeletion Syndrome
20p12.3 Microdeletion Syndrome
22q11.2 Deletion Syndrome
2p15p16.1 Microdeletion Syndrome
2q31.1 Microdeletion Syndrome
2q32q33 Microdeletion Syndrome
3-hydroxyisobutyric Aciduria
3m Syndrome
3q13 Microdeletion Syndrome
48,xyyy Syndrome
6q25 Microdeletion Syndrome
8p Inverted Duplication/deletion Syndrome
8p23.1 Duplication Syndrome
8q12 Microduplication Syndrome
8q22.1 Microdeletion Syndrome
Aarskog Syndrome, Autosomal Dominant
Aarskog-scott Syndrome
Achondrogenesis
Achondrogenesis Type 1a
Achondrogenesis Type 1b
Achondrogenesis Type 2
Acrocallosal Syndrome
Acromicric Dysplasia
Acromicric Dysplasia
Acroosteolysis Dominant Type
Adenylosuccinase Deficiency
Adenylosuccinate Lyase Deficiency
Agenesis Of The Corpus Callosum And Congenital Lymphedema
Al Kaissi Syndrome
Alazami-yuan Syndrome
Alg13-cdg
Alpha-thalassemia/mental Retardation Syndrome, Chromosome 16-related
Anophthalmia-megalocornea-cardiopathy-skeletal Anomalies Syndrome
Antley-bixler Syndrome
Antley-bixler Syndrome Without Genital Anomalies Or Disordered Steroidogenesis
Aplasia Cutis Congenita, Reticulolinear, With Microcephaly, Facialdysmorphism, And Other Congenital Anomalies
Arterial Tortuosity Syndrome
Arthrogryposis, Distal, Type 2a
Arthrogryposis, Distal, Type 2b
Atypical Rett Syndrome
Autosomal Dominant Omodysplasia
Autosomal Dominant Robinow Syndrome
Autosomal Recessive Cutis Laxa Type 2
Autosomal Recessive Cutis Laxa Type 2, Classic Type
Autosomal Recessive Faciodigitogenital Syndrome
Autosomal Recessive Multiple Pterygium Syndrome
Autosomal Recessive Omodysplasia
Autosomal Recessive Robinow Syndrome
Autosomal Recessive Spondylocostal Dysostosis
Ayme-gripp Syndrome
Band-like Calcification With Simplified Gyration And Polymicrogyria
Bannayan-riley-ruvalcaba Syndrome
Baraitser-winter Cerebrofrontofacial Syndrome
Baraitser-winter Syndrome 1
Baraitser-winter Syndrome 2
Blepharonasofacial Malformation Syndrome
Blepharophimosis With Facial And Genital Anomalies And Mental Retardation
Blomstrand Lethal Chondrodysplasia
Bone Fragility With Contractures, Arterial Rupture, And Deafness
Brachycephaly, Deafness, Cataract, Microstomia, And Mental Retardation
Brachymorphism-onychodysplasia-dysphalangism Syndrome
Brain Malformation-congenital Heart Disease-postaxial Polydactyly Syndrome
C Syndrome
Camptodactyly Syndrome, Guadalajara, Type Ii
Camptodactyly With Muscular Hypoplasia, Skeletal Dysplasia, And Abnormalpalmar Creases
Cardiofaciocutaneous Syndrome
Cardiospondylocarpofacial Syndrome
Carey-fineman-ziter Syndrome
Cataracts, Growth Hormone Deficiency, Sensory Neuropathy, Sensorineural Hearing Loss, And Skeletal Dysplasia
Cerebellar Ataxia, Nonprogressive, With Mental Retardation
Cerebrocostomandibular Syndrome
Cerebrooculofacioskeletal Syndrome 1
Cerebrooculonasal Syndrome
Chromosome 10q26 Deletion Syndrome
Chromosome 14q11-q22 Deletion Syndrome
Chromosome 1p36 Deletion Syndrome
Chromosome 2p16.1-p15 Deletion Syndrome
Chromosome 3pter-p25 Deletion Syndrome
Chromosome 5q12 Deletion Syndrome
Chromosome 6q11-q14 Deletion Syndrome
Chromosome 9p Deletion Syndrome
Chst3-related Skeletal Dysplasia
Combined Oxidative Phosphorylation Deficiency 25
Congenital Contractures Of The Limbs And Face, Hypotonia, And Developmental Delay
Congenital Disorder Of Glycosylation, Type Ih
Congenital Disorder Of Glycosylation, Type Il
Cornelia De Lange Syndrome
Cornelia De Lange Syndrome 1
Cornelia De Lange Syndrome 4
Cornelia De Lange Syndrome 5
Cortical Blindness, Retardation, And Postaxial Polydactyly
Cortical Blindness-intellectual Disability-polydactyly Syndrome
Craniofaciofrontodigital Syndrome
Craniofaciofrontodigital Syndrome
Craniolenticulosutural Dysplasia
Craniolenticulosutural Dysplasia
Craniosynostosis-hydrocephalus-arnold-chiari Malformation Type I-radioulnar Synostosis Syndrome
Craniosynostosis-mental Retardation Syndrome Of Lin And Gettig
Crisponi Syndrome
Crisponi/cold-induced Sweating Syndrome 1
Cutis Laxa
Cutis Laxa, Autosomal Recessive, Type Ic
Cutis Laxa, Autosomal Recessive, Type Iia
Cutis Laxa, Autosomal Recessive, Type Iic
D-bifunctional Protein Deficiency
Deafness, Onychodystrophy, Osteodystrophy, Mental Retardation, And Seizures Syndrome
Delayed Speech-facial Asymmetry-strabismus-ear Lobe Creases Syndrome
Dend Syndrome
Desbuquois Dysplasia 2
Developmental Delay, Intellectual Disability, Obesity, And Dysmorphic Features
Diabetes Insipidus, Neurohypophyseal Type
Diabetes Mellitus, Neonatal, With Congenital Hypothyroidism
Diabetes Mellitus, Permanent Neonatal
Distal 22q11.2 Microduplication Syndrome
Distal Monosomy 3p
Distal Trisomy 15q
Distal Trisomy 5q
Ehlers-danlos Syndrome, Musculocontractural Type, 1
Ehlers-danlos Syndrome, Musculocontractural Type, 2
Emanuel Syndrome
Emanuel Syndrome
Emery-nelson Syndrome
Encephalopathy Due To Sulfite Oxidase Deficiency
Epilepsy-telangiectasia Syndrome
Epileptic Encephalopathy, Early Infantile, 63
Epiphyseal Dysplasia-hearing Loss-dysmorphism Syndrome
Faciocardiomelic Syndrome
Faciothoracogenital Syndrome
Femoral-facial Syndrome
Femoral-facial Syndrome
Fetal Akinesia Deformation Sequence
Fetal Valproate Syndrome
Fibrochondrogenesis 1
Flat Face-microstomia-ear Anomaly Syndrome
Fontaine Progeroid Syndrome
Freeman-sheldon Syndrome
Fryns Syndrome
Fryns Syndrome
Gapo Syndrome
Geleophysic Dysplasia 1
Geleophysic Dysplasia 2
Geleophysic Dysplasia 3
Genitopatellar Syndrome
Gm1 Gangliosidosis
Hajdu-cheney Syndrome
Hamamy Syndrome
Hermansky-pudlak Syndrome 2
Histidinuria Due To A Renal Tubular Defect
Histidinuria-renal Tubular Defect Syndrome
Hypertelorism And Other Facial Dysmorphism, Brachydactyly, Genital Abnormalities, Mental Retardation, And Recurrent Inflammatory Episodes
Hypertelorism And Tetralogy Of Fallot
Hypertelorism, Teebi Type
Hypertelorism-hypospadias-polysyndactyly Syndrome
Hypertrichotic Osteochondrodysplasia
Hypertrichotic Osteochondrodysplasia, Cantu Type
Hypoparathyroidism-retardation-dysmorphism Syndrome
Immunodeficiency 26 With Or Without Neurologic Abnormalities
Infantile-onset X-linked Spinal Muscular Atrophy
Insulin-like Growth Factor I, Resistance To
Intellectual Developmental Disorder With Dysmorphic Facies And Behavioral Abnormalities
Intellectual Developmental Disorder With Dysmorphic Facies And Ptosis
Intellectual Developmental Disorder With Dysmorphic Facies, Seizures, And Distal Limb Anomalies
Intellectual Developmental Disorder With Speech Delay, Dysmorphic Facies, And T-cell Abnormalities
Intellectual Disability-short Stature-hypertelorism Syndrome
Intellectual Disability-sparse Hair-brachydactyly Syndrome
Intermediate Nemaline Myopathy
Jacobsen Syndrome
Kagami-ogata Syndrome
Kbg Syndrome
Klippel-feil Syndrome 4, Autosomal Recessive, With Nemaline Myopathy And Facial Dysmorphism
Lateral Meningocele Syndrome
Lathosterolosis
Lathosterolosis
Lethal Congenital Contracture Syndrome 10
Leukodystrophy, Hypomyelinating, 10
Lissencephaly, X-linked, 2
Macrocephaly, Benign Familial
Macrocephaly, Macrosomia, Facial Dysmorphism Syndrome
Macrocephaly/autism Syndrome
Mandibulofacial Dysostosis With Macroblepharon And Macrostomia
Marden-walker Syndrome
Marshall Syndrome
Marshall Syndrome
Megalocornea-mental Retardation Syndrome
Mehmo Syndrome
Meier-gorlin Syndrome 5
Melanocytic Nevus Syndrome, Congenital
Mental Retardation And Microcephaly With Pontine And Cerebellar Hypoplasia
Mental Retardation, Autosomal Dominant 19
Mental Retardation, Autosomal Dominant 49
Mental Retardation, Autosomal Recessive 35
Mental Retardation, Autosomal Recessive 44
Mental Retardation, Autosomal Recessive 48
Mental Retardation, Microcephaly, Growth Retardation, Joint Contractures,and Facial Dysmorphism
Mental Retardation, X-linked 99, Syndromic, Female-restricted
Mental Retardation, X-linked, Syndromic 33
Mental Retardation, X-linked, Syndromic, 35
Mesomelia-synostoses Syndrome
Methylmalonate Semialdehyde Dehydrogenase Deficiency
Microcephaly With Or Without Chorioretinopathy, Lymphedema, Or Mental Retardation
Microcephaly, Cerebellar Hypoplasia, And Cardiac Conduction Defect Syndrome
Microcephaly-lymphedema-chorioretinopathy Syndrome
Microlissencephaly-micromelia Syndrome
Microphthalmia With Limb Anomalies
Microphthalmia, Syndromic 2
Mitochondrial Complex V (atp Synthase) Deficiency, Nuclear Type 2
Mitochondrial Myopathy And Sideroblastic Anemia
Mitochondrial Pyruvate Carrier Deficiency
Molybdenum Cofactor Deficiency, Complementation Group A
Molybdenum Cofactor Deficiency, Complementation Group B
Momo Syndrome
Momo Syndrome
Monosomy 22
Monosomy 9p
Monosomy 9q22.3
Mosaic Variegated Aneuploidy Syndrome 1
Moyamoya Disease 4 With Short Stature, Hypergonadotropic Hypogonadism,and Facial Dysmorphism
Mucolipidosis Ii Alpha/beta
Mucolipidosis Type Ii
Multiple Benign Circumferential Skin Creases On Limbs
Multiple Congenital Anomalies-hypotonia-seizures Syndrome 1
Multiple Congenital Anomalies-hypotonia-seizures Syndrome 3
Multiple Pterygium Syndrome, Escobar Variant
Multiple Pterygium-malignant Hyperthermia Syndrome
Nablus Mask-like Facial Syndrome
Nemaline Myopathy 2
Neurodevelopmental Disorder With Cerebellar Atrophy And With Or Without Seizures
Neurodevelopmental Disorder With Progressive Microcephaly, Spasticity, And Brain Anomalies
Nicolaides-baraitser Syndrome
Non-distal Trisomy 13q
Non-progressive Cerebellar Ataxia With Intellectual Disability
Non-rhizomelic Chondrodysplasia Punctata
Noonan Syndrome-like Disorder With Or Without Juvenile Myelomonocytic Leukemia
Occipital Horn Syndrome
Occipital Horn Syndrome
Oculocerebrorenal Syndrome Of Lowe
Oculodentodigital Dysplasia, Autosomal Recessive
Oculofaciocardiodental Syndrome
Ohdo Syndrome
Ohdo Syndrome, X-linked
Omodysplasia
Omodysplasia 1
Opitz-kaveggia Syndrome
Opsismodysplasia
Osteogenesis Imperfecta, Type Vii
Osteogenesis Imperfecta, Type Xiii
Osteoglophonic Dysplasia
Otodental Dysplasia
Otodental Syndrome
Overgrowth-macrocephaly-facial Dysmorphism Syndrome
Pallister-killian Syndrome
Palmoplantar Carcinoma, Multiple Self-healing
Peroxisomal Fatty Acyl-coa Reductase 1 Disorder
Peroxisome Biogenesis Disorder 7a (zellweger)
Peters Plus Syndrome
Peters-plus Syndrome
Phelan-mcdermid Syndrome
Phocomelia-ectrodactyly, Ear Malformation, Deafness, And Sinus Arrhythmia
Phocomelia-ectrodactyly-deafness-sinus Arrhythmia Syndrome
Piebaldism
Pontocerebellar Hypoplasia, Type 3
Ptosis-upper Ocular Movement Limitation-absence Of Lacrimal Punctum Syndrome
Puerto Rican Infant Hypotonia Syndrome
Pyruvate Dehydrogenase Deficiency
Pyruvate Dehydrogenase E1-alpha Deficiency
Rin2 Syndrome
Ring Chromosome 1 Syndrome
Ring Chromosome 10 Syndrome
Robinow Syndrome, Autosomal Dominant
Robinow Syndrome, Autosomal Dominant 2
Robinow Syndrome, Autosomal Dominant 3
Robinow Syndrome, Autosomal Recessive
Roifman Syndrome
Sanjad-sakati Syndrome
Scarf Syndrome
Scarf Syndrome
Schwartz-jampel Syndrome
Short Rib-polydactyly Syndrome, Verma-naumoff Type
Short Stature, Brachydactyly, Intellectual Developmental Disability, And Seizures
Short Stature, Facial Dysmorphism, And Skeletal Anomalies With Or Without Cardiac Anomalies
Short Stature, Hearing Loss, Retinitis Pigmentosa, And Distinctive Facies
Short Stature, Optic Nerve Atrophy, And Pelger-huet Anomaly
Short-rib Thoracic Dysplasia 19 With Or Without Polydactyly
Sialuria
Simosa Craniofacial Syndrome
Skeletal Dysplasia And Progressive Central Nervous System Degeneration, Lethal
Smith-kingsmore Syndrome
Smith-lemli-opitz Syndrome
Smith-lemli-opitz Syndrome
Speech Development, Delayed, With Facial Asymmetry, Strabismus, Andtransverse Earlobe Crease
Spinocerebellar Ataxia, Autosomal Recessive 20
Spondylo-ocular Syndrome
Spondyloepimetaphyseal Dysplasia With Joint Laxity
Spondyloepimetaphyseal Dysplasia With Joint Laxity, Type 1, With Or Without Fractures
Spondyloepiphyseal Dysplasia With Congenital Joint Dislocations
Spondyloepiphyseal Dysplasia, Cantu Type
Spondyloepiphyseal Dysplasia, Nishimura Type
Spondyloepiphyseal Dysplasia-brachydactyly And Distinctive Speech
Spondylometaphyseal Dysplasia With Dentinogenesis Imperfecta
Stickler Syndrome
Stickler Syndrome Type 1
Stickler Syndrome Type 3
Takenouchi-kosaki Syndrome
Temple-baraitser Syndrome
Temtamy Syndrome
Tetrasomy 12p
Tetrasomy 18p
Tetrasomy 5p
Three M Syndrome 1
Three M Syndrome 2
Trichohepatoenteric Syndrome 1
Trichorhinophalangeal Syndrome Type 1 And 3
Trichorhinophalangeal Syndrome Type 2
Trichorhinophalangeal Syndrome, Type I
Trichorhinophalangeal Syndrome, Type Iii
Trisomy 13
Verheij Syndrome
Visceral Neuropathy-brain Anomalies-facial Dysmorphism-developmental Delay Syndrome
Weaver Syndrome
Weaver Syndrome
Whistling Face Syndrome, Recessive Form
Wieacker-wolff Syndrome
Wiedemann-steiner Syndrome
Wiedemann-steiner Syndrome
Williams Syndrome
Williams-beuren Syndrome
Witteveen-kolk Syndrome
Wrinkly Skin Syndrome
Wrinkly Skin Syndrome
X Small Rings
X-linked Intellectual Disability, Najm Type
Pallister Killian syndrome is a rare genetic disorder with a distinct phenotype caused by tissue- limited mosaicism tetrasomy of the short arm of chromosome 12 (chromosome 12p), which usually cytogenetically presents as an extra isochromosome 12p 6. Wide phenotypic variability in Pallister Killian syndrome has been reported, ranging from pre-to perinatal death due to multiple congenital anomalies, especially diaphragmatic hernia, and classic phenotypes including seizures, severe developmental delay, macrosomia at birth, deafness, and distinct dysmorphic features, such as coarse face, temporal alopecia, a small nose with anteverted nostrils, long philtrum, and hypo−/hyper- pigmented streaks on the skin.
Short philtrum
Short philtrum is associated with cleft lip 7 or Cri-du-chat syndrome 8 a rare genetic disorder caused by either a partial or complete deletion of the short arm of chromosome 5 (chromosome 5p). The name of the Cri-du-chat syndrome, meaning cat cry was coined after the main clinical finding of a high-pitched, monochromatic cat-like cry. The clinical picture, severity, and progression of the disease vary depending on the region of the chromosome that is deleted and whether it is terminal or interstitial. In other words, differences in phenotype can be attributed to the differences in genotype. Cri-du-chat syndrome is often characterized by distinctive facial features, delayed development, and intellectual disability.
Cri-du-chat syndrome morbidity and mortality rates decrease after the first few years of life. It is reported that 75% of deaths occur during the first month of life, and about 90% of deaths occur during the first year. It is important to note that the type, size, and location of the deletion(s) greatly influence the prognosis.
One of the most important factors in the prognosis of Cri-du-chat syndrome is an early diagnosis. Early diagnosis allows for the implementation of therapeutic measures early on to improve the outcome of physical as well as psychomotor development and helps with social adaptation.
The most characteristic feature of Cri-du-chat syndrome is high-pitched crying, which normally disappears within the first few months of life. The cry is not limited to this syndrome alone and has been reported in a few other neurological disorders. Newborns also exhibit low birthweight and microcephaly as well as asphyxia, muscle hypotonia, and impaired suction. These lead to impaired growth and development during the first few years of life. Recurrent respiratory, as well as intestinal infections, have been reported.
Cri-du-chat syndrome general characteristics:
(a) Craniofacial malformations:
Microcephaly
Moon face
Hypertelorism
Prominent epicanthal folds
Large nasal bridge
Downturned corners of the mouth
Short philtrum
Premature gray hair
Abnormal transverse flexion creases
Uncommonly:
Downward slanting palpebral fissures
Low-set ears
Narrow auditory ducts
Preauricular tags
Deafness
Myopia and cataracts
Hypersensitivity of pupils to methacholine
Hypospadias and cryptorchidism
With increasing age, the following features change:
Hypotonia in neonatal period is replaced with hypertonia
Prominent microcephaly
Prominent supraorbital arch
Dental malocclusions
Moon face changes into a more narrow vertical face in adulthood
(b) Other anomalies that might be present:
Hypersensitivity to sound
Cardiac disorders including congenital heart defects
Cutaneous hemangioma
Renal pathology
(c) Orofacial abnormalities:
High palate
Mandibular microretrognathia
Hypoplasia of the enamel
Chronic periodontitis
(d) Developmental and behavioral manifestations:
Hyperactivity
Self-injurious behavior
Repetitive movements
Gentle personality
Obsessive attachment to objects
Comprehension of speech is better than their ability to express or communicate.
Other causes of short philtrum:
15q14 Microdeletion Syndrome
17q21.31 Microduplication Syndrome
20q11.2 Microdeletion Syndrome
22q11.2 Deletion Syndrome
2q24 Microdeletion Syndrome
3p25.3 Microdeletion Syndrome
3q29 Microdeletion Syndrome
3q29 Microdeletion Syndrome
4q21 Microdeletion Syndrome
5q14.3 Microdeletion Syndrome
7q11.23 Microduplication Syndrome
8q21.11 Microdeletion Syndrome
Acro-renal-mandibular Syndrome
Acrocallosal Syndrome
Acrocraniofacial Dysostosis
Acrocraniofacial Dysostosis
Acrofacial Dysostosis Syndrome Of Rodriguez
Aicardi Syndrome
Alagille Syndrome
Alazami Syndrome
Anonychia-onychodystrophy With Hypoplasia Or Absence Of Distal Phalanges
Autosomal Dominant Robinow Syndrome
Autosomal Recessive Robinow Syndrome
Axenfeld-rieger Syndrome, Type 1
Axenfeld-rieger Syndrome, Type 2
Basel-vanagaite-smirin-yosef Syndrome
Bifid Nose With Or Without Anorectal And Renal Anomalies
Birk-barel Mental Retardation Dysmorphism Syndrome
Branchioskeletogenital Syndrome
Burn-mckeown Syndrome
Cataract-intellectual Disability-hypogonadism Syndrome
Cenani-lenz Syndrome
Cerebellar Atrophy, Visual Impairment, And Psychomotor Retardation
Cerebrooculofacioskeletal Syndrome 4
Char Syndrome
Char Syndrome
Charlie M Syndrome
Chime Syndrome
Chromosome 15q14 Deletion Syndrome
Chromosome 18q Deletion Syndrome
Chromosome 19q13.11 Deletion Syndrome, Distal
Chromosome 3q13.31 Deletion Syndrome
Chromosome 3q29 Deletion Syndrome
Chromosome 4q21 Deletion Syndrome
Chromosome 4q32.1-q32.2 Triplication Syndrome
Chromosome 5p13 Duplication Syndrome
Chromosome 8q21.11 Deletion Syndrome
Cloverleaf Skull-multiple Congenital Anomalies Syndrome
Coffin-siris Syndrome
Coffin-siris Syndrome 5
Coffin-siris Syndrome 6
Cohen Syndrome
Cohen Syndrome
Coloboma, Congenital Heart Disease, Ichthyosiform Dermatosis, Mental Retardation, And Ear Anomalies Syndrome
Congenital Disorder Of Glycosylation, Type Ig
Congenital Heart Defects, Dysmorphic Facial Features, And Intellectual Developmental Disorder
Craniofacial Abnormalities, Cataracts, Congenital Heart Disease, Sacralneural Tube Defects, And Growth And Developmental Retardation
Craniofacial Dyssynostosis
Craniofacioskeletal Syndrome
Cri-du-chat Syndrome
Cubitus Valgus With Mental Retardation And Unusual Facies
Deaf Blind Hypopigmentation Syndrome, Yemenite Type
Deafness-craniofacial Syndrome
Dentinogenesis Imperfecta-short Stature-hearing Loss-intellectual Disability Syndrome
Developmental Delay, Intellectual Disability, Obesity, And Dysmorphic Features
Digeorge Syndrome
Disorder Of Sex Development-intellectual Disability Syndrome
Distal 22q11.2 Microduplication Syndrome
Distal Monosomy 15q
Distal Monosomy 19p13.3
Distal Monosomy 6p
Distal Trisomy 17q
Duplication/inversion 15q11
Ectodermal Dysplasia 12, Hypohidrotic/hair/tooth/nail Type
Ectodermal Dysplasia, Sensorineural Hearing Loss, And Distinctive Facial Features
Epidermolysis Bullosa Simplex With Anodontia/hypodontia
Epidermolysis Bullosa, Late-onset Localized Junctional, With Mentalretardation
Epileptic Encephalopathy, Early Infantile, 23
Epileptic Encephalopathy, Early Infantile, 49
Filippi Syndrome
Filippi Syndrome
Floating-harbor Syndrome
Focal Facial Dermal Dysplasia Type Iii
Frank-ter Haar Syndrome
Fried Syndrome
Frontometaphyseal Dysplasia 2
Fryns Macrocephaly
Fryns-smeets-thiry Syndrome
Gms Syndrome
Goldberg-shprintzen Syndrome
Hennekam Syndrome
Holoprosencephaly 9
Hunter-macdonald Syndrome
Hyperphosphatasia With Mental Retardation Syndrome 1
Hypertrichosis, Hyperkeratosis, Mental Retardation, And Distinctive Facial Features
Hypotonia, Infantile, With Psychomotor Retardation And Characteristic Facies 2
Intellectual Developmental Disorder With Dysmorphic Facies And Ptosis
Joubert Syndrome 14
Keppen-lubinsky Syndrome
Keppen-lubinsky Syndrome
Lujan-fryns Syndrome
Macrocephaly-spastic Paraplegia-dysmorphism Syndrome
Marshall-smith Syndrome
Martsolf Syndrome
Mcdonough Syndrome
Mcdonough Syndrome
Megalocornea-intellectual Disability Syndrome
Mental Retardation, Autosomal Dominant 18
Mental Retardation, Autosomal Dominant 20
Mental Retardation, Autosomal Dominant 26
Mental Retardation, Autosomal Dominant 27
Mental Retardation, Autosomal Dominant 40
Mental Retardation, Autosomal Recessive 13
Mental Retardation, Autosomal Recessive 15
Mental Retardation, Autosomal Recessive 5
Mental Retardation, X-linked 98
Mental Retardation, X-linked, Syndromic, Bain Type
Mental Retardation, X-linked, Syndromic, Snyder-robinson Type
Mental Retardation, X-linked, With Cerebellar Hypoplasia And Distinctive Facial Appearance
Metaphyseal Dysplasia With Maxillary Hypoplasia And Brachydactyly
Micro Syndrome
Microform Holoprosencephaly
Microtriplication 11q24.1
Monosomy 18p
Monosomy 18q
Müllerian Aplasia And Hyperandrogenism
Multiple Synostoses Syndrome 1
Myelodysplasia, Immunodeficiency, Facial Dysmorphism, Short Stature,
Myhre Syndrome
Oculocerebrofacial Syndrome, Kaufman Type
Orofaciodigital Syndrome Type 4
Orofaciodigital Syndrome Xviii
Paternal 20q13.2q13.3 Microdeletion Syndrome
Pfeiffer Syndrome
Pitt-hopkins Syndrome
Pitt-hopkins Syndrome
Polyvalvular Heart Disease Syndrome
Potocki-shaffer Syndrome
Potocki-shaffer Syndrome
Progeroid Facial Appearance With Hand Anomalies
Progressive Non-infectious Anterior Vertebral Fusion
Renpenning Syndrome
Renpenning Syndrome 1
Ring Chromosome 13 Syndrome
Ring Chromosome 7 Syndrome
Ritscher-schinzel Syndrome 2
Rothmund-thomson Syndrome
Severe Intellectual Disability And Progressive Spastic Paraplegia
Severe Intellectual Disability-epilepsy-anal Anomalies-distal Phalangeal Hypoplasia
Shoulder And Girdle Defects-familial Intellectual Disability Syndrome
Smith-magenis Syndrome
Spastic Paraplegia 47, Autosomal Recessive
Spastic Paraplegia 50, Autosomal Recessive
Spastic Paraplegia 51, Autosomal Recessive
Spastic Paraplegia 52, Autosomal Recessive
Spondyloepiphyseal Dysplasia Tarda With Characteristic Facies
Sweeney-cox Syndrome
Takenouchi-kosaki Syndrome
Temple Syndrome
Tetraploidy
Tetrasomy 9p
Tmem70-related Mitochondrial Encephalo-cardio-myopathy
Transaldolase Deficiency
Trisomy 20p
Van Regemorter-pierquin-vamos Syndrome
White-sutton Syndrome
Wiedemann-rautenstrauch Syndrome
Williams-beuren Region Duplication Syndrome
Wolf-hirschhorn Syndrome
Wolf-hirschhorn Syndrome
X-linked Dominant Chondrodysplasia, Chassaing-lacombe Type
X-linked Intellectual Disability With Marfanoid Habitus
X-linked Intellectual Disability, Armfield Type
X-linked Intellectual Disability, Cabezas Type
X-linked Intellectual Disability, Cantagrel Type
X-linked Intellectual Disability-cubitus Valgus-dysmorphism Syndrome
X-linked Intellectual Disability-hypogammaglobulinemia-progressive Neurological Deterioration Syndrome
Yunis-varon Syndrome
Yunis-varon Syndrome
Zttk Syndrome
References