What is a tooth cavity
Tooth cavity is permanently damaged area in the hard surface (enamel) of your tooth that develop into tiny openings or holes 1. Cavities are also called tooth decay or dental caries, are caused by plaque which is a sticky, slimy substance made up mostly of the bacteria that cause tooth decay. Tooth decay can occur when acid is produced from plaque, which builds up on your teeth. If plaque is allowed to build up, it can lead to further problems, such as dental caries (holes in the teeth), gum disease or dental abscesses, which are collections of pus at the end of the teeth or in the gums. Bacteria that live in your mouth thrive on the sugars and starches in the food you eat. Plaque builds up due to frequent snacking, sipping sugary drinks and not cleaning your teeth well. When plaque clings to your teeth the bacteria in your mouth make acids that can eat away at the outermost layer of the tooth, called the enamel. The result is a cavity or a hole that can grow bigger and deeper over time. Once cavities have formed in the enamel, the plaque and bacteria can reach the dentine (the softer, bone-like material underneath the enamel). As the dentine is softer than the enamel, the process of tooth decay speeds up. If you have a tooth cavity it's important to get it repaired as soon as possible.
Without treatment, bacteria will enter the pulp (the soft center of the tooth that contains nerves and blood vessels). At this stage, your nerves will be exposed to bacteria, usually making your tooth painful. The bacteria can cause a dental abscess in the pulp and the infection could spread into the bone, causing another type of abscess.
Plaque also causes gingivitis, which is gum disease that can make your gums red, swollen, and sore. Your gums are those soft pink tissues in your mouth that hold your teeth in place. If you don't take care of your teeth, cavities and unhealthy gums will make your mouth very, very sore. Eating meals will be difficult.
Cavities are decayed areas of your teeth that develop into tiny openings or holes. The three types of cavities are shown here in Figure 1. Smooth surface cavities occur on the smooth sides of your teeth, while root cavities develop on the surface over the roots. Pit and fissure cavities occur on the chewing surface of your teeth. Remember, not cleaning your teeth well, frequent snacking and sipping sugary drinks are the main culprits behind cavities. The first sign of tooth cavity or decay may be a sensation of pain when you eat something sweet, very cold or very hot. Sometimes decay will show as a brown or white spot on the tooth.
Tooth decay may not cause any pain. However, if you have dental caries you might have:
toothache – either continuous pain keeping you awake or occasional sharp pain without an obvious cause
tooth sensitivity – you may feel tenderness or pain when eating or drinking something hot, cold or sweet
grey, brown or black spots appearing on your teeth
bad breath
an unpleasant taste in your mouth
Dental caries (tooth decay) remains the world's most common chronic disease in both children and adults, even though it is largely preventable. They're especially common in children, teenagers and older adults. But anyone who has teeth can get cavities, including infants.
If you don't go to the dentist to have the cavities treated, the acids can continue to make their way through the enamel, the cavity will get larger and affect deeper layers of your teeth and the inside parts of your tooth where the nerve endings are can begin to decay. They can lead to a severe toothache, infection and tooth loss. Regular dental visits and good brushing and flossing habits are your best protection against cavities and tooth decay.
Although tooth decay is a common problem, it's often entirely preventable. The best way to avoid tooth decay is to keep your teeth and gums as healthy as possible.
When to see a dentist
You may not be aware that a cavity is forming. That's why it's important to have regular dental checkups and cleanings, even when your mouth feels fine. However, if you experience a toothache or mouth pain, see your dentist as soon as possible, so early tooth decay can be treated as soon as possible and the prevention of decay can begin. Tooth decay is much easier and cheaper to treat in its early stages. Dentists can usually identify tooth decay and further problems with a simple examination or X-ray.
It's also important to have regular dental check-ups. Adults should have a check-up at least once every two years and children under the age of 18 should have a check-up at least once a year.
Figure 1. Tooth cavity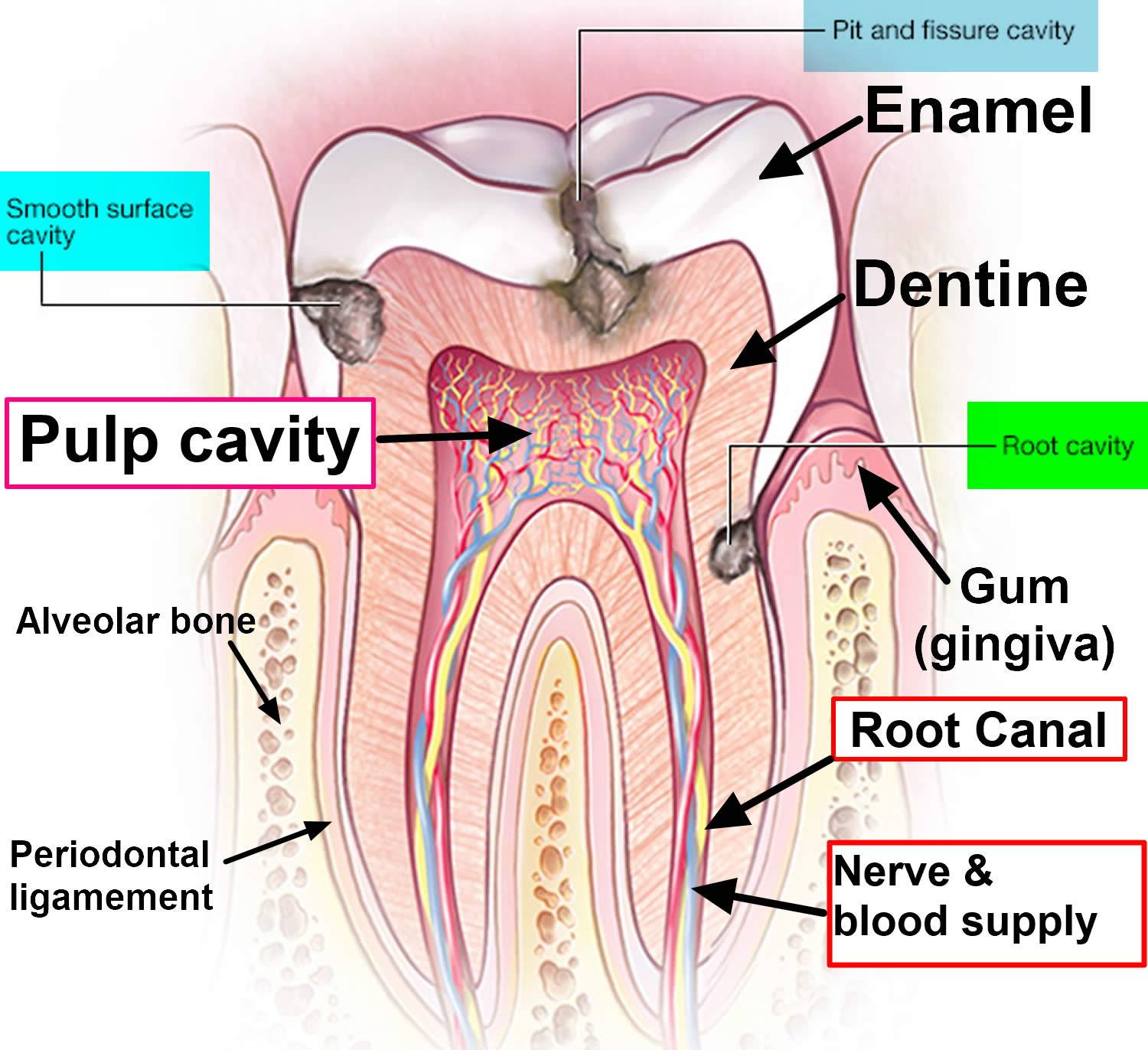 Tooth Cavity Prevention Tips
Though cavities can be repaired, try to avoid them by taking care of your teeth. Ask your dentist which tips are best for you.
Good oral and dental hygiene can help you avoid cavities and tooth decay. Here's how:
Floss your teeth at least once a day to remove plaque and food that's stuck between your teeth after eating. Bedtime is an important time to floss.
Brush your teeth with fluoride toothpaste after eating or drinking or at least twice a day. The American Dental Association recommends brushing your teeth twice a day with fluoride toothpaste. Bedtime is an important time to brush.
Brush up and down in a circular motion. When you brush your teeth, you help remove food and plaque — a sticky white film that forms on your teeth and contains bacteria. After you eat a meal or snack that contains sugar, the bacteria in plaque produce acids that attack tooth enamel. Repeated attacks can break down tooth enamel and lead to cavities. Plaque that isn't removed can also harden into tartar, making it harder to keep teeth clean.
Gently brush your gums as well to keep them healthy.
Limit or avoid sweets and sugary drinks, like soda or juice. Whenever you eat or drink beverages other than water, you help your mouth bacteria create acids that can destroy tooth enamel. If you snack or drink throughout the day, your teeth are under constant attack.
Drink some tap water. Most public water supplies have added fluoride, which can help reduce tooth decay significantly. If you drink only bottled water that doesn't contain fluoride, you'll miss out on fluoride benefits.
Consider dental sealants. A sealant is a protective plastic coating applied to the chewing surface of back teeth. It seals off grooves and crannies that tend to collect food, protecting tooth enamel from plaque and acid. The Centers for Disease Control and Prevention (CDC) recommends sealants for all school-age children. Sealants may last for several years before they need to be replaced, but they need to be checked regularly.
Consider fluoride treatments. Your dentist may recommend periodic fluoride treatments, especially if you aren't getting enough fluoride through fluoridated drinking water and other sources. He or she may also recommend custom trays that fit over your teeth for application of prescription fluoride if your risk of tooth decay is very high.
See your dentist twice a year for regular checkups.
Ask about antibacterial treatments. If you're especially vulnerable to tooth decay — for example, because of a medical condition — your dentist may recommend special antibacterial mouth rinses or other treatments to help cut down on harmful bacteria in your mouth.
Combined treatments. Chewing xylitol-based gum along with prescription fluoride and an antibacterial rinse can help reduce the risk of cavities.
What type of toothpaste should I use?
It's important to use a toothpaste with the right concentration of fluoride. Check the packaging to find out how much fluoride each brand contains.
Adults should use a toothpaste that contains at least 1,350 parts per million (ppm) fluoride.
Children don't need to use special "children's toothpaste". Children of all ages can use family toothpaste, as long as it contains 1,350-1,500ppm fluoride.
Children aged six and under who don't have tooth decay can use a lower-strength children's toothpaste, but make sure it contains at least 1,000ppm fluoride.
Below the age of three, children should use just a smear of toothpaste. Children aged three to six years should use a pea-sized blob of toothpaste. Make sure children don't lick or eat toothpaste from the tube.
Your dentist may advise you or your child to use a toothpaste with a higher concentration of fluoride, if you need it.
Tooth Cavity prevention
To prevent tooth cavity, gently brush your teeth and gums twice a day with a fluoridated toothpaste. You should also visit your dentist regularly for a check-up and cleaning.
Good oral hygiene. That means brushing your teeth for two minutes at least twice daily — in the morning and before going to bed — and flossing at least once a day. Better yet, brush after every meal or snack or as your dentist recommends. Flossing before you brush allows you to clean away the loosened food particles and bacteria.
Regular dental visits. See your dentist or dental hygienist regularly for cleanings, usually every six to 12 months. If you have risk factors that increase your chance of developing periodontitis — such as having dry mouth, taking certain medications or smoking — you may need professional cleaning more often.
Annual dental X-rays can help identify diseases that are not seen by a visual dental examination and monitor for changes in your dental health.
Good health practices. Practices such as healthy eating and managing blood sugar if you have diabetes also are important to maintain gum health.
How to maintain good dental hygiene
Good dental hygiene means getting into the routine of thoroughly cleaning the mouth at least once or twice a day, though preferably after every meal. The following discussion considers some important aspects of keeping teeth clean such as brushing, flossing, mouthwashes, and other adjuncts to maintaining good dental health.
Never use toothpicks to remove trapped food from between your teeth, as you may damage your gums, which could lead to an infection.
Flossing
Floss before every brushing. Remember that using just a small bit of dental floss to gently slide debris from between the teeth goes a long way towards eradicating plaque and keeping the mouth free from bacteria.
Floss should be wrapped around the fingers then stretched tightly between the thumbs, or thumb and first finger, of each hand so that it can be eased carefully between teeth. The floss should be moved carefully up and down the side of each tooth, pushing the floss down just under the gum line.
Other interdental cleaning devices (those devices that clean in between teeth) such as interproximal brushes or wooden or rubber tips are also valuable for certain people including those with missing teeth, large gaps, areas where the gum line has dropped, crowded teeth etc. A dentist is trained to determine the individual needs of a patient, and determine which tool will be the most effective.
Figure 2. Dental floss wrapped around both middle fingers with a gap of 5-10 cm.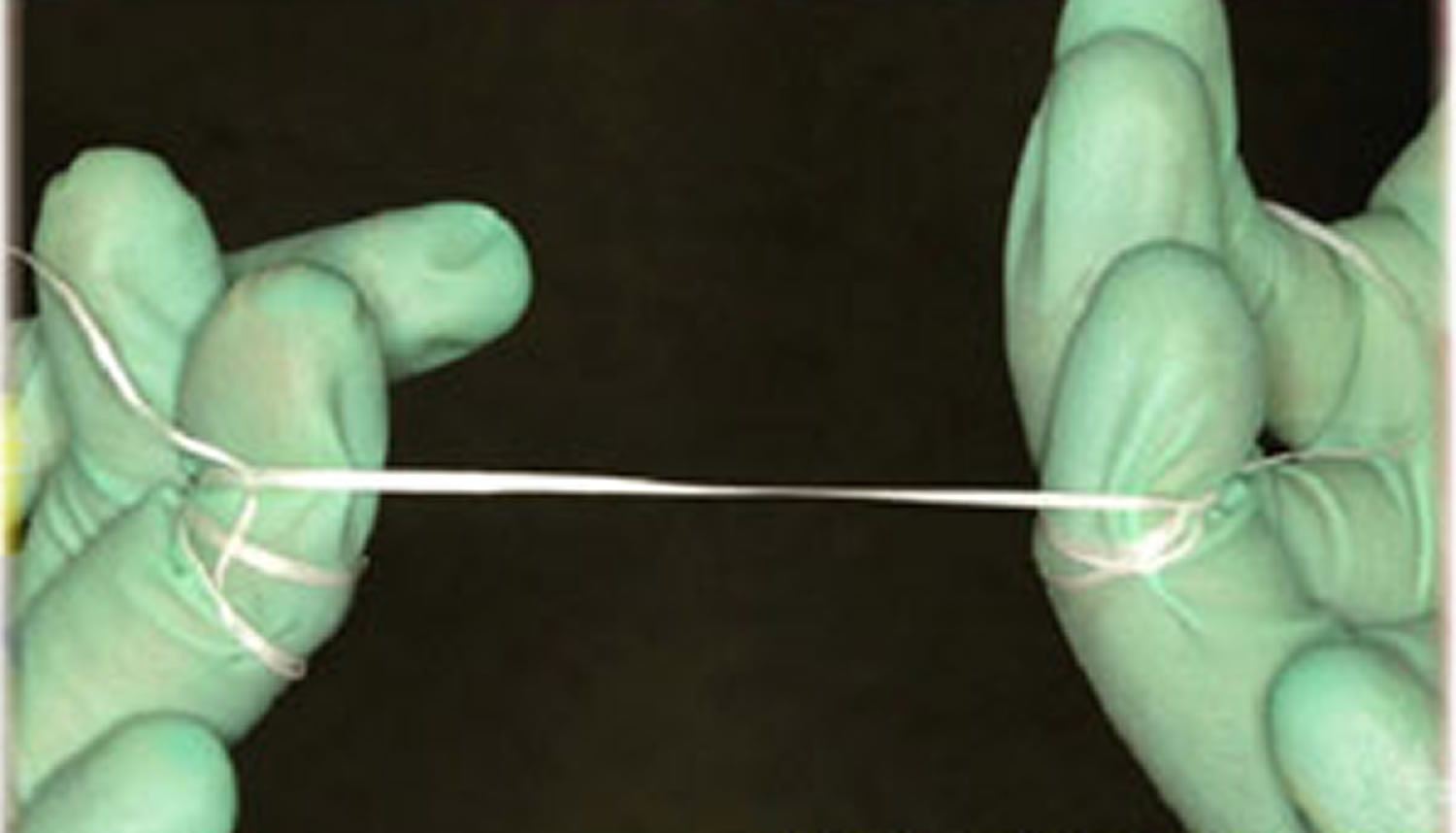 Figure 3. Flossing upper teeth. Note thumb and index finger used to floss through contact and then move up and down.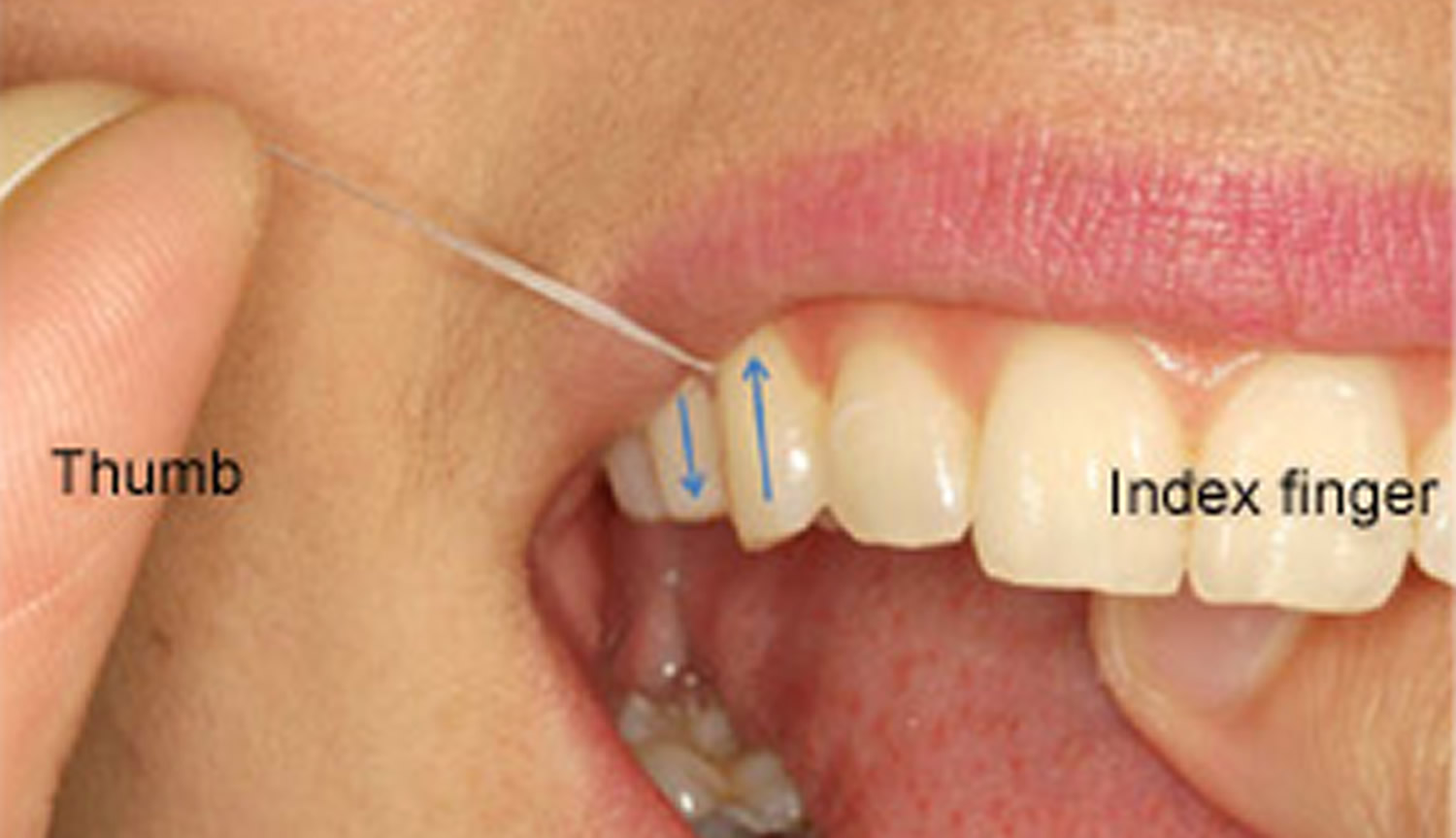 Figure 4. Flossing lower teeth. Note both index fingers used to floss through contact and then move up and down.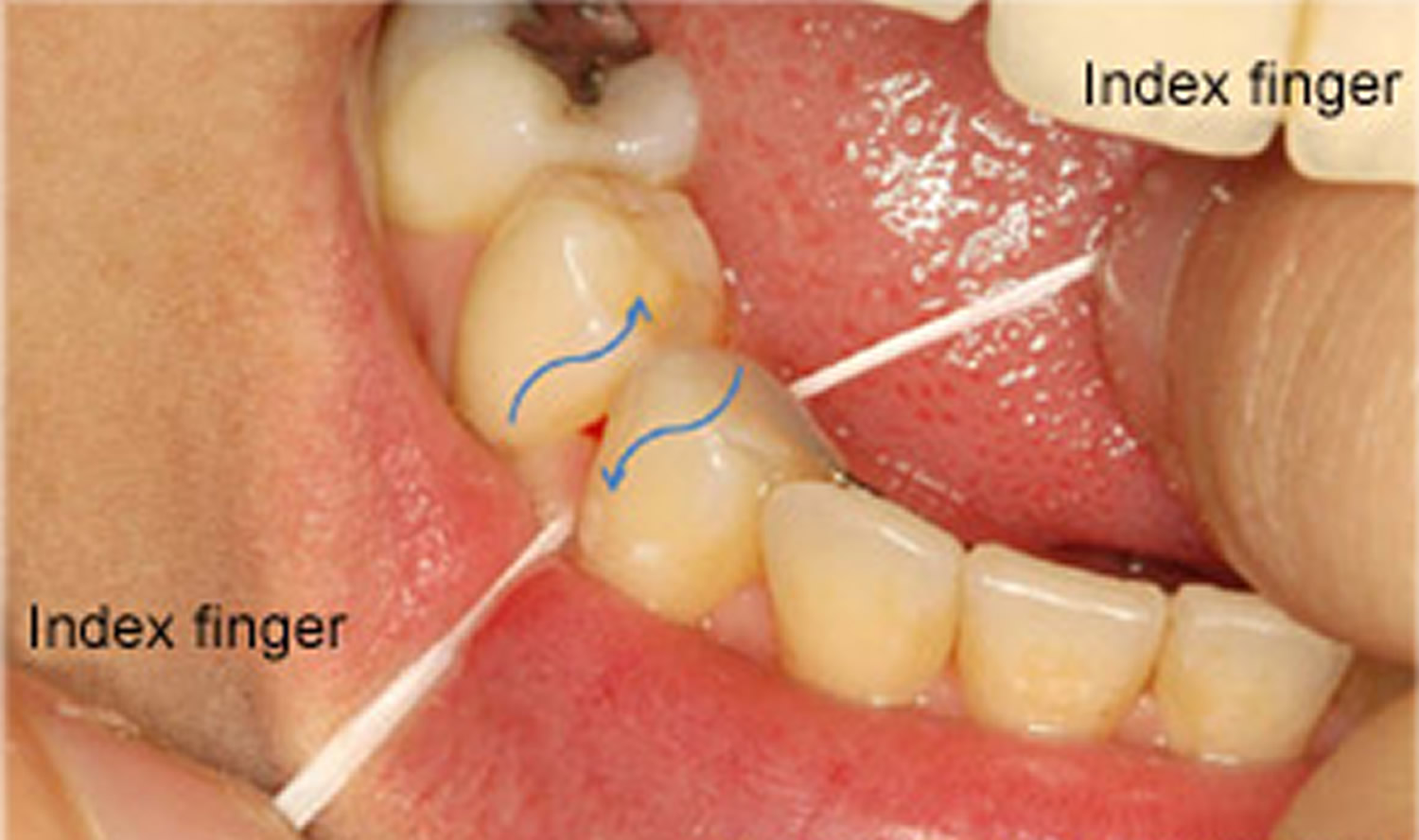 Figure 5. Floss continues to just below gum line.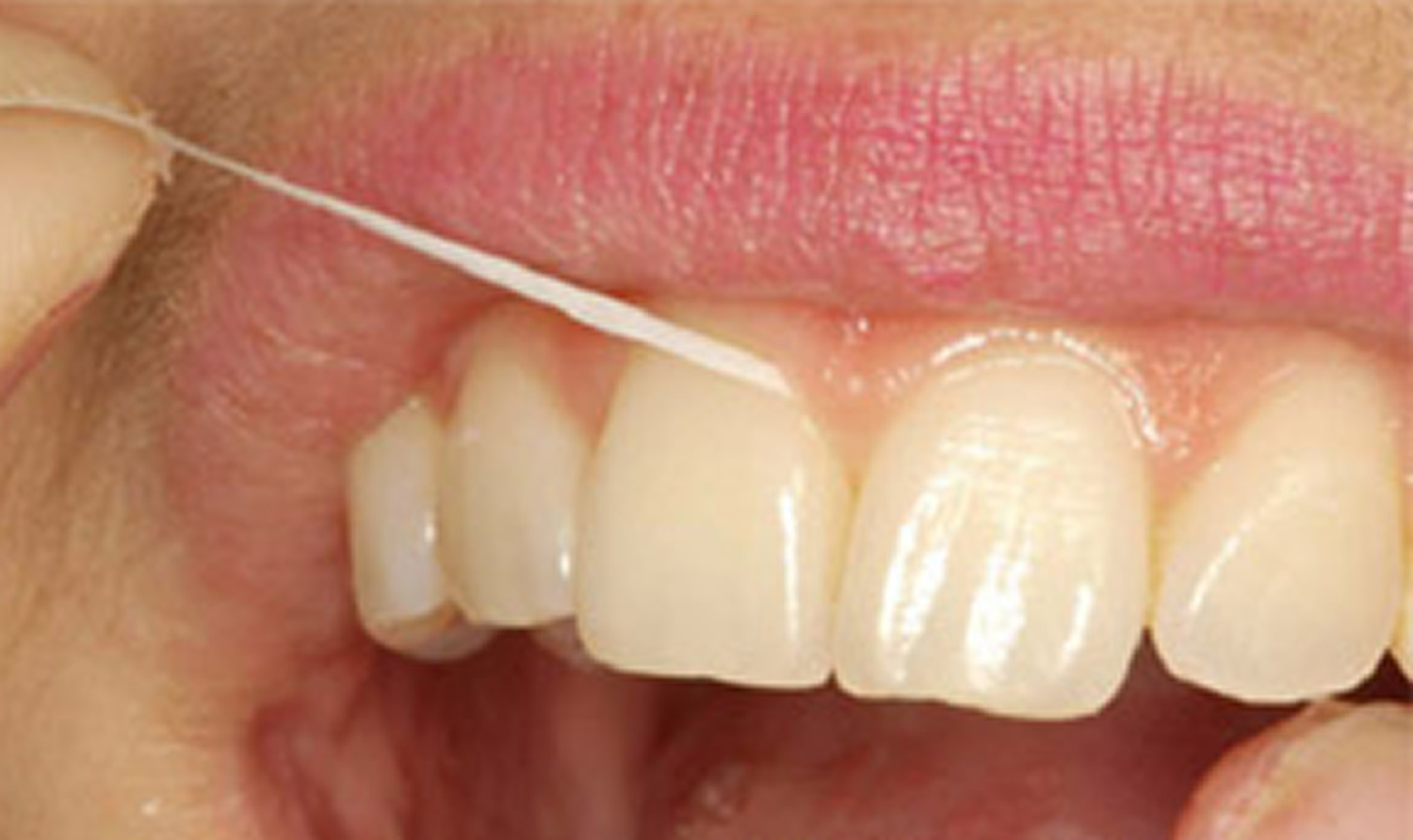 Figure 6. Interdental pikster or interproximal brush used to clean in between teeth. This is especially useful for people who cannot use conventional dental floss, such as those who have bridges that join teeth together, and/or orthodontic treatment (this person has a metal retainer behind the lower front teeth).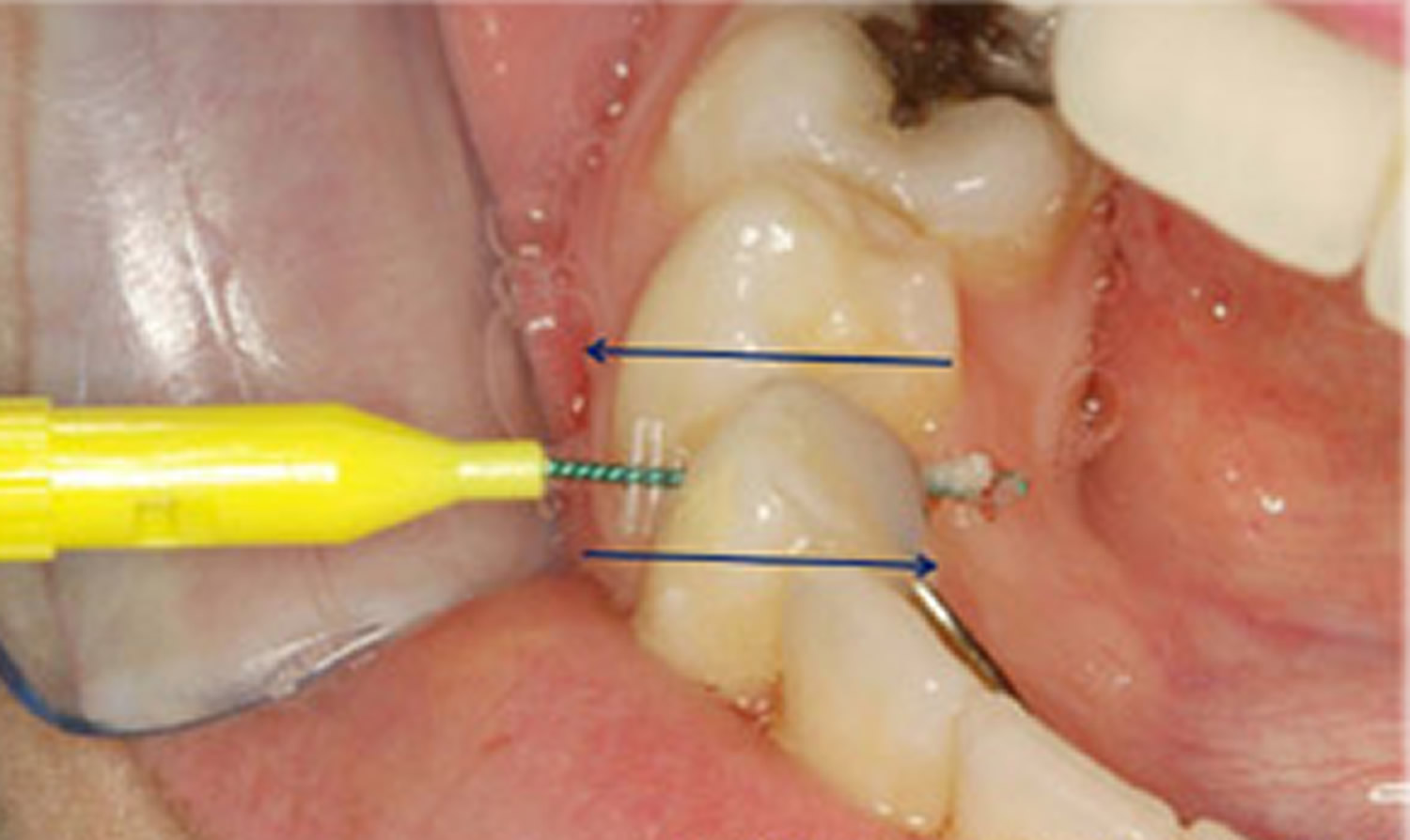 Brushing
Brushing teeth for two full minutes with fluoride toothpaste and a brush that is small enough to manoeuvre around the inside, outside and top of every tooth in the mouth is considered necessary. Consider listening to an entire song whilst brushing teeth – this will be the appropriate time needed to clean teeth. Replacing a brush every three months has also been shown to be more effective in maintaining good dental health.
When buying a manual toothbrush, use one with soft bristles as this will protect gums from damage to a greater extent. Studies have shown that brushing harder will not remove more dental plaque. Consider investing in an electric toothbrush if more help is needed and it is difficult to use a manual toothbrush. The novelty of a fancy new toothbrush is motivation alone to brush more.
How to brush
Press gently at a 45-degree angle. Scrub the side closest to the cheek (of the tooth and gum) for a few seconds using a small circular/vibratory motion. In the same manner, move slowly around your mouth until you get to the other side. Pay particular attention to the gum line.
Once on the other side of the mouth, rotate the brush so that it rests against the tooth and gum (on the side closest to your tongue), and use the same angle and same circular scrubbing motion to return to the first tooth.
Next, briskly brush along the top surface of the teeth.
Then repeat the entire process on the upper or lower set of teeth (depending on start position).
Do not neglect the roof of the mouth and tongue, as these places also harbor bacteria.
Try to only spit out the toothpaste, rather than rinsing it all out after brushing, as this will reduce the effect of the fluoride in toothpaste.
Figure 7. Brushing teeth – the toothbrush is angled at 45-degrees to the gum and teeth. The brush points upwards when brushing the top teeth and points towards the floor when brushing the lower teeth. Note the bristles of the brush cover the gums and the tooth at the same time when brushing.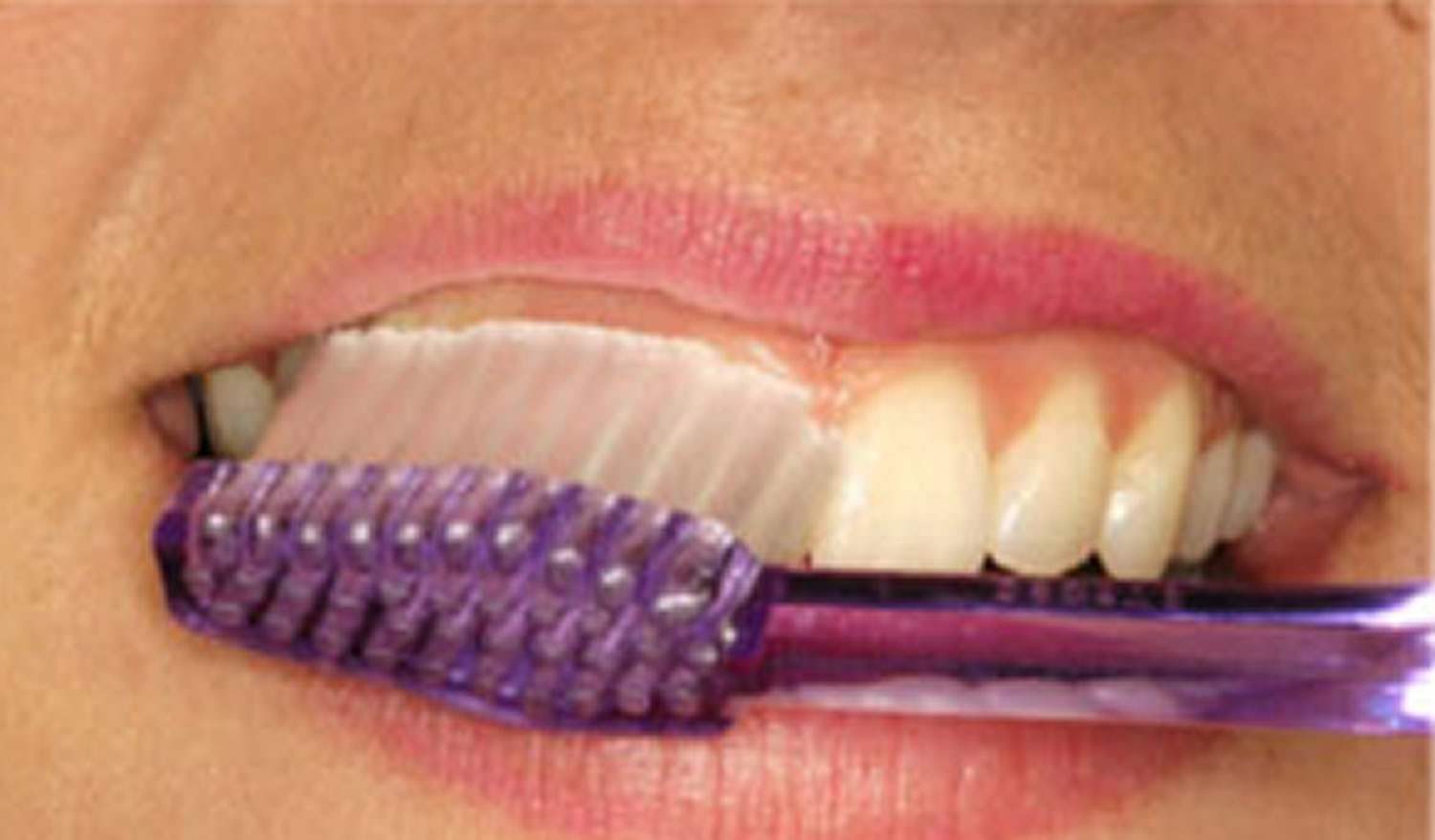 Figure 8. Brushing teeth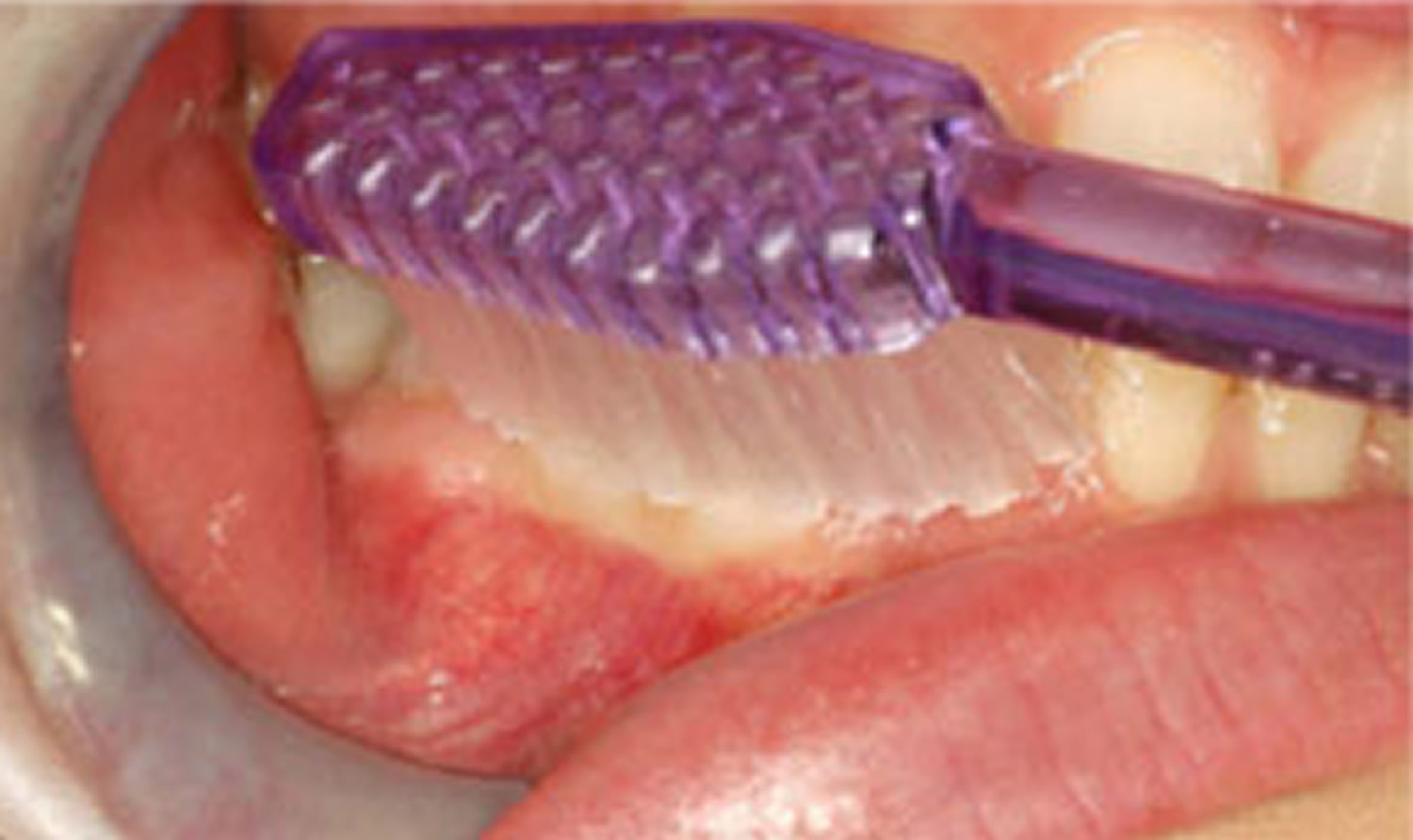 Important considerations when brushing
Keep a routine and do not rush! It is important to keep routines with oral hygiene; otherwise it is easy to miss areas of the mouth. Unfortunately, the same areas are missed EVERY time and these areas get gum disease. If you start on the top, don't rush the bottom teeth as these will tend to be worse than the top if this is the case.
Make sure every tooth surface is cleaned! With the brush, it is possible to clean the top of your teeth, and the sides that are closest to your cheek and tongue! Make sure for every tooth, these surfaces are cleaned.
Mouthwashes
It is important to remember that if one cleans the teeth properly with brushing and flossing, there is no need for a mouthwash. To date, the best mouthwashes include an ingredient known as chlorhexidine gluconate. Any mouthwash with this ingredient should ONLY be used for short periods of time as it has problems such as altering taste, staining teeth and margins of fillings etc. Those mouthwashes containing thymol and cetylpyridinium chloride are effective, but to a lesser degree than chlorhexidine gluconate.
Recently, there has been the heated debate over alcohol containing mouthwash related to oral cancer. Some people have dismissed the link, however, one study in 2008 from an Australian journal proposed a link between oral cancer and mouthwash in non-smokers and non-drinkers, and fueled the debate over whether dentists should be recommending alcohol containing mouthwashes. More and more companies are releasing alcohol free mouthwashes in light of recent evidence. At the moment, alcohol containing mouthwash does not cause oral cancer; it simply has been linked with a higher incidence in some research.
High fluoride toothpaste, and CPP-ACP
High fluoride toothpastes should be used only in consultation with dental advice. They usually have five times the fluoride content of normal toothpaste and are advised in patients who are high-risk to dental decay. Other agents such as CPP-ACP (casein phosphopeptide – amorphous calcium phosphate), which are effective in helping remineralise the tooth, are being promoted in patients prone to erosion, dental decay, and dry mouth.
Dentist visit
Maintaining good oral hygiene involves going to the dentist every 6-12 months. The dentist is able to:
Recommend cleaning techniques and products;
Clean plaque and calculus from the teeth;
Fill cavities that could lead to further tooth decay;
Administer fluoride treatments;
Treat mild gingivitis before it turns into periodontitis;
Take radiographs; and
Reinforce oral hygiene instruction over long term.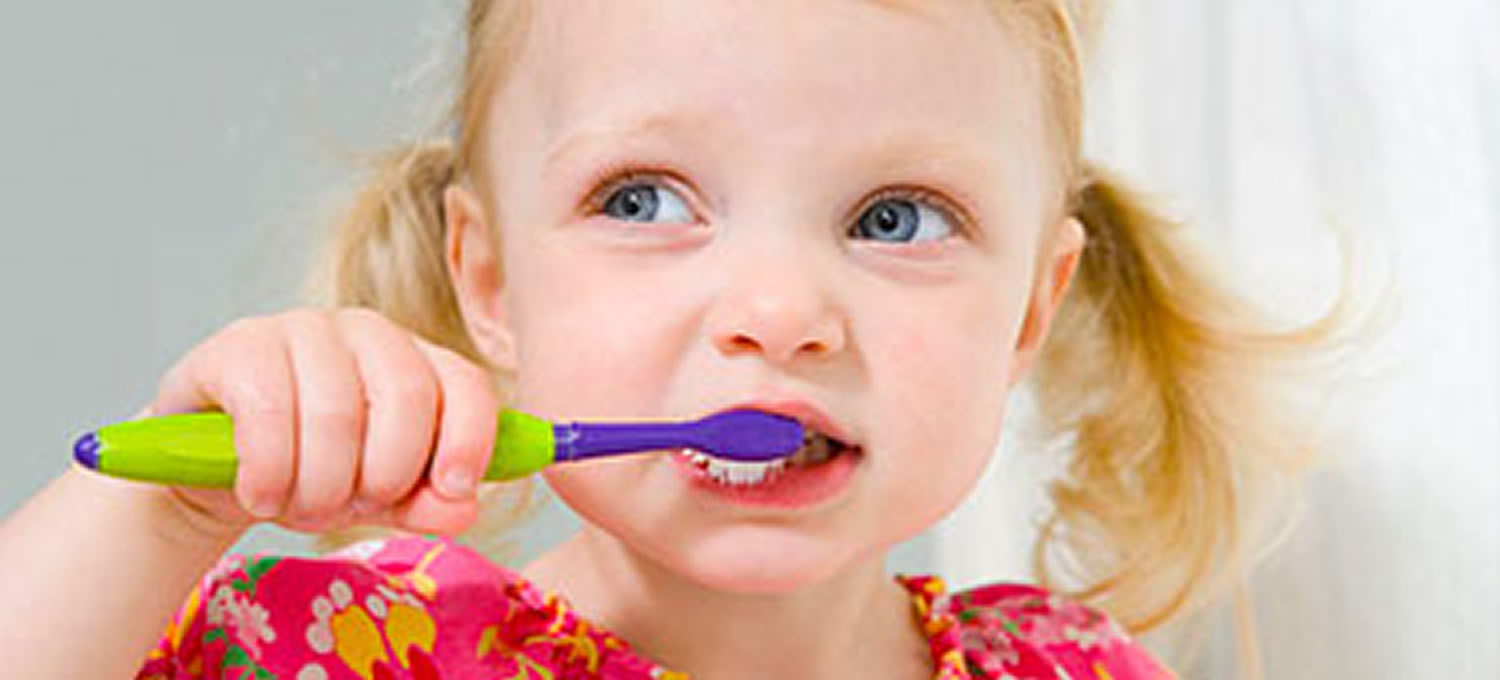 Children's tooth decay and cavity prevention
Most children want sweets, but you can help to prevent problems by making sure they don't have a large amount or very often, and particularly not before bed, when saliva flow lessens. Try not to give sweets or sweet drinks as rewards.
The best snacks for your child are fruit and raw vegetables. Try tangerines, bananas, pieces of cucumber or carrot sticks. Other good snacks include toast, rice cakes and plain popcorn.
Dried fruit is high in sugar and can be bad for teeth, so only ever give it to children with meals – for instance, as a dessert – and never as a snack between meals.
Fizzy drinks can contain large amounts of sugar, which will increase the risk of tooth decay. Fizzy drinks (both those containing sugar and sugar-free or "diet" versions) also contain acids that can erode the outer surface of the tooth. The best drinks for children over one year old are plain still water or plain milk.
Even unsweetened juices and smoothies contain sugars and acids. Restrict your child to no more than one small glass (about 150ml) of fruit juice or smoothie each day and only at mealtimes.
Teeth are at most risk at night because there is less saliva in the mouth to protect them. Water is the best drink to give at bedtime, but if you do give milk, don't add anything to it. Chocolate-flavored drinks and milkshake powder usually contain sugars, which will increase the risk of decay.
A regular teeth-cleaning routine is essential for good dental health. Follow these tips and you can help keep your kids' teeth decay-free.
From brushing their first tooth to their first trip to the dentist, here's how to take care of your children's teeth.
Toothpaste tips
Start brushing your baby's teeth with fluoride toothpaste as soon as the first milk tooth breaks through (usually at around six months, but it can be earlier or later). It's important to use a fluoride paste, as this helps to prevent and control tooth decay.
There's no need to buy special "children's toothpaste" brands. In fact, some of them don't have enough fluoride in them to help prevent tooth decay.
Children from the age of seven can use family toothpaste, as long as it contains 1,350-1,500 parts per million (ppm) fluoride. Check the toothpaste packet if you're not sure, or ask your dentist.
Children up to the age of six who don't have tooth decay can use a lower-strength toothpaste, but make sure it contains at least 1,000ppm fluoride.
Make sure children don't eat or lick toothpaste from the tube.
Below the age of three years, children should use just a smear of toothpaste.
Children aged three to six should use a pea-sized blob of toothpaste.
Toothbrushing tips
Brush your child's teeth for about two minutes twice a day: once just before bedtime and at least one other time during the day.
Encourage them to spit out excess toothpaste, but not to rinse with lots of water. Rinsing with water after tooth brushing will wash away the fluoride and make it less effective.
Supervise tooth brushing until your child is seven or eight years old, either by brushing their teeth yourself or, if they brush their own teeth, by watching how they do it. From the age of seven or eight, they should be able to brush their own teeth, but it's still a good idea to watch them now and again to make sure they brush properly and for about two minutes.
How to help children brush their teeth properly
Guide your child's hand so they can feel the correct movement.
Use a mirror to help your child see exactly where the brush is cleaning their teeth.
Make tooth brushing as fun as possible by using an egg timer to time it for about two minutes.
Don't let children run around with a toothbrush in their mouth, as they may have an accident and hurt themselves.
Fluoride varnish and fissure sealants
Fissure sealants can be done once your child's permanent back teeth have started to come through (usually at the age of about six or seven) to protect them from decay. This is where the chewing surfaces of the back teeth are covered with a special thin plastic coating to keep germs and food particles out of the grooves. The sealant can last for as long as 5 to 10 years.
Fluoride varnish can be applied to both baby teeth and adult teeth. It involves painting a varnish that contains high levels of fluoride on to the surface of the tooth every six months to prevent decay. It works by strengthening tooth enamel, making it more resistant to decay.
From the age of three, children should be offered fluoride varnish application at least twice a year. Younger children may also be offered this treatment if your dentist thinks they need it.
Ask your dentist about fluoride varnish or fissure sealing.
Will a dummy or thumb sucking harm my child's teeth?
No, but they will encourage an open bite, which is when teeth move to make space for the dummy or thumb. They may also affect speech development. That's why you should avoid using dummies after 12 months of age.
Thumb sucking won't cause permanent problems, as long as the habit stops by the time your child gets their second teeth, but it can be a hard habit to break.
Discourage your children from talking or making sounds with their thumb or a dummy in their mouth, and don't dip dummies in anything sweet, such as sugar or jam.
What causes tooth cavities and tooth decay
Cavities are caused by tooth decay — a process that occurs over time. Here's how tooth decay develops:
Plaque forms. Dental plaque is a clear sticky film that coats your teeth. It's due to eating a lot of sugars and starches and not cleaning your teeth well. When sugars and starches aren't cleaned off your teeth, bacteria quickly begin feeding on them and form plaque. Plaque that stays on your teeth can harden under or above your gum line into tartar (calculus). Tartar makes plaque more difficult to remove and creates a shield for bacteria.
Plaque attacks. The acids in plaque remove minerals in your tooth's hard, outer enamel. This erosion causes tiny openings or holes in the enamel — the first stage of cavities. Once areas of enamel are worn away, the bacteria and acid can reach the next layer of your teeth, called dentin. This layer is softer than enamel and less resistant to acid. Dentin has tiny tubes that directly communicate with the nerve of the tooth causing sensitivity.
Destruction continues. As tooth decay develops, the bacteria and acid continue their march through your teeth, moving next to the inner tooth material (pulp) that contains nerves and blood vessels. The pulp becomes swollen and irritated from the bacteria. Because there is no place for the swelling to expand inside of a tooth, the nerve becomes pressed, causing pain. Discomfort can even extend outside of the tooth root to the bone.
Risk factors for Tooth Cavity
Everyone who has teeth is at risk of getting cavities, but the following factors can increase risk:
Tooth location. Decay most often occurs in your back teeth (molars and premolars). These teeth have lots of grooves, pits and crannies, and multiple roots that can collect food particles. As a result, they're harder to keep clean than your smoother, easy-to-reach front teeth.
Certain foods and drinks. Foods that cling to your teeth for a long time — such as milk, ice cream, honey, sugar, soda, dried fruit, cake, cookies, hard candy and mints, dry cereal, and chips — are more likely to cause decay than foods that are easily washed away by saliva.
Frequent snacking or sipping. When you steadily snack or sip sugary drinks, you give mouth bacteria more fuel to produce acids that attack your teeth and wear them down. And sipping soda or other acidic drinks throughout the day helps create a continual acid bath over your teeth.
Bedtime infant feeding. When babies are given bedtime bottles filled with milk, formula, juice or other sugar-containing liquids, these beverages remain on their teeth for hours while they sleep, feeding decay-causing bacteria. This damage is often called baby bottle tooth decay. Similar damage can occur when toddlers wander around drinking from a sippy cup filled with these beverages.
Inadequate brushing. If you don't clean your teeth soon after eating and drinking, plaque forms quickly and the first stages of decay can begin.
Not getting enough fluoride. Fluoride, a naturally occurring mineral, helps prevent cavities and can even reverse the earliest stages of tooth damage. Because of its benefits for teeth, fluoride is added to many public water supplies. It's also a common ingredient in toothpaste and mouth rinses. But bottled water usually does not contain fluoride.
Younger or older age. In the United States, cavities are common in very young children and teenagers. Older adults also are at higher risk. Over time, teeth can wear down and gums may recede, making teeth more vulnerable to root decay. Older adults also may use more medications that reduce saliva flow, increasing the risk of tooth decay.
Dry mouth. Dry mouth is caused by a lack of saliva, which helps prevent tooth decay by washing away food and plaque from your teeth. Substances found in saliva also help counter the acid produced by bacteria. Certain medications, some medical conditions, radiation to your head or neck, or certain chemotherapy drugs can increase your risk of cavities by reducing saliva production.
Worn fillings or dental devices. Over the years, dental fillings can weaken, begin to break down or develop rough edges. This allows plaque to build up more easily and makes it harder to remove. Dental devices can stop fitting well, allowing decay to begin underneath them.
Heartburn. Heartburn or gastroesophageal reflux disease (GERD) can cause stomach acid to flow into your mouth (reflux), wearing away the enamel of your teeth and causing significant tooth damage. This exposes more of the dentin to attack by bacteria, creating tooth decay. Your dentist may recommend that you consult your doctor to see if gastric reflux is the cause of your enamel loss.
Eating disorders. Anorexia and bulimia can lead to significant tooth erosion and cavities. Stomach acid from repeated vomiting (purging) washes over the teeth and begins dissolving the enamel. Eating disorders also can interfere with saliva production.
Complications of tooth cavity and tooth decay
Cavities and tooth decay are so common that you may not take them seriously. And you may think that it doesn't matter if children get cavities in their baby teeth. However, cavities and tooth decay can have serious and lasting complications, even for children who don't have their permanent teeth yet.
Complications of cavities may include:
Pain
Tooth abscess
Swelling or pus around a tooth
Damage or broken teeth
Chewing problems
Positioning shifts of teeth after tooth loss
When cavities and decay become severe, you may have:
Pain that interferes with daily living
Weight loss or nutrition problems from painful or difficult eating or chewing
Tooth loss, which may affect your appearance, as well as your confidence and self-esteem
In rare cases, a tooth abscess — a pocket of pus that's caused by bacterial infection — which can lead to more serious or even life-threatening infections.
How to know if you have a cavity
Tooth Cavity Symptoms
The signs and symptoms of cavities vary, depending on their extent and location. When a cavity is just beginning, you may not have any symptoms at all. As the decay gets larger, it may cause signs and symptoms such as:
Toothache, spontaneous pain or pain that occurs without any apparent cause
Tooth sensitivity
Mild to sharp pain when eating or drinking something sweet, hot or cold
Visible holes or pits in your teeth
Brown, black or white staining on any surface of a tooth
Pain when you bite down.
Diagnosis of tooth cavity
Your dentist can usually detect tooth decay by:
Asking about tooth pain and sensitivity
Examining your mouth and teeth
Probing your teeth with dental instruments to check for soft areas
Looking at dental X-rays, which can show the extent of cavities and decay
Your dentist will also be able to tell you which of the three types of cavities you have — smooth surface, pit and fissure, or root.
Treatment for tooth cavity
Treatment of tooth decay depends on how advanced it is. Regular checkups can identify cavities and other dental conditions before they cause troubling symptoms and lead to more-serious problems. The sooner you seek care, the better your chances of reversing the earliest stages of tooth decay and preventing its progression. If a cavity is treated before it starts causing pain, you probably won't need extensive treatment.
Treatment of cavities depends on how severe they are and your particular situation. Treatment options include:
Fluoride treatments. If your cavity just started, a fluoride treatment may help restore your tooth's enamel and can sometimes reverse a cavity in the very early stages. Professional fluoride treatments contain more fluoride than the amount found in tap water, toothpaste and mouth rinses. Fluoride treatments may be liquid, gel, foam or varnish that's brushed onto your teeth or placed in a small tray that fits over your teeth.
Fillings. Fillings, also called restorations, are the main treatment option when decay has progressed beyond the earliest stage. Fillings are made of various materials, such as tooth-colored composite resins, porcelain or dental amalgam that is a combination of several materials.
Crowns. For extensive decay or weakened teeth, you may need a crown — a custom-fitted covering that replaces your tooth's entire natural crown. Your dentist drills away all the decayed area and enough of the rest of your tooth to ensure a good fit. Crowns may be made of gold, high strength porcelain, resin, porcelain fused to metal or other materials.
Root canals. When decay reaches the inner material of your tooth (pulp), you may need a root canal. This is a treatment to repair and save a badly damaged or infected tooth instead of removing it. The diseased tooth pulp is removed. Medication is sometimes put into the root canal to clear any infection. Then the pulp is replaced with a filling.
Tooth extractions. Some teeth become so severely decayed that they can't be restored and must be removed. Having a tooth pulled can leave a gap that allows your other teeth to shift. If possible, consider getting a bridge or a dental implant to replace the missing tooth.
While you're waiting for your appointment, you can take some steps to control your tooth pain. For example:
Take an over-the-counter pain reliever, if your doctor has said it's OK for you.
Use an over-the-counter (OTC) anesthetic specifically designed to soothe painful teeth. Sparingly apply an OTC antiseptic containing benzocaine directly to the irritated tooth and gum for temporary relief.
Use warm water to brush your teeth.
Use toothpaste designed for sensitive teeth.
Thoroughly clean all parts of your mouth and teeth — don't avoid painful areas.
Avoid foods or beverages that are hot, cold or sweet enough to trigger pain.
Use caution with products containing benzocaine
Benzocaine has been linked to a rare but serious, sometimes deadly, condition called methemoglobinemia, which decreases the amount of oxygen that the blood can carry. So follow these guidelines:
Talk to your dentist or doctor about using an over-the-counter antiseptic containing benzocaine.
Don't use benzocaine in children younger than age 2 without supervision from a health care professional.
Never use more than the recommended dose of benzocaine.
Store products containing benzocaine out of the reach of children.
References